Best sex games for couples to spice things up in the bedroom
These are the best sex games for couples to try, whether you share a bedroom or are in a long-distance relationship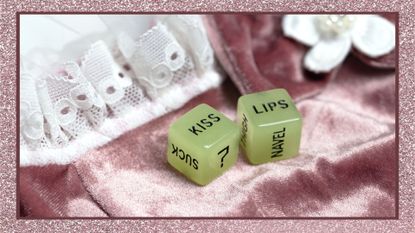 (Image credit: Getty)
When you're looking to spice things up in the bedroom, trying some of the best sex games is a great place to start. They can help you and your partner warm up and get frisky without the added pressure of deciding what to do next—the games will take charge and do that for you! Plus, sex games are a great option if things have felt slightly stale and repetitive between the sheets recently.
And if you and your partner are in different locations, don't fret. We all love using the best sex toys and app-controlled vibrators when flying solo, but sex games aren't just for when you're up close and personal. They can be a fun way to stay close when you're far apart, too. Many couples use sex games as a way to stay emotionally close and sexually charged, so taking advantage of them is one of the best sex tips around. They're also an excellent way to throw out any potential awkwardness; helpful if you're getting intimate with a new partner for the first time.
Whether you're a twosome that likes to push the boundaries (respectfully) or prefer to stay off a bit more gently, we've selected the best sex games for couples in long-distance relationships, as well as options you can enjoy in person. Happy playing!
The best sex games for when you're far apart:
Sure, it would be great to be together all the time, but we all know that's not always possible. If distance is an issue, have a virtual meet-up. When the time comes, and you're feeling feisty, try some (or all) of the following games over the phone, or via video-call, to help you reconnect and keep the long-distance spark alive.
1. Truth or dare?
"Truth or Dare?" takes it back to the basics, but you can add a little more heat by making the prompts super hot and steamy. If you need some inspiration, try some of these truths to get things fired up:
What part of my body do you want to see first?
What's your favorite sexual position?
What gets you going the most—hand or mouth play?
As for dares, you'll want to get more handsy and personal—why not try daring your partner to take a saucy pic? Or, ask them to be vocal and talk dirty over FaceTime. The difficult part will be slowing things down! Then, when you're back together IRL, you can get onto some of these intimate sex positions to help you reconnect.
2. Would you rather?
"Would You Rather?" is another game that goes way back. It's a classic, and it can definitely help you get things heated with your partner—especially from a distance when other forms of foreplay aren't possible. Although you can start with some light-hearted questions, the key is to keep it sexy and sensual.
Try some questions like these to get started, but then have fun and make up your own as you go:
Would you rather I take my shirt off first or my bra?
Would you rather nibble my neck or my thigh?
Would you rather kiss my lips or kiss my...?
3. Guess my body part
This game would be best to start the night off, before moving into some other options. It's a little less intense and slower-paced, but it's great for initial teasing.
Take a close-up video or picture of a part of your body, then send it to your partner and have them guess what it is. It can be fun, as some body parts can be mistaken for other things at the right angle, or when zoomed in. Make sure to mix in real sexual body parts to keep it spicy, though!
This game will get you both laughing and make the whole thing feel more relaxed, meaning it can be a great icebreaker if you're new to sexual games and virtually masturbating together.
The best sex games for when you're together
The best sex games will help you and your partner get creative with new levels of intimacy and closeness when you're together in person. Everyone loves the main event, but good foreplay can kick things up a notch, building the anticipation so when it's time to toss the games aside, you're both full of excitement.
Here are some of the most popular sex games for when you're actually in the same room:
1. Sex dice
This might be new to you, but sex dice can be a great way to get things started in the bedroom.
You can find them in various formats: some with numbers, others with pictures or words. Regardless, the concept is the same. You both take turns rolling the dice, and you do what the dice tell you. For instance, some dice have a mixture of sex positions, sex toys and body parts, followed by instructions for what to do. Take turns kissing, licking and touching your way through this feisty game.
2. Strip poker
A classic for a reason! Traditionally during strip poker, you take your clothes off for each hand of poker that you lose, until one person has removed all their clothes. This is great for couples that love playing cards because it can be played with nearly any card game—such as blackjack or rummy. It could even be played with your favorite board games, so long as they don't take too long. Set the rules in the beginning and start stripping!
3. The oral sex game
Oral sex is great for foreplay, and there's no better way to get things started in the bedroom than to play a game that encourages you to experience it to its fullest potential.
Enter: The Oral Sex Game. It is a board game where you both take turns moving your pawns around, landing on spaces with different oral techniques for you to do for each other. Add in one of the best hands-free vibrators and you've got yourselves a pretty good time!
This game can be pretty intense, but if oral sex is something that helps get you in the mood or close to orgasm, then this is a must.
Christina Izzo is the Deputy Editor of My Imperfect Life.
More generally, she is a writer-editor covering food and drink, travel, lifestyle and culture in New York City. She was previously the Features Editor at Rachael Ray In Season and Reveal, as well as the Food & Drink Editor and chief restaurant critic at Time Out New York.
When she's not doing all that, she can probably be found eating cheese somewhere.