The best Thanksgiving episodes of TV to watch on Turkey Day and beyond
From 'Gilmore Girls' to 'New Girl', here are Thanksgiving episodes we're truly thankful for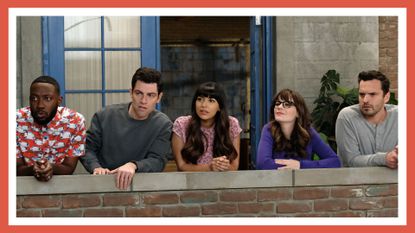 (Image credit: FOX Image Collection/Getty)
Turkey Day, Fat Thursday, Black Friday Eve—whatever you call it, happy Thanksgiving! And what better way is there to celebrate than with a big old post-feast binge of our favorite Thanksgiving episodes of beloved TV series?
Whether you're craving a Korean holiday with the Kim family from the best Gilmore Girls Thanksgiving episodes or some festive flashbacks with iconic Friends Thanksgiving episodes, we've got just the television sidedish to round out your holiday celebrations.
And if you want even more autumnal goodness, check out our favorite funny Thanksgiving memes and the best fall movies to keep the cozy vibes going all season long.
Our 8 favorite Thanksgiving episodes:
'Friends': "The One With All the Thanksgivings"
One of Friends' most iconic editions combines two of our favorite TV tropes: the holiday episode and the flashback episode. In this season 5 classic, the gang reminisces about their worst Thanksgiving memories. Joey's was when he got a raw turkey stuck on his head, Chandler's was when his parents told him they were getting a divorce and Phoebe's was when she was an American Civil War nurse in a past life and lost an arm, of course.
But the main story is Monica's, who, after getting rejected by Chandler as an overweight teenager in 1987, turns up to Thanksgiving a year later in a true glow-up and accidentally cuts off his toe during an attempted seduction scene. As an apology in the present, she gives Chandler an iconic turkey-head dance that prompts him to say "I love you" for the first time—and gives us one of the best Thanksgiving episodes ever, in the process.
Streaming on: HBO Max
'Gilmore Girls': "A Deep-Fried Korean Thanksgiving"
The appetites of Rory and Lorelai Gilmore are the stuff of TV legend—how they ate like that in the era of low-rise jeans is beyond us—and this season three favorite puts their stomachs to the test with not one but four Thanksgiving feasts, split between Sookie's, Luke's, Mrs. Kim's, and Emily and Richard's houses. The episode has many memorable moments, from Jackson's lawn-front fried turkey to Lane's first kiss to the first time we (and, notably, Lorelai) find out Rory applied to Yale.
Streaming on: Netflix
'This Is Us': "Pilgrim Rick"
The holiday season always has a way of making us weepy, and no series reliably gets the tear ducts working harder than This Is Us. In this devastating season one episode, we not only get a family car accident and the announcement that Kate has decided to have gastric bypass surgery but also we and Randall discover that his mother knew about William, his biological father, his whole life and didn't tell him. Talk about a buffet of drama!
Streaming on: Hulu
'New Girl': "Parents"
We would happily spend any holiday with Jess, Nick, Schmidt and the rest of the roommates from New Girl, but throw in Jamie Lee Curtis and Rob Reiner as Jess's visiting, divorced parents and Rob Riggle as Schmidt's competitive cousin (also, confusingly, named Schmidt), and we're ready to move in fulltime. In this hijinks-packed season two episode, Jess tries to pull a Parent Trap to get her mom and dad back together, an ill-fated plan that gifts us many hilarious moments, including the image of Jake Johnson trying to seduce Jamie Lee Curtis with a turkey baster.
Streaming on: Netflix
'Cheers': "Thanksgiving Orphans"
Friendsgiving is as much a time-honored tradition nowadays as a familial Thanksgiving feast, and this season five entry from Cheers is one of our favorite depictions of the found-family custom. When everyone's holiday plans fall apart, Carla decides to host everyone at her house (even an overly excited Dianne who is dressed like a literal pilgrim), which results in one of the most satisfying food fights ever on screen. But it's the post-battle toast that clinches things: like Thanksgiving itself, it's an absolute mess but one unabashedly filled with love.
Streaming on: Peacock
'Master of None': "Thanksgiving"
Rightfully earning writer-actress Lena Waithe the Primetime Emmy for Outstanding Writing for a Comedy Series—making her the first Black-American woman ever to win the award—this season two episode chronicles Waithe's character Denise on her coming-out journey and her relationship with her family (particularly her mother, played by the iconic Angela Bassett) over several decades' worth of Thanksgivings. Partially based on Waithe's own life, the episode is at times awkward and tense, and warm and funny, like the best family gatherings always are.
Streaming on: Netflix
'The O.C.': "The Homecoming"
"You know what I dream about when I dream of Thanksgiving? I dream about eating food that has so much flavor that, when I eat it, all the blood rushes to my stomach and I pass out at the table. Don't deny me that." Preach, Seth, preach. Beyond an accurate summation of what Thanksgiving is really about, this holiday episode of The O.C. gave us a drama-filled pilgrimage to Ryan's hometown of Chino plus an unhinged Caleb bringing new girlfriend Julie Cooper to Thanksgiving dinner at Kirsten and Sandy's and a love triangle between Seth, Summer and Anna.
Streaming on: Hulu
'Seinfeld': "The Mom & Pop Store"
Chaos is baked into most Seinfeld episodes, so a Thanksgiving-focused chapter is no exception, including this season six standout. Cowboy boots, hot dentists, Jon Voight's convertible, big band tunes, Woody Woodpecker balloons—like all of the most memorable adventures of Jerry, George, Elaine and Kramer, these seemingly disparate details come together in a truly unhinged conclusion.
Streaming on: Netflix
Christina Izzo is the Deputy Editor of My Imperfect Life.
More generally, she is a writer-editor covering food and drink, travel, lifestyle and culture in New York City. She was previously the Features Editor at Rachael Ray In Season and Reveal, as well as the Food & Drink Editor and chief restaurant critic at Time Out New York.
When she's not doing all that, she can probably be found eating cheese somewhere.