What is the Bling Empire cast up to now?
What are the Bling Empire cast up to now?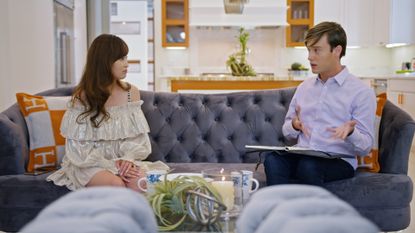 (Image credit: Netflix)
In case you didn't know, Bling Empire was actually filmed back in 2019, way before the pandemic. It's been well over 18 months since the cast were all partying together in Beverly Hills or jetting off on luxury Las Vegas shopping experiences, so where are the Bling Empire stars now?
They revealed all in a new episode of Netflix's show After Party, and there are a few surprises...
Where is the Bling Empire cast now ?
Kevin Kreider
Since the show, Kevin Kreider has been keeping a low profile, but he did share on Instagram that he reached five years of sobriety back in December. But Kevin's most significant change since filming Bling Empire in 2019 is that he now has his own place and no longer has to share with roommates!
As of 2021, Kevin is still a model, obviously spending his days topless. Alongside his successful runway career, he also runs his own entertainment production company to represent Asian men on screen. Rumour has it that he and castmate Kim Lee could be dating, but we'll keep you updated on that.
Kane Lim
Kane has been living his best life since wrapping up the show and it's safe to say his monthly allowance hasn't gone down. During the pandemic, Kane has been continuing his work in real estate as a developer and investor.
During his recent interview with Netflix, he revealed that he'd spent quite a lot of time with Anna Shay, saying: "During Covid, there was no shopping, no nothing. Having a friend like Anna? Nothing's shut down." He and Anna would stand outside the Gucci store while a sales associate would hold stuff up for them to look at through the window.
Kelly Mi Li and Andrew Gray
Bling Empire's Kelly and Andrew's toxic relationship was one of the biggest talking points of the show, so of course, we've been wondering if the two got back together.
While the couple was still together when the show was released in January, they have since announced they went their separate ways. In March, Kelly wrote on Instagram: "Over the past 5 and half years, Andrew and I have shared some incredible times together. I have a tremendous amount of respect and love for him and will always cherish the memories we made. However, we have made the difficult decision to officially separate at this point in our lives."
But as Kevin funnily pointed out in the comments, we'll have to see it to believe it! He wrote: "Again? I don't believe you now!"
Business-wise, Kelly has always had a passion for production work, and as one of the executive producers on Bling Empire, she's likely to be busy setting up for season 2.
Kim Lee
Kim, who had one of the most emotional storylines on the show, has revealed that she has since got in touch with her father's wife and was offered his ashes. She's also been busy with her work as a DJ.
Cherie Chan and Jessy Lee
Cherie did confirm that the couple don't have a date set for the wedding just yet: "We definitely don't have a date, we don't want to have a Zoom wedding, we don't want to plan and have a small wedding or people to get sick. We don't know anything yet. Nothing is set in stone yet."
Career-wise, the couple have opened up an organic tequila brand called Religion Tequila.
Anna Shay
Anna told Netflix that Christine's dinner party claims were simply not true, confirming that they do not talk. Anna is currently working on a new career venture and hopes to become a licensed contractor. Anna has also been doing her part to help with the pandemic as she spends time in Target, gathering bits for people in need.
Christine and Dr Gabriel Chiu
Christine Chiu revealed she'd grown closer to Cherie, organizing play dates for baby G and she's even managed to have cordial dinners with Anna Shay without the catfights! However, Anna later said this wasn't true, so we don't know who to believe?
Dr Gabriel has been continuing his surgeries and providing a luxury lifestyle for his family during quarantine. Of course, baby G has been the center of the family's lavish spending as he turns three in just a few months.
Since December 2020, Kudzai has worked as a trainee journalist at FUTURE, writing about fashion, entertainment and beauty content for My Imperfect Life.

Kudzai previously worked as a freelance fashion wardrobe stylist, directing magazine photoshoots and coordinating the fashion direction of recording artists.

A fully qualified Journalism and Media graduate from De Mont Fort University, Kudzai graduated in the summer of 2020.