Who is Bling Empire's Anna Shay? Everything you need to know about the show's matriarch
We miss our life guru Anna Shay... who is now a red head!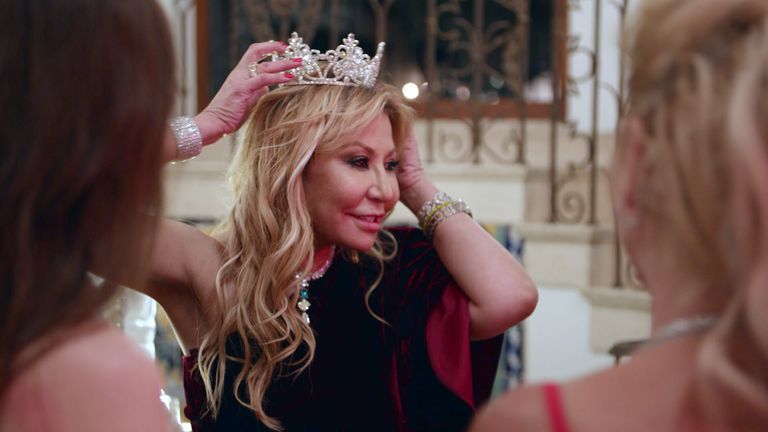 (Image credit: Netflix)
Netflix is the gift that keeps on giving and one of our best presents this year has been Anna Shay, star of the reality TV show Bling Empire.
In case you lived under a rock for the first part of 2021, the show follows a group of seriously rich Asians in LA, including matriarch Anna—who tries to share her wisdom with the younger cast members. And this lady knows her stuff too—there really ain't no dick that good (sorry Kelly and Andrew!).
While we patiently wait for Bling Empire season 2 (seriously Netflix, give us a release date already!), here's what to know about the fabulous (and previously very private) Anna Shay...
---
---
And just like that: Anna Shay became reality TV gold. 🏅#BlingEmpire pic.twitter.com/0rpehfQ0JRJanuary 15, 2021
See more
How old is Anna Shay?
Anna Shay is 60-years-old. She was reportedly born in 1960 and celebrated her 60th birthday on the 31st December 2020.
Considering all other cast members—including Kevin Kreider and Kim Lee—are all considerably younger, it's no wonder Anna is the one they go to when they need advice. Well, maybe not Christine...
Who was Anna Shay's father, Edward Shay?
Anna is the daughter of late billionaire businessman Edward Shay and Japanese-American Ai-San.
Edward Shay was the founder of Pacific Architects and Engineers (PAE), a defense contractor that worked with the United Nations and the U.S. government. He died in 1995.
In an interview with Oprah magazine, Anna stated her parents as her heroes. She said: "My father, mother, and son. My parents are my heroes because they have taught me values, morals, honor, respect, loyalty, and principles. These things are rare qualities today," she said.
What is Anna Shay's net worth and where does her wealth come from?
Anna Shay's net worth is approximated at $600 million, as of 2021. That includes her incredible Los Angeles Spanish-style mansion, which is currently worth $16 million.
However, her family money has been linked to some of the 'ugliest aspects' of the Vietnam War. According to NBC, who cited research published by the University of Texas at Dallas, the CIA hired Anna's father's company to build interrogation facilities in South Vietnam in 1964.
Kimberly Kay Hoang, director of global studies at the University of Chicago, told NBC: "How do we forget this history? And why do we not think about the source of funds? Somehow she can be in Beverly Hills and be living the good life, and no one raises questions about where that money came from."
Who is Anna Shay's son, Kenny Kemp?
Anna Shay's son is 27-year-old Kenny Kemp. While there's not much know about him, according to Buzzfeed News Kenny is the proud owner of a "collection of bongs worth half a million dollars".
Anna also mentioned her son in an interview with Oprahmag.com, saying his friends are always asking her advice.
"I need to grow up a little bit", she said, referring to her fellow Bling Empire cast members. "Sometimes I think the other cast members are too serious. And I think the way that we grew up is very different. I had to put them in check. I'm not here to raise them. I'm here to make sure they're OK. My son [Kenny Kemp] is 27. His friends are always over, asking me for advice. I've always been around kids as my mother was with me."
Who are Anna Shay's ex-husbands?
Anna has been married and divorced four times, all of which she says were amicable breakups. However, she has not made any of the names of her ex-husbands known to the media, valuing her privacy.
What is Anna Shay's ethnic background?
Anna Shay is Japanese, Russian, and American. Her mother, Ai Oizumi Shay, was part-Japanese and part-Russian while her father, Edward Shay was a white American from the South Side of Chicago, according to reports.
What does Anna Shay do for a living?
In 2006, Anna and her younger brother Allen sold their father's business for $1.2 billion. While he was alive, her father never wanted her to work but despite this, she has done a lot of philanthropy. She previously served as a board member for the George Lopez Foundation, which raises awareness about kidney disease and organ donation. She has also worked for the Shay Foundation, a program focusing on education, arts, performing arts, and music which was founded by her late parents.
She, of course, now also a reality TV star thanks to the show. However, it isn't something she ever imagined for herself. "Did I expect the show to be successful? No," she told People. "I wasn't even expecting to be in front of the camera. I'm very shy and I went along with whatever situation was happening. I was just being me. I think the success of the show has a lot to do with how Netflix, Jeff Jenkins and his production company handled things. It's really thanks to them."
Anna Shay and Kevin Kreider's relationship
Some fans of the show might have become confused by how close these two seemed to be. After all, who can forget Anna casually changing in front of everyone (including Kev) during the shopping session at her house? But if you thought there was something romantic going on or that Anna could be trying to buy Kevin's friendship or loyalty, fear not—this is classic Anna Shay.
Money is clearly no object for our new hero and it seems that Anna simply likes to see her loved ones happy. That included buying Kevin some stylish new clothes (well his reaction was priceless if you ask us...). If you need more proof, just know that Anna didn't even realize she had been paid for the Netflix show and only went to collect the checks when someone told her she had to. She saved the money to have a party with the crew, eventually. So sweet!
As for her other cast mates, Anna is also close with Kane and Chèrie. "Kane, Chèrie, and Chèrie's daughter, J'adore," she told People when asked who she had formed real friendships with. "I didn't know them before the show."
Anna Shay in her younger days
Anna has shared a few throwback pictures of herself on Instagram when she was younger, including this one below... Oh la la!
Oh and these days, she's a red head having switched up her hair colour to this fiery new shade of burgundy. We love it!
Mariana is Editor of My Imperfect Life. She has previously worked for titles including woman&home and Goodto, covering all aspects of women's lifestyle — from beauty and fashion to wellness and travel. She was nominated for AOP Digital Journalist of the Year in 2020, and for New Digital Talent of the Year at the 2016 PPA Digital Awards. She's mildly obsessed with reality TV (Love Island memes included) and spends far too much time checking her horoscope and figuring out the perfect curly hair routine.