Kim Lee is the ultimate 'Bling Empire' party girl—here's why we can't get enough of her
Need more of Kim Lee from 'Bling Empire'—we feel you, so here's a full debrief on everything from Kim's DJ career to her family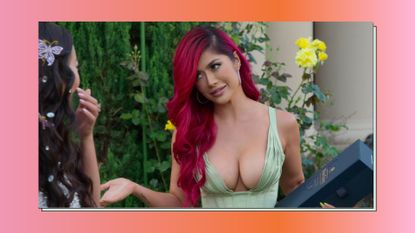 (Image credit: Courtesy of Netflix)
Our favorite party girl, Kim Lee sure did not disappoint in Bling Empire season three—not only did she debut a new hair look, but a new budding romance as she finally called time on her will-they-won't-they relationship with Kevin Kreider. And while we already follow her and the rest of the Bling Empire cast on Instagram, we just can't help but miss her already. So, let's talk all things Kim right now, from her DJ career to her net worth...
For those who don't know Bling Empire follows the lives of a lavish group of Asian-American friends who live incredibly affluent, glamorous lifestyles—think Crazy Rich Asians meets The Real Housewives of Beverly Hills. The hit reality show has now returned for a third season (with a Bling Empire New York spin-off also now on the way) and like with any reality series, it's the cast that really makes it or breaks it.
Kim, along with the likes of matriarch Anna Shay, entrepreneurial queen Kelly Mi Li and Dancing With The Stars' Christine Chiu, keeps up all hooked. Kim, herself really keeps us on our toes and always manages to inject the show with a bit of flirtation and fun—because of that, we just can't get enough!
So, while you hunt for shows like Bling Empire to tide you over until a potential season four, we're here to answer your burning questions about Kim Lee...
What does Kim Lee do for a living?
As we discovered in season one of the show, Kim Lee has a reputation as "the Calvin Harris of Asia," according to her co-star Kane. But before she ventured into the world of DJing, she was actually a model. She walked on several runways including Los Angeles, Paris, and New York Fashion Week shows, working with designers such as Marc Jacobs and appearing on the international covers of fashion magazines like GQ and Esquire.
According to Elite Daily, she was also named the "Sexiest Woman in the World" by FHM back in 2011. She has also appeared in a number of Hip Hop music videos including those of Kanye West, Far East Movement and Lupe Fiasco. But it doesn't stop there—she has also had plenty of on-screen moments appearing in the likes of The Hangover Part II, Entourage, and CSI.
As for reality shows, Bling Empire isn't her first gig either as Kim Lee previously went on The Amazing Race in Vietnam back in 2013 and hosts Yo! MTV Raps on MTV Asia.
In 2012, she caught the attention of the Black Eyed Peas after bonding with them over a night of partying. Soon after, one of her mixes featuring Kanye West went viral and she has been a successful DJ ever since.
She's always living her best life behind the decks. From DJing in nightclubs in her hometown of Orange County to wild nights in Las Vegas, we've been living vicariously through her on Instagram. In season two of Bling Empire, she also announced that she was getting a performing residency at Las Vegas' Wynn Nightlife!
Does Kim Lee have a boyfriend?
While Kim Lee has previously spoken about her relationship with ex Keith Ape, a South-Korean rapper signed to Jay-Z's Roc Nation, in her 2018 interview with NextShark. However, she has since referred to him as a friend and is otherwise pretty tight-lipped about her private life.
In Bling Empire season three, however, she did go on a few dates with actor Lewis Tan, even bringing him as her plus-one to one of the dinner parties—which did not go down well with Kevin. Though there's no news if the pair are still dating, especially after Kim did not look pleased to discover that Tan had also shown interest in fellow cast member Jamie Xie, during the season three finale.
What we do know is that she and Kevin are officially off the table as he rekindled things with his ex, Devon Diep—which also made for some awkward viewing in the finale...
What has been Kim Lee been up to since 'Bling Empire'?
Between filming Bling Empire's three seasons, Kim has also been very busy with her DJ career, which takes her to clubs all over the world. She's also done plenty of photoshoots for international publications like Rolling Stone Korea and L'Officiel India since we last saw her on the Netflix show.
In 2021, she attended the MTV Movie Awards with the rest of the cast, and had someone very close to her in charge of her insane new hair color—none other than castmate Guy Tang! He shared the transformation on his Instagram account and we have to say, he did an incredible job.
Recently though, she's ditched her vibrant locks and been rocking a more natural look ahead of season three aired...
Plus she's been occupied with her very coveted DJ residency at the Wynn Hotel in Las Vegas, joining artists like Diplo, David Guetta and Marshmello. Go Kim!
What is Kim Lee's net worth?
In 2021, Kim Lee's net worth was estimated to be around $10 million according to The Cinemaholic. This is believed to be a combination of her modeling work, DJ career and any other streams of income she has. However, considering how much she has been working in the past year, we're assuming that number has now gone up quite a bit.
Why does Kim Lee look like Kylie Jenner?
Many viewers have been comparing Kim Lee to Kylie Jenner, saying that she resembles The Kardashians star and beauty mogul. However, as Kim pointed out in an interview with NextShark in 2018, she had the "influencer aesthetic" long before Kylie.
"[People] would call me a 'wannabe Kylie.' I think she's gorgeous, but people that know me would say I've been looking like this before Kylie became 'Kylie," she claimed.
Is this Kim Lee or Kylie Jenner? #BlingEmpire pic.twitter.com/y1pQPfTLj2January 15, 2021
See more
Has Kim Lee had plastic surgery?
Kim Lee has been honest about having had a boob job, but revealed on the show that the bottom half is "all real".
Who is Kim Lee's biological father?
When the show first aired, many asked, is Bling Empire real or scripted? And frankly, we get it, as you should always take reality TV shows with a pinch of salt. But one moment that did feel real was Kim Lee's family scenes.
In a couple of episodes of season one, she opens up to fellow co-stars Kane and Kevin about her family life, explaining that after her presents parted ways when she was eight, her father asked her who she wanted to live with and she picked her mother. She was then raised by her mother Kimmy and her stepdad Daniel Segal, who is a successful novelist and screenwriter, in Orange County, California. But who is Kim Lee's biological father?
Kim plans to track him down in hopes of reconnecting, enlisting Kane and Kevin to help her look for him on the show, though things take a heartbreaking turn when the two discover that Kim's biological father, Tony Lee, passed away two years prior to filming the show.
Speaking to Vice, Kim credited the reality TV platform for helping her find out what happened to her biological father. "I was holding grudges against my father for not looking for me, to be honest, and I needed some sort of closure," She said. "[But] it was actually incredibly difficult to do that on TV."
How old is Kim Lee?
Kim Lee's birthday is May 22, 1988, which currently makes her 33-years-old, soon to be 34. She is also a Gemini!
Sagal is a journalist, specialising in lifestyle, pop culture, fashion and beauty. She has written for a number of publications including Vogue, Glamour, Stylist, Evening Standard, Bustle, You Magazine, Dazed and Wonderland to name a few.