Your lowdown on Kevin Kreider, 'Bling Empire's resident heartthrob
Everything you need to know about 'Bling Empire's Kevin Kreider, from his relationship status to his latest business venture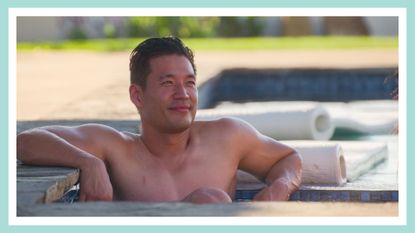 (Image credit: Courtesy of Netflix)
It seems some congratulations are in order for Kevin Kreider as Bling Empire season three not only brings him some career success but a juicy update in the romance department. Here's the latest on the model-turned-reality TV star...
From billionaire matriarch Anna Shay to superstar DJ Kim Lee, the show has introduced us to a real-life Crazy Rich Asians-style world where luxury and glamour are the norms for a group of Asian-Americans in Los Angeles. And with a new season (and an upcoming Bling Empire New York spin-off) comes a few new faces joining the fold—and one of them has a major link to our Kevin...
In season one of the show, Kevin Kreider was the one cast member who seemed to be just as blown away by the lavish lifestyles as we were. The model—who is of Korean descent but grew up in Pennsylvania where he was raised after being adopted by white parents—wasn't born into the same affluent lifestyle his cast members were. Nor was he as familiar with Asian culture as his peers but that all changed when he meets the Bling Empire group.
Throughout the first two seasons, Kevin brought a level of vulnerability that differed from his castmates, who were otherwise caught up in the glitz and glam of daily life. Whether it was comforting Kelly Mi Li as she struggled in her relationship with ex-Andrew (though this may have a lot to do with the fact that he fancied her) or bonding with Kim Lee over their parental problems and helping her track down her biological father, his presence added a human element to the otherwise outrageously superficial show.
In season three, however, we see a slightly different Kevin as he begins to enjoy the spoils that come with being a Netflix star and entrepreneur. We saw him pitch a business venture to the show's richest cast members Don and Mimi, before buying his first-ever car and a Tesla no less (though he did total it later in the episode...). Fans even got an update on his love life, after his whole will-they-won't-they saga with Kim...Here's everything you need to know about Bling Empire star Kevin Kreider.
Does Kevin Kreider have a wife or girlfriend?
Sad news ladies, Kevin is officially off the market, after his ex-girlfriend Devon Diep made her debut in episode nine of season three. After an emotional reunion, the couple quickly reunited, much to Kim's shock...
Since the third season's release, the pair have been pictured together at events and are now IG official after sharing cute videos and selfies together.
One post, in particular, hinted that the pair are pretty serious and in love! Kevin shared a snap of himself and Devon on a plane, holding hands to announce that Bling Empire season three had landed on Netflix, with Devon then commenting: "Did you find love?"—to which Kevin replied, " I believe so❤️."
Hinting at her debut on the show, Devon also shared a Bling Empire trailer to her own Insta account, to which Christine Chiu responded: "I have never seen Kevin happier so thank you for coming back ❤️." N'aww!
How old is Kevin Kreider?
Kevin was born on August 21, 1983, which currently makes him 38 years old. We actually saw him celebrate his 36th birthday on Bling Empire back when the show was being filmed in 2019.
What is Kevin Kreider's job?
As well as being a cast member on Bling Empire, Kevin Kreider is a model who has been featured in publications like Men's Health and Men's Fitness, as well as in campaigns for the likes of Gillette and Peloton, according to his website. He has also appeared in other TV shows including Dating After College and was even the focus of a documentary called The Ugly Model.
Most recently though, Kevin has also launched his own non-alcoholic drinks business called 'Sans', which he pitched to Don and Mimi in episode eight against Kelly. Sans was created to offer an alcohol-free option, which is a subject close to Kevin's heart—as he has previously opened up about his own sobriety journey in the show.
Previously In 2018, he also did a TED Talk called "Redefining Asian Masculinity," which went viral. In it, he opens up about being bullied for his Asian heritage and having a skinny figure. "I imagine a world where Asian men can give wholeheartedly, be vulnerable, share, love, receive love, be limitless in what they do to their communities and for their communities not because of a stereotype," he said. "And I also imagine a world where Asian men can be cool, be seen as cool, sexy, fun, just like any other race."
It was actually one of his videos on Asian masculinity that connected him to the Bling Empire circle. Kevin told Bustle that Kelly got in touch with him after watching them, and told him they should meet up if he was ever in LA.
What is Kevin Kreider's net worth?
While there were rumors Kevin has a net worth of $10 million, he actually discredited that recently. Speaking to CNBC's Make It, he said: "I'll let everybody know when that [his net worth being in the millions] does happen."
Referencing the years he was in credit card debt ($26,000 to be exact), he added: "For a long period of time, I felt like my most successful years was when I was a personal trainer. And now after the show, I see that my most successful times are still yet to come. And they're happening right now."
Although he has a while to go until he's as rich as his castmates (we believe in you, Kev!), he's finally renting a place just for himself—paying $1,700 for his 515 square-feet apartment. Not quite the $19,000 Jamie Xie said she pays for her place, but he says it still feels like a "luxury."
Kevin's stress-induced condition is the reason he moved to LA
Kevin struggled with alopecia areata—stress hair loss—when he was 30. While he also sought medical help, the model credits meditation (maybe he had the help of the best meditation apps?), a better workout schedule including strength training, a paleo diet, and yes—moving out of New York to LA.
But before settling in Los Angeles, he actually had the time of his life by skateboarding from LA to New York City. At the time, he spoke about how losing his hair impacted his life, telling local news reporters: "Being a model and an actor, you're very appearance-based. That's all I knew. To lose it all in two weeks was very life-changing for me."
He also documented the project on his IndieGoGo site, where he explained that he also hoped "to find out what it means to be Asian American and have dates with women in rural America who perhaps have only experienced stereotypes of Asian men to find out what they think of interracial dating".
Sagal is a journalist, specialising in lifestyle, pop culture, fashion and beauty. She has written for a number of publications including Vogue, Glamour, Stylist, Evening Standard, Bustle, You Magazine, Dazed and Wonderland to name a few.