Kevin Kreider's girlfriend, career and net worth: what to know about the Bling Empire star
Desperate to know everything about Bling Empire's Kevin Kreider? You're not alone...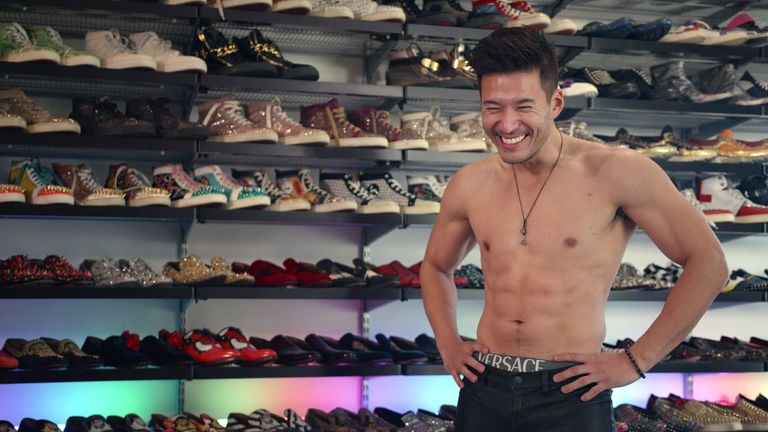 (Image credit: Netflix)
Want to know more about Bling Empire's Kevin Kreider? You're not alone. It's no secret that we're loving Netflix's new reality TV show Bling Empire, which of course has to do with its fabulous cast. From billionaire matriarch Anna Shay to superstar DJ Kim Lee and Kelly and Andrew, the show introduces us to a real-life Crazy Rich Asians style world where luxury and glamour is the norm for a group of Asian-Americans in Los Angeles. 
The one cast member who seems to be as blown away by the lavish lifestyles we see is Kevin. The model, who is of Korean descent but grew up in Pennsylvania where he was raised after being adopted by white parents, wasn't born into the same affluent lifestyles his other cast members have in common. Nor is he as familiar with Asian culture as his peers but that all changes when he meets the Bling Empire group. 
Throughout the season, you'll notice that Kevin brings a level of vulnerability out of his cast members who are otherwise caught up in the glitz and glam of daily life. Whether it's comforting Kelly Mi Li as she struggles in her relationship with Andrew (though this may have a lot to do with the fact that he fancies her) or bonding with Kim Lee over their parental problems and helping her track down her biological father, his presence adds a human element to the otherwise outrageously superficial show. 
Does Kevin Kreider have a girlfriend? 
On the show, we see Kevin express his interest in castmate Kelly, who he persistently pursued and the two eventually went on a date. However, nothing ever came of it as Kelly went back to her on/off boyfriend Andrew Gray at the end of the season, despite all the concerns about their relationship. 
Kevin is currently single but according to a recent interview with EW, there could be a romantic spark with another castmate, Kim Lee. As we see on the show, the two end up pretty close towards the end of the season when Kevin and Kane help Kim track down her biological father. But that wasn't always the case—in fact, Kevin told the publication that he "hated" Kim at first and only tolerated her because she was Kane's friend. Now, things have changed a lot as he said the two are "still trying" to figure out their "weird dynamic" but have established that there is a "physical attraction" between them. Could this be a potential storyline for the second season? We've got our fingers crossed. 
Did Kevin know that Kelly and Andrew were back together on the show?
Kevin has recently spoken out about the whole Kelly-Andrew-Kevin brief love triangle on the show, revealing he had actually no idea if Kelly was indeed back with Andrew.
Speaking to E!, Kevin said he found out the two were dating again when he watched the show, like everyone else—despite his suspicions. 
He said: "I didn't even know she was together with Andrew until I watched the show and people were interviewing me and they were like, 'So, what do you think about that?' And I was like, 'I didn't see the show yet. They're back together?'"
How old is Kevin?
Kevin was born on 21 August 1983 which currently makes him 37. We actually saw him celebrate his 36th birthday on Bling Empire back when the show was being filmed in 2019. 
What is Kevin Kreider's job?
As well as being a cast member, Kevin Kreider is a model who has been featured in publications like Men's Health and Men's Fitness, as well as in campaigns for the likes of Gillette and Peloton, according to his website. He has also appeared in other TV shows including Dating After College and was even the focus of a documentary called The Ugly Model. 
In 2018, he did a TED Talk called "Redefining Asian Masculinity" which went viral. In it, he opens up about being bullied for his Asian heritage and having a skinny figure. "I imagine a world where Asian men can give wholeheartedly, be vulnerable, share, love, receive love, be limitless in what they do to their communities and for their communities not because of a stereotype," he said. "And I also imagine a world where Asian men can be cool, be seen as cool, sexy, fun, just like any other race."
What is Kevin Kreider's net worth? 
Despite emphasizing that he is not as wealthy as his cast mates on Bling Empire and the wealth many of them were born into isn't something he can relate to, Kevin has a net worth of $10 million according to Looper.com. Yes, really! 
That would make his net worth the same as co-star Kim Lee, and would also mean he could actually afford some of the designer gifts Anna Shay gave him on the show. Care to share Kev?  
Does Kevin Kreider have a wife?
Many have been wondering whether Kevin has been married before or has a wife but as it stands, he is single and not married.