What happened between Bling Empire's Kelly and Andrew? An expert look at the toxic signs in their relationship
Do Bling Empire's Kelly and Andrew have an abusive relationship?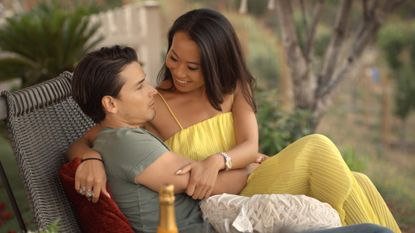 (Image credit: Netflix)
Bling Empire's Kelly and Andrew's relationship became one of the biggest talking points since the Netflix reality TV show premiered back in 2021.
The show, which follows the glamourous lives of wealthy Asian-American elites in Los Angeles, gave a lot of air time to the turbulent relationship between the two, which many have deemed abusive.
When we're introduced to Kelly Mi Li, she explains that she is a divorced media and production company exec who has vowed to only be in relationships "for love" going after her marriage to her wealthy ex-husband ended with him being charged with fraud and the couple losing everything.
She then tells us about Andrew Gray, her on-off boyfriend who she's madly in love with, but it's not long before we see the cracks in their relationship—and more specifically Andrew's behavior that fans have called out for being abusive. Now that we've seen his very unexpected appearance in season 2—indicating a very likely return in Bling Empire season 3—what happened between these two?
Are Kelly and Andrew back together?
Season two Kelly was very invested in healing from her toxic relationship with Drew (therapy, affirmations and vagina sunbathing involved) so we have no indication that the two are back together. However, we can't think of another reason why the former Power Ranger would come knocking on Anna's door...
When did Kelly and Andrew break up?
Bling Empire's Kelly and Andrew broke up in March 2021, after five years together. They announced the end of their relationship on social media, with Kelly writing at the time: "Over the past 5 and half years, Andrew and I have shared some incredible times together. I have a tremendous amount of respect and love for him and will always cherish the memories we made."
Was Bling Empire's Andrew actually abusive on the show? We asked an expert
In the first episode of the show, Kelly's friend Anna Shay invites the couple on a last-minute trip to Paris which is when we were first exposed to their volatile relationship. The couple get into a heated argument after Andrew calls Kelly while she is out shopping with Anna, screaming at her down the phone for leaving him behind at the hotel whilst he was asleep.
"What the f*ck is going on? Your lack of effort drives me f*cking crazy," he shouts. The whole thing is very uncomfortable to watch, especially when Kelly later reveals that it isn't the first time he has lashed out like that. "I haven't figured out the exact best strategy to deal with Drew when he gets in these bad moods or episodes," she tells the cameras. "Unfortunately this is not the first time Drew's yelled at me or spoken to me this way."
Naturally, this then sets the tone of their relationship to Anna (who is there witnessing the entire call) and us viewers.
According to relationship therapist and founder of Naya Clinics Sam Nabil, the incident displayed clear signs of an unhealthy relationship. Andrew shows "inadequate anger coping patterns" and behavior such as "overactive jealousy, accusations and paranoia" all of which are red flags. Nabil also points out that when Andrew accuses Kelly of leaving him at the hotel when they were supposed to be together, he is using guilt as a tool to manipulate her.
"Many controlling people are skilled manipulators at making their partner's own emotions work in the controlling person's favor," says Nabil. "If they can manipulate their partners into feeling a steady stream of guilt about everyday goings-on, like going out with a friend then a lot of the controlling person's work is done for them, their partners will gradually try to do whatever they can to not have to feel guilty. This often means giving up power and their own opinion within the relationship, which plays right into the controlling person's hands."
In the following episode, Andrew offers a tearful apology for overreacting and declares his love for Kelly before whisking her away on a romantic weekend trip. This is yet another sign of his toxic behavior, as Nabil explains: "Controlling people may come on very strongly in the beginning with seemingly romantic gestures or promising a fairytale ending that the other partner wishes (marriage, kids)."
He continues: "But upon closer inspection, many of those gestures like extravagant gifts, or even expectations of serious commitment early on, can be used to control you. Specifically, they create an expectation of you giving something in return, or a sense that you feel beholden to that person because of all they've given you or will give. This can make it more emotionally and logistically difficult to escape when further warning bells go off."
After attending couple's therapy which only seems to highlight their wider issues, they decide to part ways and live separate lives. Kelly even goes out on a date with castmate Kevin Kreider, who has had an eye for her throughout the season, but shortly after she and Andrew end up in a complicated situationship, where they're not quite together but not apart either.
Throughout the season Kelly also displays clear signs of someone who is a victim of an emotionally abusive and manipulative partner. She's constantly exhausted by the drama yet still appears to defend Andrew to her friends when they question her about him, all of which are indicators.
"The person in a toxic codependent relationship will constantly feel drained, instead of nourished. They will constantly make excuses for their partners' inappropriate behavior," he says. "They will also usually have a sense of responsibility for changing the other person's behavior," which we see Kelly try to do when she takes Andrew to therapy before explaining that she hasn't figured out how to deal with his aggressive outbursts, putting the responsibility onto herself.
"Of course, there's nothing wrong with trying to help someone, especially your partner. Your efforts to "save" the person will only enable them to continue their self-destructive course," says Nabil. "Losing control of your right to live your life the way you want to is too big a price to pay for any relationship."
Sagal is a journalist, specialising in lifestyle, pop culture, fashion and beauty. She has written for a number of publications including Vogue, Glamour, Stylist, Evening Standard, Bustle, You Magazine, Dazed and Wonderland to name a few.