Who is Bling Empire's Kelly Mi Li? What we know about the Netflix star's beau, baby, and career
Looking for the lowdown on Kelly Mi Li, star of 'Bling Empire'? Here are all the deets on her career, recent baby news, and the newly-revealed identity of her boyfriend!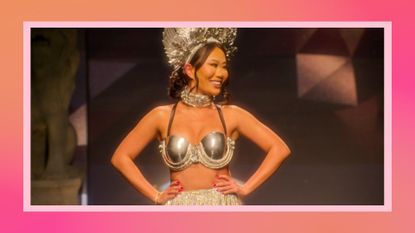 (Image credit: Netflix)
Bling Empire's Kelly Mi Li is getting ready to switch into mom-mode, as the Netflix star recently announced that she and her boyfriend—who she hinted at in Bling Empire season three, and whose identity she has finally revealed—are expecting a baby!
Kelly Mi is a fan favorite on the hit reality show, thanks to her business savvy and how she expertly seems to swerve the drama that seems to follow costars, Kevin Kreider and Kane Lim. And while she has had a number of wild storylines on Bling Empire—namely her red-flagged filled relationship with ex-boyfriend Andrew Gray— her life off-screen is even more interesting—from her self-made millionaire status, to her previous marriage. And of course, we're also very curious about her new(ish) man/baby daddy, after Kelly announced the news of their exciting, upcoming arrival on Instagram back in November.
So, to answer all your burning questions, here's everything we know about Kelly Mi Li, from her baby news to who her new boyfriend is, her net worth—and of course, whether we'll get to hear more about her life in a possible Bling Empire season four!
How old is Kelly Mi?
Kelly was born on 13 November 1985, which currently makes her 37 years old, and one of the youngest cast members ahead of Kim Lee, 34, and Jaime Xie who is just 25.
This also makes Kelly a Scorpio; a sign that is typically considered to be loyal, passionate, and confident!
What does Kelly Mi Li do?
Kelly is one of four people on the wealth-filled show Bling Empire who is considered "self-made". She is currently a media and production company executive in Los Angeles, as well as a partner at Greyscale Lab, a company who help businesses to create products. She was previously a managing partner at East West Artists, a talent management company.
She is also the co-founder of a company named Organic Media Group and founded a media and production company, Wet Paws Media, which according to its website is "coming soon".
Most recently, she also founded a non-profit organization called, 'Golden Voice Society Community' which is "dedicated to education and giving back to the AAPI community." One of her top priorities is to boost Asian representation through her work. "I moved [to the US] from China when I was 9, 10 years old, and growing up I didn't really have people who looked like me on TV," she says. According to Bustle, she is currently working on a script "somewhat based" on her and her ex-husband's life together, including both the good and the bad, which we'll touch on later...
When it comes to her philanthropic endeavors, she is also an ambassador for the nonprofit organization Active Minds; showing that she's keen to use her profile to make a difference.
On the show, Kelly makes it clear that she is a busy woman (and we can see why!), with work coming first more often than not. "I can't go to lunch five days a week with them," she says. "I work very hard. Success didn't come easy; being an entrepreneur is not a nine-to-five. You're on it 24/7."
Interestingly Kelly is actually one of Bling Empire's producers too, alongside co-star Christine Chiu—who recently featured on Dancing With The Stars.
Who is Kelly Mi's new boyfriend?
In the finale of Bling Empire season three, which aired in October 2022, Kelly Mi Li hinted she was seeing someone new, following an unsuccessful run of online dating (after Kane set up a profile for her).
However, she kept tight-lipped on the subject, telling her costars she would introduce them to her new beau one day.
She introduced her new boyfriend to the world on Instagram (well, sort of) as she posted a snap of them holding hands with him on the beach. However, she was careful not to post his face. Kelly also posted a quick clip of the two of them kissing (with his face concealed), in her end-of-year round-up video—but once again, didn't reveal too much of her beau.
Thankfully though, Kelly from Bling Empire has now revealed the identity of her partner to the world!
The couple recently held a lavish baby shower at the Waldorf Astoria Beverly Hills to celebrate their impending arrival which was covered by People magazine, and where we got to meet Kelly's boyfriend for the first time.
The reality star's beau/baby daddy is William Ma. Not much is known about William, but Harpers Bazaar Arabia report that some people posting in a Reddit thread commented that he is a police officer in Los Angeles.
We do however know that William Ma and Kelly Mi Li are very much looking forward to the arrival of their baby, with Kelly sharing her thoughts during her emotional baby shower speech...
Kelly Mi Li baby news
Kelly Mi Li shared the news of her pregnancy back in November 2022, posting a picture of herself holding a positive pregnancy test.
She captioned the post with: "Well, the mystery to why I've been craving sweets and not just spicy food is finally solved! 😅 We're so beyond grateful and excited to be starting this new chapter in our lives 🥰"
She also shared the cutest video of her own mom finding out that she's going to be a grandma—be sure to swipe to the left to see it.
Kelly from Bling Empire hasn't revealed exactly when her baby is due, but she did share the sex of the child to ET recently—and it's a girl! Sharing her reaction, Mi Li said, "I don't know if it was the pregnancy hormones, but I did one of the happy cries when we found out. It will always be a moment that I cherish and hold close to my heart. We are so excited to meet our baby girl!"
During her recent baby shower—which was attended by Selling Sunset's Chrishell Stause and Mary Fitzgerald, and her Bling Empire co-stars Kane Lim and Kim Lee—she shared how much she appreciated everyone's support.
"Will and I just want to thank each one of you for being here today to celebrate this special occasion to welcome our little one, especially for those who flew in, in this crazy weather," she said.
"Having a new baby and being first-time parents can be really overwhelming, but each one of you here today has made us feel so supported and loved in different ways, so it really means a lot you are here today."
Though nothing has yet been confirmed, we're curious to know whether Kelly will document her pregnancy/early family life on Bling Empire's next season. Nothing has yet been confirmed (not even a season 4!), but we're keeping our fingers crossed we get more updates on the new little family soon.
Kelly Mi Li's relationship history
While Kelly and William Ma appeared happily settle now, when we were first introduced to Kelly Mi Li in season one of Bling Empire, she revealed that she was divorced, having been married once previously.
After the end of her first marriage, she vowed to only be in relationships "for love"—after her relationship with her wealthy ex-husband ended with him being charged with fraud, and the couple losing everything.
The first season of Bling Empire also then focused on her strained relationship with actor Andrew Gray (Power Rangers), with one episode seeing the couple get into a heated argument. In the scene, Andrew is seen calling Kelly while she is out shopping in Paris with Anna, before proceeding to scream at her down the phone for leaving him behind at the hotel whilst he was asleep. "What the f*ck is going on? Your lack of effort drives me f*cking crazy," he shouted.
The whole thing is very uncomfortable to watch, especially when Kelly later revealed that it wasn't the first time he had lashed out like that. "I haven't figured out the exact best strategy to deal with Drew when he gets in these bad moods or episodes," she told the cameras. "Unfortunately this is not the first time Drew's yelled at me or spoken to me this way."
Throughout the first season, the two try to work through their issues by going to couples counseling, but ultimately decide to end things. Towards the end of the season, which was filmed in 2019, they seemed to get close again—but the pair officially broke up, for good, in March 2021. In season two of Bling Empire, Kelly focused on herself (vagina sunbathing and all), and was trying to put a stop to the cycle of toxic relationships—and we couldn't be happier for her for that.
Fast forward to now, and we know that happily, Kelly seems to be past all of her previous hurt, and is instead loved-up with her new man and preparing to become a mom!
What is Kelly's net worth?
Kelly Mi Li is said to have a net worth of around $5 million (£3.6million), according to Heat. This means she's high on the Bling Empire rich list!
As mentioned, most of Kelly's net worth comes from her work as a producer, talent manager, and within the media generally. Plus, not only does she earn money as cast member on Bling Empire, but as mentioned, she also works as a producer for the show, and was responsible (in part) for putting the whole series together. Phew!
Due to her appearance on the show, she has also amassed an impressive social media following (486,000 followers on Insta and counting), and as such, also takes on paid partnerships with brands.
Who is Kelly Mi's ex-husband?
Kelly was once married to a man named Lin Miao, a founder and CEO of a texting company, who was arrested for "running one of the largest cyber scams in American history" around ten years ago.
"In my twenties, I was married to a Chinese guy, and we lived a privileged, outrageous lifestyle," she explains in the first episode of the show. "You know, seven cars, four houses. I think at the time we were spending, like, 400,000 a month on our black [American Express card] until one day the government showed up and took everything from us, and my ex-husband was arrested."
At the time, Lin and his co-conspirators conducted a multi-million-dollar scam to charge text message services on consumers' bills without their permission, according to the Federal Trade Commission's website and the Los Angeles Business Journal.
Kelly filed for divorce from Lin in November 2014, before the divorce was finalized in May 2015.
Sagal is a journalist, specialising in lifestyle, pop culture, fashion and beauty. She has written for a number of publications including Vogue, Glamour, Stylist, Evening Standard, Bustle, You Magazine, Dazed and Wonderland to name a few.