Bling Empire's Kelly Mi Li: everything you need to know about the Netflix star
Kelly Mi Li had the biggest storyline on 'Bling Empire' season one. But how much do you know about her?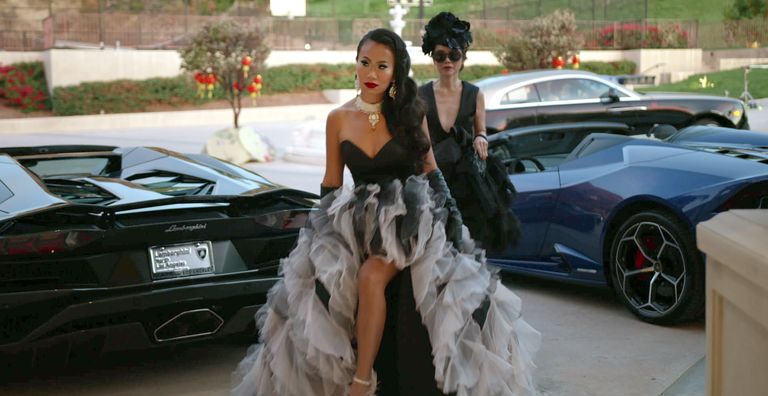 (Image credit: Netflix)
Bling Empire's Kelly Mi Li had one of the biggest storylines in the first season of the hit Netflix reality show, which follows the glamorous lives of wealthy Asian-American elites in Los Angeles. Her relationship with boyfriend Andrew Gray became a focal point in the show after her co-stars and viewers at home grew concerned about their dynamic, with many spotting abusive red flags in Andrew and his behavior towards her.
However, there are so many other things about her that made her one of the favorites on the show, one of which is her "self-made" entrepreneurship. Now that the show is back for Bling Empire season 2, we're keen to see what Kelly Mi has been up to since we last saw her. But what's her life like outside of the show?
Here's everything you need to know about the reality TV star, including her job, her ex-husband and her net worth...
How old is Kelly Mi?
Kelly was born on 13 November 1985, which currently makes her 36 years old.
What is Kelly Mi's job?
Kelly is one of four people on the show who is "self-made". She is currently a media and production company executive in Los Angeles as well as being a partner at Greyscale Lab. She was previously a managing partner at East West Artists, a talent management company. She is also the co-founder of a company named Organic Media Group. Most recently, she founded media and production company, Wet Paws Media (opens in new tab), which according to its website is "coming soon".
One of her top priorities is to boost Asian representation through her work. "I moved [to the US] from China when I was 9, 10 years old, and growing up I didn't really have people who looked like me on TV," she says. According to Bustle (opens in new tab), she is currently working on a script "somewhat based" on her and her ex-husband's life together, including both the good and the bad.
On the show, Kelly makes it clear that she is a busy woman, with working coming first. "I can't go to lunch five days a week with them," she says. "I work very hard. Success didn't come easy; being an entrepreneur is not a nine-to-five. You're on it 24/7."
Who is Kelly Mi's boyfriend now?
When we're first introduced to Kelly Mi Li on the show, she explains that she is a divorced media and production company exec who has vowed to only be in relationships "for love" after her marriage to her wealthy ex-husband ended with him being charged with fraud and the couple losing everything. She then tells us about Andrew Gray, her on-off boyfriend who she's madly in love with, but it's not long before we see the cracks in their relationship.
The couple get into a heated argument after Andrew calls Kelly while she is out shopping in Paris with Anna, screaming at her down the phone for leaving him behind at the hotel whilst he was asleep.
"What the f*ck is going on? Your lack of effort drives me f*cking crazy," he shouts. The whole thing is very uncomfortable to watch, especially when Kelly later reveals that it isn't the first time he has lashed out like that. "I haven't figured out the exact best strategy to deal with Drew when he gets in these bad moods or episodes," she tells the cameras. "Unfortunately this is not the first time Drew's yelled at me or spoken to me this way."
Throughout the first season, the two try to work through their issues by going to couple's counseling but ultimately decide to end things. However, towards the end of the season, which was filmed in 2019, they seemed to get close again but officially broke up in March 2021. In season 2 of Bling Empire, Kelly seems to be focusing on herself (vagina sunbathing and all) and trying to put a stop to the cycle of toxic relationships and we're so happy for her.
*Spoiler alert*: Drew pays a surprise visit to Anna Shay at the very end of season 2... While we have no idea what he wants, we can only imagine it has something to do with Kelly! Bring on Bling Empire season 3 so we finally find out what is happening...
What is Kelly's net worth?
Kelly Mi Li is said to have a net worth of around $5million (£3.6million), according to Heat (opens in new tab).
Who is Kelly Mi's ex-husband?
Kelly was once married to a man named Lin Miao, a founder and CEO of a texting company, who was arrested for "running one of the largest cyber scams in American history" around ten years ago.
"In my twenties, I was married to a Chinese guy, and we lived a privileged, outrageous lifestyle," she explains in the first episode of the show. "You know, seven cars, four houses. I think at the time we were spending, like, 400,000 a month on our black [American Express card] until one day the government showed up and took everything from us, and my ex-husband was arrested."
At the time, Lin and his co-conspirators conducted a multi-million-dollar scam to charge text message services on consumers' bills without their permission, according to the Federal Trade Commission (opens in new tab)'s website and the Los Angeles Business Journal (opens in new tab).
Sagal is a journalist, specialising in lifestyle, pop culture, fashion and beauty. She has written for a number of publications including Vogue, Glamour, Stylist, Evening Standard, Bustle, You Magazine, Dazed and Wonderland to name a few.