Bling Empire stars Kelly Mi Li and Andrew Gray end their five-year relationship
After more than five years together, Bling Empire couple Kelly Mi Li and Andrew Gray have split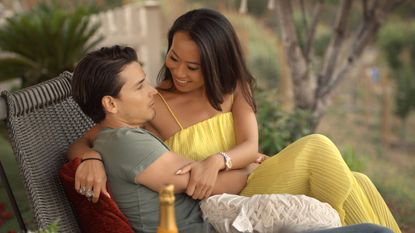 (Image credit: Netflix)
Looks like there's trouble in reality show paradise: Bling Empire's Kelly and Andrew have finally accepted that they're probably better off as friends.
The Bling Empire stars called it quits after Kelly Mi Li announced her split from longtime boyfriend Andrew Gray on Tuesday. The couple, whose tumultuous relationship was documented on the popular Netflix reality show, posted a selfie explaining the rocky relationship.
Kelly broke the sad news to her followers on Instagram, saying: "Over the past 5 and half years, Andrew and I have shared some incredible times together. I have a tremendous amount of respect and love for him and will always cherish the memories we made."
She revealed that they made the difficult decision together and acknowledged how grateful they both are to have had a relationship that has allowed them to "grow and learn so much."
She continued: "Moving forward, Andrew and I plan to continue working on becoming the best versions of ourselves individually. We want to express our appreciation for your continued support and thank you for allowing us to share our journey. We kindly ask for you to respect our privacy during this time of transition."
This isn't the first time Andrew and Kelly have split up—which makes it obvious why you should think twice before getting back with an ex. The couple broke up while shooting the first season of Netflix's Bling Empire. During the season, Kelly begged Andrew to leave their shared apartment so she could reevaluate her options. However, after the season ended, Kelly and Andrew began to focus on strengthening their relationship.
Andrew Gray told E! News in February that fans had only seen what the producers wanted them to see, saying: "I don't believe the audience—and this is my opinion, Kelly's gonna say her piece—really saw anything other than the absolute worst part of a time, a short time, that was put on camera."
Kelly did admit: "There were definitely some things that were really difficult to watch. You know, but for me, I feel like…really proud how far we've come since filming."
The Bling Empire cast are once again supporting Kelly as she goes through yet another break-up. Hairstylist Guy Tang commented on her announcement: "We are here for you if you need anything @kellymili you're strong."
Since December 2020, Kudzai has worked as a trainee journalist at FUTURE, writing about fashion, entertainment and beauty content for My Imperfect Life.

Kudzai previously worked as a freelance fashion wardrobe stylist, directing magazine photoshoots and coordinating the fashion direction of recording artists.

A fully qualified Journalism and Media graduate from De Mont Fort University, Kudzai graduated in the summer of 2020.