Bridgerton scene controversy explained: why Daphne's 'male rape' scene is dividing opinion
Wondering what the Bridgerton scene controversy is all about?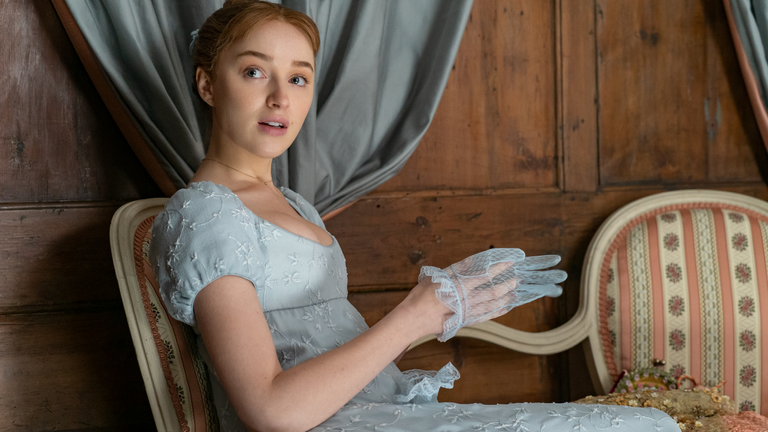 (Image credit: Netflix)
Bridgerton has been the talk of the town since it dropped on Netflix on Christmas Day, but the conversation has taken a more serious turn. As more and viewers get to episode six and watch the show's most controversial scene, many are questioning the ethics around it.
Warning: spoilers ahead.
Bridgerton scene controversy: is it a rape scene and how is it different to the book?
On episode six of the series, viewers see Daphne (played by Phoebe Dynevor)  hatch a plan to get impregnated by her husband Simon (played by Regé-Jean Page). The two get married under the condition that he could not have children - despite Daphne's desire to start a family - which the debutante originally thought was on the grounds of a medical condition.
It's only when Daphne realises that the Duke can indeed have children but uses the pull-out method in order to avoid having children, that she initiates sex and positions herself on top of him so he can't pull out, despite his attempts to do so.
In the book, the scene is slightly different - Simon comes home drunk and Daphne feels an "intoxicating surge of power", takes advantage of him, and leaves him with "complete loss of speech, this choking, strangling feeling". 
Why was the scene from 'The Duke and I' kept in Bridgerton? 
The book came out 20 years ago, and since then society's understanding of consent has changed - which has now raised questions as to why the show's creator Chris Van Dusen decided to keep the scene.
Speaking to Entertainment Weekly, he said: "We had a lot of conversations around that specific incident in the book. And we did discuss it, a lot, as far as how to approach it and how to handle it."
He continued to explain that the scene is part of Daphne's journey from innocent debutante to a woman who knows what she wants and what she's capable of doing to get it.
"I've always called this first season of the show, if it had a subtitle, it would be, 'The Education of Daphne Bridgerton.' That incident really goes along with that overall — that overarching theme that she starts out as this picture-perfect, wide-eyed, innocent debutante.
"And we watch her grow into this woman who gets to shed all of the constraints society has held her to, and she finally figures out who she really is and what she's capable of."
How have viewers reacted to Bridgerton's controversial scene?
Many have expressed their take on the controversial scene on social media, wondering why the scene was kept and why there was no trigger warning.
One said: "tw sexual assault, rape for anyone watching #Bridgerton, episode 6 has a male rape scene that they...somehow made worse than the book. I'm so angry".
Another wrote: "It's actually disappointing that we've almost got to 2021 and Hollywood are STILL struggling to recognise female-on-male rape. The Bridgerton scene was supposed to be "sexy." Daphne raped Simon so she could have children, despite the latter having experienced severe trauma."
A third added: "Trigger warning: rape The #Bridgerton rape scene needs to be acknowledged as one. It was hard to watch."
While a forth wrote: "Just remembered why I did not particularly love the first book of the Bridgerton series and re read the rest of the books all the time.! The book should have come with a trigger warning and now that its going to be on a show, all the more! tw: marital rape of husband by wife".
As well as acknowledging that the sex scene is in fact rape,  a comment piece in Vox by writer Aja Romano explains Simon's use of the word "can't" instead of "won't" means Daphne, who has been given little to no sex education, is also unable to give informed consent when they first have sex. 
"The strangest thing about this moment is that I'm not sure the show's writers consider this scene to be a rape scene," Romano writes. "One bad moment of uninformed consent does not justify a moment of nonconsensual sex. And depriving Simon of his consent to both sex and fatherhood, even at the moment of climax, is still rape."
Mariana is the editor of My Imperfect Life. She has previously worked for titles including Woman&Home and GoodtoKnow, covering all aspects of women's lifestyle - from beauty and fashion to wellness and travel. She's mildly obsessed with reality TV (Love Island memes included) and Gilmore Girls. In her spare time, she spends far too much time checking her horoscope and figuring out the perfect curly hair routine.