Phoebe Dynevor's boyfriend, family and career: what to know about Daphne Bridgerton
Love Bridgerton? Here's everything to know about Phoebe Dynevor's boyfriend, family and career so far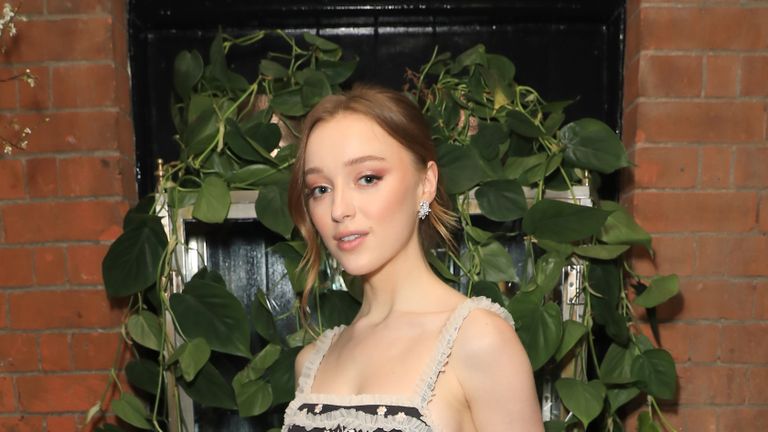 (Image credit: David M. Benett / Contributor via Getty)
Who is Phoebe Dynevor's boyfriend, what's her family like and what are her previous TV credits? Netflix's latest star has won over hearts with her portrayal of Daphne in the Bridgerton cast, but we're dying to know more about her. 
The show, which is based on Julia Quinn's best-selling novels, was crowned the most-watched original series by Netflix, racking up a massive 82 million views in its first 28 days post-release.
The Regency era drama follows the lives of the Bridgerton family, including their relationships and love interests, with plenty of scandal and lust thrown in. In Season 1 Phoebe's character, Daphne Bridgerton, decides to form an alliance with the elusive Duke of Hastings, played by Regé-Jean Page – with plenty of twists and turns along the way and an explosive finale to boot.
As we await more details on Bridgerton Season 2, and whether Daphne will be returning, here's what you need to know about the show's breakout star.
Who is Phoebe Dynevor's boyfriend?
It looks the actor is off the market right now, as Saturday Night Live's Pete Davidson and Phoebe Dynevor are reportedly dating. Rumors first started a-circling after the two were spotted in Phoebe's UK hometown in March.
Previously the star dated fellow actor Sean Teale and the pair were fairly public about their romance at the time. They often attended red carpet and public events together, as well as sharing updates on social media.
Sean – who is known for his roles in Skins and Reign – is also a close friend of actor Luke Pasqualino, who co-starred with Phoebe in The Musketeers. It's a small world!
Thanks to their incredible on-screen chemistry, Dynevor was unsurprisingly linked to her Bridgerton co-star Regé-Jean Page initially. The two never confirmed an off-screen relationship – although Regé-Jean did make some comments about their chemistry in a recent interview the pair did with Access Hollywood. 
"I think that everything you need to know is on camera," he said. "All of the sparks that flew came off of the beautiful scripts that we were handed and so I think that the sparky words, scripts and material are more than enough."
Phoebe also told Harper's Bazaar that the pair got close during filming. "We had so much time to get to know each other," she explained. "We did a lot of rehearsing.
"I think the thing that actually really helped the chemistry was all the dance rehearsals, because we just spent so much time with our choreographer, Jack Murphy, and loads of time in the studio—just me, Regé, and Jack sort of getting the moves right and dancing and dancing to this modern, fun music. And we just got time to play and sort of form a connection. I think that was so beneficial actually in getting the chemistry right."
Phoebe Dynevor pregnancy: was Phoebe Dynevor pregnant while filming Bridgerton?
As far as we know, Phoebe is not pregnant in real life and wasn't while filming Bridgerton. However – *spoiler alert*
Any speculation from fans was most likely down to her character Daphne, who does get pregnant in Bridgerton's explosive finale  following a turbulent relationship with her husband, the Duke of Hastings.
Phoebe Dynevor age: how old is Phoebe in real life?
Phoebe Dynevor will turn 26 this month. Born in Manchester in April 1995, she's the eldest of three children and attended Cheadle Hulme School in Stockport, which is in the north of England. 
She is currently staying at her family home in Altrincham, near Manchester, where she retreated when UK lockdown came into force just a month after the end of filming. 
But when it comes to watching herself back on screen, she revealed she won't be letting her grandparents watch the raunchy show any time soon. 
"I'm happy for Mum and Dad to see it, because they know the industry, and they know how hard I worked, and how much it meant to me getting that role," she told The Guardian. "But not my grandparents. And with my younger brother… well, it's awkward." We totally get it.
Phoebe Dynevor height: how tall is Phoebe?
According to IMDb, Phoebe Dynevor is around 5ft 5 inches tall – which is slightly taller than the average height for women in the UK.
Phoebe Dynevor family - does she come from an acting background? 
It seems the Dynevor family are blessed with a talent for the arts. Phoebe's mother is British actress Sally Dynevor, who has played Sally Webster in the British soap opera Coronation Street since 1984. (For the uninitiated US reader, soaps are a BIG deal in the UK and are on pretty much every weeknight, so Sally is something of a household name across the pond.) Phoebe's father, Tim Dynevor, also works in the TV/film world and is a scriptwriter. 
Phoebe comes from a loving family and is super close to both her parents and siblings. In an interview with Glamour UK, she said: "The Bridgerton family are a really, super-tight-knit family and I have the same thing at home. I'm really close to my parents and my family – they have shaped me every way they could; they've been such an amazing support system."
Case in point: aged 11, she pestered her parents into attending open auditions for The Golden Compass. "I didn't end up getting the role, but I had the best day of my life," she told The Guardian. "From then on, it was like, 'Right, what's next? How are we doing this?' My mum and dad couldn't stop me."
What has Phoebe Dynevor starred in?
The 25 year old actress has appeared in a number of British shows over the years, including Waterloo Road (which her co-star Regé-Jean Page also appeared in back in the day). Phoebe played student Siobhan Mailey when she was just 14, appearing in 20 episodes in total.
Her other TV credits include Prisoners' Wives, Dickensian and American comedy series Snatch. She currently stars in comedy-drama series Younger alongside Hilary Duff. 
Phoebe has admitted that the most challenging thing about her role in Bridgerton was the dancing.  "I was really nervous about the dancing, because I've always told myself that I'm not a dancer, so I started to believe it," she told Town and Country.
"We had this incredible choreographer called Jack Murphy, and we had six weeks of rehearsals before filming began. It really helped the chemistry between Regé and me because we had to learn to dance together, and that very much informed our acting relationship.
"There were also a lot of scenes where we had dialogue during these dance routines, which looks easy, but it's quite difficult to pull off. Those scenes were the most nerve-racking, but also the most fulfilling."
Phoebe Dyvenor feminism's - the star is an advocate for women 
Phoebe has shown that she isn't afraid to call out some of the ways women are treated in the mainstream media. She often uses her social media platforms to champion issues she feels passionately about – including calling out the press when they target a powerful woman and attempt to tear her down.
Last year, she shared the below Instagram post with the caption: "Trying to wrap my head around the social urge to break apart vulnerable women in the public eye. They do not belong to you." 
Phoebe Dynevor on THOSE Bridgerton sex scenes
Sex can be daunting at the best of times, let alone when there's a film crew and cameras looking on. But Phoebe appears to have taken it in her stride, and has opened up about exactly how those Bridgerton sex scenes were filmed.
"We would rehearse the sex scenes like stunts," she explained. "I would literally know exactly where a guy was going to put his hand at what moment. And we'd have props, like mats, that went in between us. It was more intricately choreographed than our dance routines in a way, so I never really felt exposed at all."
As for "going solo" for Daphne's self-love scene, Phoebe admitted she had to nail it in one take without rehearsing. In an interview with Glamour she confessed: "On my own, it's a different thing. The stage directions are very specific: You have to [perform having] an orgasm. It's a difficult thing to rehearse, which means you don't. You just do it."
And not forgetting the question on everyone's lips" what was it like for Phoebe to work opposite the Duke of Hastings, aka Regé-Jean Page? "It was a big moment in both of our lives in a lot of ways, and we were both quite nervous about it," she said of the on-screen partnership. "We spent so much time rehearsing together that we've become good mates. Unfortunately now he's off in Los Angeles, but we check in with each other a lot."
We're looking forward to seeing what comes next for Phoebe!