Shows like 'Bridgerton': more binge-worthy shows to add to your watch list
The best shows like 'Bridgerton' after you finish season two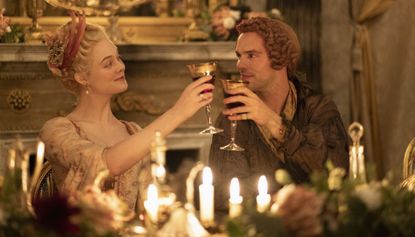 (Image credit: Ollie Upton/Hulu)
If you have a period drama-shaped hole in your life and you're on the hunt for shows like Bridgerton to add to your viewing list, then you're in the right place.
We've curated the ultimate list of shows like Bridgerton to sink your teeth into. The first season of the popular Netflix series, which dropped on Christmas Day 2020, was brimming with escapism, steamy romance scenes, stellar acting and dazzling costumes—essentially everything we needed.
If you've already finished Bridgerton season 2—despite the devasting news that our the dreamy Duke of Hastings, Regé-Jean Page, won't be in the next season—we've rounded up our favorite shows with similar themes, to binge-watch while you wait for season three to come along. Yes, we're already counting down the days until new episodes!
---
---
Shows like 'Bridgerton' to add to your watch list:
1. 'Vanity Fair'
If you're craving another period drama then Vanity Fair—a seven-episode mini-series adapted from William Makepeace Thackeray's novel of the same name—is just the thing.
Starring Michael Palin and Olivia Cooke, the show follows the ruthless social climber Becky Sharp as she charms her way through British upper-class society. Set in the early 19th century, the same time period as Bridgerton (which begins around 1813), this show is a perfect follow-up with its gripping plot and dazzling costumes.
2. 'The Great'
The Great is a drama about Catherine the Great, Russia's longest-running female leader. The titular character is played by Elle Fanning and it also stars Nicholas Hoult. Between the costumes, great performances, and seriously sexy scenes, it has all the ingredients that made us fall in love with Bridgerton in the first place.
3. 'Pride and Prejudice'
Many friendships have been solidified or torn apart over who most embodies Mr. Darcy perfectly, but that's a story for another time.
It's time for a rewatch of the seminal 1995 BBC TV adaptation of Jane Austen's classic novel, starring Colin Firth and Elizabeth Ehle—another show set in the same period as Bridgerton.
We don't know about you, but the relationship between the Duke of Hastings (the dreamy Regé-Jean Page) and Daphne (played by Phoebe Dynevor) reminds us of lively Elizabeth Bennet and stubborn Mr. Darcy.
4. 'Downton Abbey'
This award-winning British period drama set in the post-Edwardian era follows the lives of the aristocratic Crawley family: cue soap opera levels of gossip, comical one-liners ("What is a weekend?") and a stellar cast that includes Maggie Smith and Lily James. The best part? There are a whole six seasons to binge on.
When you've finished those—as you inevitably will—you can watch the Downton Abbey film (Downton Abbey 2 is slated to drop in December 2021).
5. 'Gossip Girl'
OK, it's not a period drama—but Gossip Girl has many of the same ingredients that make Bridgerton so addictive: beautiful people falling in love (albeit it's the New York elite rather than the British aristocracy), edge-of-your-seat drama, vibrant wardrobes and stunning interiors. Plus, the Gossip Girl narrator gives Lady Whistledown a run for her money.
6. 'Scandal'
For the avoidance of any doubt, this is an official Shonda and Kerry Fanclub now. Period!
This American political thriller is a much-loved offering from Bridgerton creator Shonda Rhimes (also the woman responsible for Grey's Anatomy, FYI). It follows Olivia Pope—played by Kerry Washington—who heads up a crisis management firm in Washington D.C. If you loved Bridgerton's fast-paced drama, you'll love Scandal.
7. 'Emily in Paris'
Netflix's hit series Emily in Paris offers one thing we're all looking for right now: escapism, which can be easily found in idyllic modern-day Paris. Even if there has been much discussion about the accuracy of the show, we're borderline obsessed with marketing-executive Emily Cooper's designer wardrobe (who cares if it's implausibly expensive?), and the sexual tension between her and neighbor Gabriel is enough to rival Bridgerton's Daphne and the Duke of Hastings.
Plus, it's no secret that we're HUGE fans of Lily Collins eyebrows.
8. 'Outlander'
Look, who are we kidding, the steamy sex scenes in Bridgerton were the main draw (unless you were watching with your family...). Now, if you think they were something, you need to watch Outlander—which cranks up the raunch to 11.
The show follows British army nurse Claire Randall who is enjoying a second honeymoon with her husband (played by The Crown's Tobias Menzies) in Scotland after World War II. However, her life changes forever when she's suddenly transported to 1743 and thrown into a mysterious new world where she meets a new man and finds herself caught between her two loves.
9. 'Dickinson'
When all else fails, be your own sunshine.Watch a new episode of #Dickinson tomorrow on the @AppleTV app with an Apple TV+ subscription. pic.twitter.com/IG2SneFAbnJanuary 15, 2021
See more
Starring Hailee Steinfeld as Emily Dickinson, this Apple TV period drama set in the 1850s focuses on the teenager as she struggles to follow her dreams of becoming a poet at a time when female writers were frowned upon (much like Eloise Bridgerton).
In a coming of age story, Emily explores the constraints of society, gender and family from her own creative and wonderfully imaginative perspective—one that is far beyond her time.
10. 'Gentleman Jack'
Gentleman Jack is based on the decoded diaries of Anne Lister, a British landowner who became a queer icon, it's a love story like no other and is sure to give your historical fix and dose of escapism via period drama. Suranne Jones, an icon of British television (she played Karen McDonald in Coronation Street), takes on the role of Lister and delivers a stellar performance.
11. 'Sanditon'
The eight-part ITV period drama first aired back in 2019 and just like Bridgerton, it focuses on a romantic lead who is bound by his strong moral code. The show is based on Jane Austen's unfinished final novel, which was written just two months before her death.
The plot follows protagonist Charlotte (played by Rose Williams) who moves to the quiet fishing village of Sanditon for a fresh start, only to almost immediately meet Sidney (played by the incredibly handsome Theo Campbell)—a charming man who has ambitions to turn the tranquil seaside residence into a luxury resort.
12. 'Belgravia'
Based on the Julian Fellowes novel, Belgravia tells the story of the Trenchard family and London's newly burgeoning nouveau riche scene. Naturally, it's never a simple plot with secrets and twists being exposed at every avenue. Will the secrets be revealed? Only time will tell—well, unless you've read the books...then you'll know what happens.
13. 'The Gilded Age'
The latest HBO period drama is set in the American Gilded Age, a period of immense economic change that led to a great conflict between the old ways and brand new systems, where huge fortunes were made and lost.
The story, which starts in 1882, follows a young Marian Brook who moves from rural Pennsylvania to New York City after the death of her father to live with her aunts Agnes van Rhijn and Ada Brook. She is joined by Peggy Scott, an aspiring writer seeking a fresh start and somehow eventually ends up enmeshed in a social war between one of her aunts (a scion of the old money set) and her wealthy neighbors: a ruthless railroad tycoon and his ambitious wife, George and Bertha Russell. Ultimately, Marian must choose if she will follow the established rules of society or forge her own path.
Oh, and did we mention it stars Sex and the City's Cynthia Nixon?! Consider us fans already!
Francesca Specter is a freelance journalist and the author of Alonement: How to be alone and absolutely own it. Based in north London, she's previously worked for Yahoo Lifestyle, Express.co.uk and Healthy magazine, and has written for the Telegraph, Red and Huffington Post.