What happened during the Candy Montgomery trial?
'Candy' on Hulu dramatizes the Candy Montgomery trial but what actually went down during the real-life court case?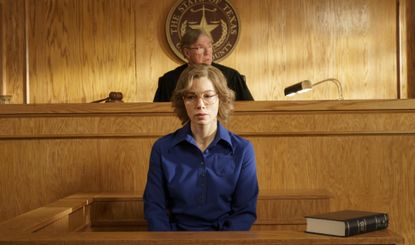 (Image credit: Tina Rowden/Hulu)
When Texas authorities arrested Candy Montgomery—the subject of Candy, Jessica Biel's true-crime miniseries on Hulu—they were pretty sure that they had nabbed the culprit in the shocking 1980 ax murder of small-town stay-at-home mom Betty Gore. They just didn't yet know the reason why did Candy Montgomery kill Betty.
The eight-day Candy Montgomery trial, taking place in Collin County in October 1980, would answer those questions and unleash even more surprises. What really happened during the much-publicized court case and how did its participants fare after the ruling? Here's what to know.
*Warning: spoilers ahead!*
What happened during the Candy Montgomery trial?
After Betty Gore's husband Allan Gore (played by Pablo Schreiber in the series) admitted to having a months-long extramarital affair with family friend Candy Montgomery (Jessica Biel), Candy was arrested and charged with killing Betty Gore (Melanie Lynskey), stabbing her with an ax 41 times following a confrontation between the two women on June 13, 1980 in Wylie, Texas.
The trial began in October 1980, during which Montgomery pleaded that she had killed Gore out of self-defense. According to an archived newspaper article (opens in new tab) released at the time of the trial, Montgomery's attorney Don Crowder said "Mrs. Montgomery had to defend herself with deadly force when, after being struck twice with the ax by Mrs. Gore and then gaining control of the weapon, the heavier and larger Mrs. Gore refused to let Mrs. Montgomery go."
The prosecution, led by District Attorney Tom O'Connell, argued that Montgomery could have fled "rather than bludgeon" Betty Gore with the ax. Also, O'Connell claimed that the sheer number of times Montgomery struck Gore with the ax—41 times, to be exact—was more than necessary to defend herself.
What did the Betty Gore autopsy report reveal?
According to Texas Monthly (opens in new tab), "there were, in all, 41 chop wounds. Forty of them occurred while Betty Gore's heart was still beating." The autopsy report revealed that 28 of those hacks had been to Gore's face and head, which led investigators to believe that the killer knew Betty personally.
Montgomery had tried to clean up the scene following the attack, showering fully clothed to remove any traces of blood, but the sheer amount of bloodshed made it impossible, and evidence of Candy's blood was found in several points of the Gore residence.
After the altercation, she went home, changed clothes and returned to The First United Methodist Church of Lucas—of which both Betty Gore and lawyer Don Crowder were members—to finish bible-school activities.
Was Candy Montgomery found guilty?
Despite O'Connell's arguments, a jury of nine women and three men found Candy Montgomery not guilty of Betty Gore's murder on October 30, 1980, and she was acquitted of the murder charge.
With her husband Pat Montgomery by her side, Candy left the courthouse with stunned crowds shouting "Murderer! Murderer!" after her. The couple soon thereafter left Wylie, Texas, altogether for Georgia, presumably to escape the media frenzy and her ruined reputation in the community. (Where is Candy Montgomery today? We've got that intel, too.)
What happened to Don Crowder, Candy Montgomery's lawyer?
According to The Dallas Observer (opens in new tab), Candy Montgomery sought out attorney Don Crowder (played by actor Raúl Esparza), a fellow church member, after police began to find clues linking Montgomery to the Betty Gore crime scene. Crowder had mostly worked in civil law through his firm Crowder & Mattox, and representing Montgomery in the murder trial was his first criminal case.
Despite that first-timer fact, Crowder boldly and successfully argued in Montgomery's favor, so much so that he landed a four-day jail sentence for contempt of court during the trial. Reports Newsweek (opens in new tab), fellow Collin County attorney Howard Shapiro said of Crowder: "The joke around the courthouse was who was going to get more time, Candy or Crowder."
On playing Crowder, actor Esparza told The List (opens in new tab) that he was "attracted to the fact that [Don] was completely audacious for a first-time trial attorney who managed to really pull off some extraordinary accomplishments without the experience behind them."
Candy's attorney Don Crowder, who won a shocking verdict despite the facts and public opinion stacked against him, committed suicide in 1999.
After arguing that Montgomery acted in self-defense and thus winning the case, Crowder continued his law career and acted as a city attorney for the town of Allen, Texas, for 22 years. He even made a bid for governor in 1986, per Newsweek, though he didn't win.
Things went south for Crowder in the 1990s, when his brother Barry died in a tragic accident in August 1997. Crowder's mental health suffered following the loss and he began struggling with alcohol and cocaine abuse. He attempted suicide on October 25, 1998, his 56th birthday, but survived.
A few days later, he shared remorse for his participation in the Mongtomery trial to the McKinney Courier-Gazette, per The Dallas Observer. "That case was maybe the zenith of an extraordinarily successful career, or the demise of what could have been," Crowder told the outlet. He "watched the Gore family" during the trial: "They were simple farm folk, and they didn't understand that I had a job to do. It bothered me a lot. Their faces still haunt me."
A few weeks later, on November 10, 1980, Crowder took his own life at his home.
All five episodes of Candy are on Hulu starting on Friday, May 13.
Christina Izzo is the Deputy Editor of My Imperfect Life.
More generally, she is a writer-editor covering food and drink, travel, lifestyle and culture in New York City. She was previously the Features Editor at Rachael Ray In Season and Reveal, as well as the Food & Drink Editor and chief restaurant critic at Time Out New York.
When she's not doing all that, she can probably be found eating cheese somewhere.