Where is Candy Montgomery today? You'll be shocked to find out
Curious where is Candy Montgomery today? The subject of 'Love & Death' might not be where you'd think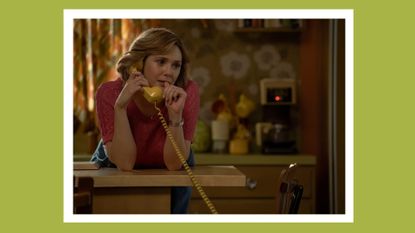 (Image credit: Jake Giles Netter/HBO Max)
Everyone's asking the same question, "Where is Candy Montgomery today?"
Elizabeth Olsen has taken on the role of the ax-wielding housewife for Love & Death, HBO Max's retelling of the horrific story, which follows Candy, Hulu's miniseries led by Jessica Biel in 2022. Though there have been plenty of documentaries and shows about Candy Montgomery, people still can't seem to wrap their heads around her frightening actions—including Olsen.
"What happens in someone's life that leads to that," the actor asked Harper's Bazaar. "So it's not so much about the sensationalizing of a murder, but it was more a character study that I thought could be interesting."
Given the attention surrounding the 43-year-old event—and the fact that the Candy Montgomery trial did not go the way we had expected—we're curious to catch up with her whereabouts. Trust us when we tell you, they are almost as shocking as what transpired all those years ago.
Where is Candy Montgomery today? Did she go to jail?
Believe it or not, Candy Montgomery is a free woman today. But let's backtrack a bit.
Candace "Candy" Montgomery was accused of murdering her close friend, Betty Gore, in Wylie, Texas, on June 13, 1980. Montgomery, who had been having an extramarital affair with Betty's husband Allan Gore, had stopped by the family's residence to pick up a swimsuit for their daughter when Betty confronted her about the affair. A physical fight ensued, ending with Montgomery reportedly stabbing Gore 41 times with a three-foot-long ax, all while Allan was out of town.
So, when did Candy get caught? After Allan had confessed to authorities that he'd been having an affair with Candy, she was subsequently brought in for questioning. According to sources, she did not take any responsibility for Betty's murder and she had refused to take a polygraph test. But ultimately, the footprints and evidence at the crime scene was enough for her arrest warrant.
Four months later, the trial took place, and during which Montgomery argued that she had acted in self-defense after Gore had grabbed the ax from the garage. Hypnosis sessions led psychiatrists to claim that Montgomery had experienced a "dissociative reaction" during the altercation and that her rage was the result of childhood trauma. A jury acquitted Candy Montgomery of murder charges on October 29, 1980.
Where is Candy Montgomery today?
Following the trial, Candy Montogomery, her husband Pat Montgomery and their children left Texas in 1980 and moved to Georgia. The couple divorced four years later and Candy adopted her maiden name, Candace Wheeler. She, ironically, went on to become a mental health counselor, per Newsweek.
Is Candy Montgomery still alive?
Yes, Candy Montgomery is alive and was recently working as a therapist in Georgia. Born in November 1949, she is currently 72 years old.
Jessica Biel reportedly tried to get in touch with the real-life Candy in preparation for her role, the actress told Entertainment Weekly: "She was not interested." Biel then turned to Robert Udashen, one of Candy's attorneys in the murder case, who was a "huge resource of information."
Of playing the real-life Candy Montgomery, Biel told Variety, "I wanted to create this person that you really, really were conflicted about. You're with her. You're with her and then, wait a minute, I'm not sure if I'm with her."
Likewise, Olsen planned to dig into the character's psyche and what made her carry out such horrific acts.
"And I don't know how our brains react in such extreme situations, because I've never been put in them, or how our bodies do in survival mode," she told Bazaar. "It was someone who was put in such absurd circumstances. What are all the steps that led to the decision making that happened and for the decision making to have gone so wrong?"
Love & Death's first three episodes premiered on Thursday, April 27 on HBO Max. Each subsequent episode will be released on Thursdays through May 25. Candy is streaming on Hulu.
Christina Izzo is the Deputy Editor of My Imperfect Life.
More generally, she is a writer-editor covering food and drink, travel, lifestyle and culture in New York City. She was previously the Features Editor at Rachael Ray In Season and Reveal, as well as the Food & Drink Editor and chief restaurant critic at Time Out New York.
When she's not doing all that, she can probably be found eating cheese somewhere.
With contributions from