Where is Candy Montgomery today?
Wondering where is Candy Montgomery today? Is the subject of 'Candy' still alive? Is she in prison? Here's what to know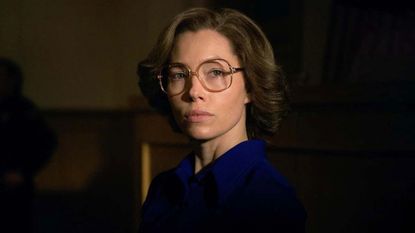 (Image credit: Hulu)
Good news, true-crime lovers: another murder mystery is dominating our screens, what with the release of Candy, Jessica Biel's new Hulu miniseries.
Starring Biel alongside Melanie Lynskey and Pablo Schreiber, the show tells the true story of Candy Montgomery, a Texan housewife who shockingly murdered her best friend Betty Gore with an ax back in the summer of 1980.
"Once I really started diving into who she is and how this ending happened this way, I got really interested in why and how did this very normal woman—seemingly very normal, upstanding pillar of the community, good mother, good wife, nice human — how did she commit this crazy act of violence?" Biel told Variety (opens in new tab).
But while we already know the answer to "why did Candy Montgomery kill Betty?" we still have many questions, the biggest of which is: where is Candy Montgomery today? Here's what we know.
*Warning: spoilers ahead!*
Did Candy Montgomery go to jail?
Candace "Candy" Montgomery was accused of murdering her close friend, Betty Gore, in Wylie, Texas, on June 13, 1980. Montgomery, who had been having an extramarital affair with Betty's husband Allan, had stopped by the Gore residence to pick up a swimsuit for their daughter when Betty confronted her about the affair. A physical fight ensued, ending with Montgomery reportedly stabbing Gore 41 times with a three-foot-long ax.
When Allan, who was out of town on business, couldn't reach his wife by telephone, he enlisted neighbors to investigate her whereabouts. They discovered Betty's body in the utility room and their infant daughter Bethany crying in her crib.
After weeks of questioning, Allan Gore admitted his affair with Candy to the authorities and thus gave them a motive. Montgomery was arrested by police and was put on a $100,000 bond, per the Fort Worth Star-Telegram (opens in new tab).
Four months later, the eight-day Candy Montgomery trial took place, during which the defense argued that Montgomery acted in self-defense after Gore had grabbed the ax from the garage and approached Candy with it. Hypnosis sessions led psychiatrists to claim that Montogmery had experienced a "dissociative reaction" during the altercation and that her rage was the result of childhood trauma.
A jury acquitted Candy Montgomery of murder charges on October 29, 1980.
Where is Candy Montgomery today?
Following the trial, Candy Montogomery, her husband Pat and their children left Texas in 1980 and moved to Georgia. The couple divorced four years later and Candy adopted her maiden name, Candace Wheeler. She, ironically, went on to become a mental health counselor, per Newsweek (opens in new tab).
Is Candy Montgomery still alive?
Yes, Candy Montgomery is alive and was recently working as a therapist in Georgia. Born in November 1949, she is currently 72 years old.
Jessica Biel reportedly tried to get in touch with the real-life Candy in preparation for her upcoming role, the actress told Entertainment Weekly (opens in new tab): "She was not interested." Biel then turned to Robert Udashen, one of Candy's attorneys in the murder case, who was a "huge resource of information."
Biel also tapped the help of journalists Jim Atkinson and Joe Bob Briggs, who wrote Evidence of Love: A True Story of Passion and Death in the Suburbs: "They were walking knowledge bombs of this story—the people in both of these families' lives, the survivors, the families, and Candy herself. They'd interviewed her, which was priceless for me."
Of playing the real-life Candy Montgomery, Biel told Variety: "I wanted to create this person that you really, really were conflicted about. You're with her. You're with her and then, wait a minute, I'm not sure if I'm with her."
"As the story unfolds, you empathize with the actions. You get it on some level. You connect on a human level in some way. You're still kind of with her at the end," Biel continued. "That's what I hoped to create. You just have to have empathy. I didn't play this character like she was the villain."
All episodes of Candy are now streaming on Hulu.
Christina Izzo is the Deputy Editor of My Imperfect Life.
More generally, she is a writer-editor covering food and drink, travel, lifestyle and culture in New York City. She was previously the Features Editor at Rachael Ray In Season and Reveal, as well as the Food & Drink Editor and chief restaurant critic at Time Out New York.
When she's not doing all that, she can probably be found eating cheese somewhere.