'Candy,' Jessica Biel's new true-crime drama, tells a shocking murder story
'Candy,' Jessica Biel's upcoming streaming series, is a retro ax-murderer tale that'll have you gripped this month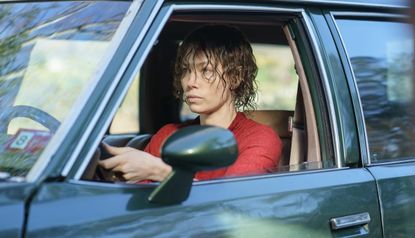 (Image credit: Tina Rowden/Hulu)
Candy, Jessica Biel's new true-crime drama, is arriving on Hulu this month and it might just be the most gripping story we've seen on-screen in a while.
We've already been spoilt with incredible TV this year, especially in the true-crime category, from Bad Vegan to Worst Roommate Ever, and it doesn't look like things are slowing down anytime soon. Next on our watch list is Candy, a limited series based on a seemingly normal Texan housewife, Candy Montgomery, who was convicted of a grisly ax murder in 1980.
The pilot for the true-story adaptation was written by Robin Veith, who is also an executive producer of the series alongside The Act's Nick Antosca and Jessica Biel, who stars in the show as Montgomery in what is set to be her most eery role to date. This isn't Biel's first foray into sinister TV—the actress is also a producer on one of our favorite teen thriller shows, Cruel Summer. (Keep those Cruel Summer theories coming, people!)
Here's everything you need to know about the creepy '80s-set drama Candy, from its twisted plot to its release date, which is a lot sooner than you'll think!
First look at Melanie Lynskey and Jessica Biel in CANDY, which will premiere on Hulu Monday, May 9 pic.twitter.com/PTxEQ4th0xMarch 17, 2022
See more
What is 'Candy,' Jessica Biel's new series, about?
The limited series is based on the true-crime story of a woman named Candy Montgomery, a suburban housewife in Texas who brutally murdered her neighbor Betty Gore with an ax on the night of June 13th, 1980.
The official Hulu synopsis reads: "Candy Montgomery is a 1980s housewife and mother who did everything right—good husband, two kids, nice house, even the careful planning and execution of transgressions—but when the pressure of conformity builds within her, her actions scream for just a bit of freedom. With deadly results."
The series will play out the intricate details of the case, with Biel portraying Montgomery as she recounts what happened when she takes the stand, according to the recently released teaser clip.
"I had no angry feelings towards her if that's what the question is," Biel's Montgomery says in the short clip of her relationship with Gore. "We were friends."
Eeek, give us more!
Watch the 'Candy' on Hulu trailer:
'Candy' cast 2022: who's who?
As well as star Jessica Biel—who actually replaced The Handmaid's Tale actress Elisabeth Moss in the lead role of Candy Montgomery, as Moss had to drop out due to scheduling conflicts, per Deadline—Yellowjackets cast member Melanie Lynskey joins the cast of Candy in the role of Montgomery's church friend and victim Betty Gore.
Actors Timothy Simons (Veep), Pablo Schreiber (Orange Is the New Black) and Raúl Esparza (Law & Order: SVU) round out the Candy cast.
When is the 'Candy' on Hulu release date?
The first episode of Candy will be released on Hulu on Monday, May 9, 2022. A five-night event, the series will debut a new episode every day until the finale on Friday, May 13.
You can sign up for a Hulu subscription—monthly plans cost $6.99 for the basic plan, $12.99 for ad-free, $69.99 for live TV with commercials or $75.99 for live TV without—below!
Sagal is a journalist, specialising in lifestyle, pop culture, fashion and beauty. She has written for a number of publications including Vogue, Glamour, Stylist, Evening Standard, Bustle, You Magazine, Dazed and Wonderland to name a few.
With contributions from