Where is Allan Gore today? What happened to the husbands of 'Candy' on Hulu?
He's at the center of the 'Candy' crime but where is Allan Gore today?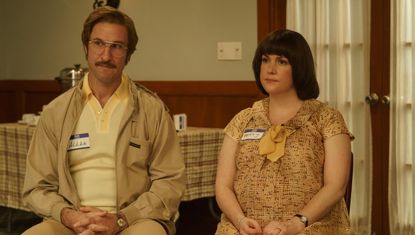 (Image credit: Tina Rowden/Hulu)
The ax murder of a small-town Texas housewife named Betty Gore by her close friend Candy Montgomery serves as the chilling plot of Candy, Jessica Biel's new Hulu miniseries inspired by shocking true events.
A new episode of the limited series airs every day on the streamer from Monday, May 9 to Friday, May 13, meaning we're halfway through the true-crime title. We know why Candy Montgomery killed Betty Gore and we have intel on where is Candy Montgomery today, but viewers are still curious about the whereabouts of Allan Gore today.
Along with being the husband to the late Betty, Allan Gore (played by Pablo Schreiber) was embroiled in an extramarital affair with Candy Montgomery (Biel) just months before his wife's murder. Was Allan involved in the horrific crime and where is he now? And what happened to Candy's husband, Pat Montgomery? Here's what we know.
*Warning: spoilers ahead!*
Where is Allan Gore today?
Shortly after the June 1980 murder of Betty Gore, both Allan Gore and Candy Montgomery were considered suspects, and Gore was even arrested by police. However, he had a concrete alibi: he was away in St. Paul, Minnesota, for business while the crime was taking place in Wylie, Texas. After he repeatedly couldn't get in touch with his wife, he had neighbors check in on her, during which they found her body.
During questioning, Gore confessed to the police about his infidelity with Candy, which gave the authorities a motive and led to Candy's eventual arrest. However, Montgomery was found not guilty on October 30, 1980, and she was acquitted of the murder charge, citing self-defense.
Only a few months after the Candy Montgomery trial, Allan Gore remarried a woman named Elaine Clift and relocated from Wylie with his and Betty's daughters Alisa and Bethany, per The Dallas Morning News (opens in new tab). The marriage ended in divorce and Gore lost custody of his children, who moved in with Betty's parents Bertha and Bob Pomeroy, in 1988. According to Facebook, it seems like Gore is no longer estranged from his daughters, as they all are friends on the platform and have publicly been in contact.
According to Allan Gore's Facebook page (opens in new tab), he is currently retired and living in Sarasota, Florida. He has been in a domestic partnership since 2016.
Allan and Betty Gore children
Six-year-old Alisa "Lisa" Gore Harder had been having a sleepover at the Montgomery household when her mother was murdered by Candy Montgomery on that June 1980 day.
Candy had come by the Gore home to pick up a swimsuit for Alisa when the two women got into a physical altercation after Betty confronted Candy about her affair with Allan Gore, during which Candy stabbed Betty 41 times with an ax. Alisa's one-year-old sister Bethany Gore was discovered by neighbors crying in her crib when they went to do a wellness check on Betty and found her body.
Today, 47-year-old Lisa Gore Harder has been married to her husband Jonn Harder since 1996 and currently works as a business controller for Koch Engineered Solutions. The couple has two sons, Sam and Jacob, and lives in Kansas.
Now 42, Bethany Gore works in education, like her school teacher mother did, most recently as assistant principal at Coral Academy of Science Las Vegas. She has four children (including a daughter named Betty) with her husband Chad Mickey, who she married back in 2011.
The Gore women have not commented on the Candy series, but have discussed the real-life Montgomery in the past, with Bethany telling The Dallas Morning News (opens in new tab) back in 2000: "I wonder if she thinks about it every day, like I do. I wonder if she thinks about us."
"I just wish I knew what really happened," Bethany told the outlet. "Because
nobody knows but her."
"What angers me is thinking about what could have been," Bethany said.
What happened to Pat Montgomery?
After the murder trial, Candy and her husband Pat Montgomery (played by Veep actor Timothy Simons in the series) also moved away from Wylie, Texas, to Georgia. However, the couple later divorced, with Candy adopting her maiden name Candace Wheeler. Pat also made a name switch, reportedly now going by James. The current whereabouts of the now 70-something are unknown.
Speaking to Distractify (opens in new tab) about playing Pat Montgomery, Simons said: "My job is pretty easy in the first couple episodes in that, I just had to play a guy who was uncomplicated and stoked about how things were going."
However, things quickly change, what with his character's wife committing homicide and all. "There was one big question in my mind about [Pat]," Simons told the outlet. "How does one compartmentalize this new information about your spouse, somebody who you have, in front of God and family, said that you'll spend the rest of your life with for better or worse? How does somebody who thinks their entire life is set and solved, compartmentalize pretty unbelievable new information?"
See Simons, Schreiber and the rest of the Candy cast as new episodes stream on Hulu through Friday, May 13.
Christina Izzo is the Deputy Editor of My Imperfect Life.
More generally, she is a writer-editor covering food and drink, travel, lifestyle and culture in New York City. She was previously the Features Editor at Rachael Ray In Season and Reveal, as well as the Food & Drink Editor and chief restaurant critic at Time Out New York.
When she's not doing all that, she can probably be found eating cheese somewhere.