Where is Allan Gore today? Here's what happened after the controversial Candy Montgomery trial
The attention is always on Candy, but where is Allan Gore today?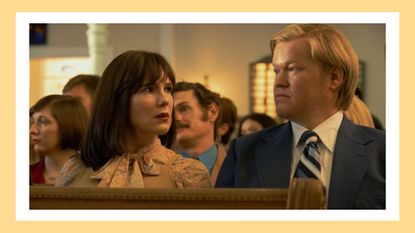 (Image credit: Jake Giles Netter/HBO Max)
All eyes are on Candy Montgomery, but where is Allan Gore today? What happened to the widower after Candy killed Betty, his wife of 10 years?
The infamous 1980 ax murder has received plenty of attention, with 2022's Candy, Hulu's miniseries starring Jessica Biel. Now, Love & Death, HBO Max's take on the small-town homicide, just premiered with Elizabeth Olsen in the lead role. (Allan Gore is played by Pablo Schreiber in Candy and Jesse Plemons in Love & Death.) Plus, there are a few other documentaries and shows about Candy.
It's easy to get caught up with the woman responsible for the tragic events. Between the shocking trial and update on Candy Montgomery today, we seem to forget that there are plenty of people who suffered in the aftermath of her crimes. Here's where Allan, the man Candy had an affair with, is today.
*WARNING: SPOILERS AHEAD*
Where is Allan Gore today?
Shortly after the June 1980 murder of Betty Gore, both Allan Gore and Candy Montgomery were considered suspects, and Gore was even arrested by police. However, he had a concrete alibi: he was away in St. Paul, Minnesota, for business while the crime took place in Wylie, Texas. After he repeatedly couldn't get in touch with his wife, he had neighbors check in on her, which is when they discovered her body.
During questioning, Gore confessed to the police about his infidelity with Candy, which gave the authorities a motive and led to Candy's eventual arrest. However, Montgomery was found not guilty on October 30, 1980, and she was acquitted of the murder charge, citing self-defense.
Only a few months after the trial, Allan Gore remarried a woman named Elaine Clift and relocated from Wylie with his daughters Alisa and Bethany, per The Dallas Morning News. The marriage ended in divorce, and Gore lost custody of his children, who moved in with Betty's parents, Bertha and Bob Pomeroy, in 1988.
According to Facebook, it seems like Gore is no longer estranged from his children, as they all are friends on the platform and have publicly been in contact. According to Allan Gore's Facebook page, he is currently retired and living in Sarasota, Florida. He has been in a domestic partnership since 2016.
In an interview with The Dallas Morning News in 2000, the Gore's eldest daughter thinks that ultimately her parents would had split had things turned out differently.
"I know that Mom and Dad would have gotten a divorce. I think she would have left him and we would have moved back to Kansas," Alisa revealed in her 2000 interview. But she did think Betty would've remained an important part in her life, had she still been alive.
"I think my mother would be proud of me and my sister," she further revealed. "What angers me is thinking about what could have been."
Allan and Betty Gore children: where are they now?
Now we know the whereabouts of Allan Gore today, what about his children, Alisa and Bethany Gore?
Today, 47-year-old Lisa Gore Harder has been married to her husband Jonn Harder since 1996, and currently works as a business controller for Koch Engineered Solutions. The couple has two sons, Sam and Jacob, and lives in Kansas.
Now 42, Bethany Gore works in education, like her school teacher mother did, most recently as assistant principal at Coral Academy of Science Las Vegas. She has four children (including a daughter named Betty) with her husband Chad Mickey, who she married back in 2011.
The Gore women have not commented on the Candy or Love & Death series, but have discussed the real-life Montgomery in the past, with Bethany telling The Dallas Morning News back in 2000: "I wonder if she thinks about it every day, like I do. I wonder if she thinks about us."
What happened to Pat Montgomery?
Candy ultimately walked away from her eight-day trial as a free woman, and her husband, Pat Montgomery, was loyal to her throughout it all. Per Texas Monthly, he was "heartened by the way everyone stood by them" throughout the court case. Shortly thereafter, they moved from Texas to Georgia. However, the couple later divorced, with Candy adopting her maiden name, Candace Wheeler. Pat also made a name switch, reportedly now going by James. The current whereabouts of the now 70-something are unknown.
You can watch the fictional takes of the story now; Candy is streaming in full on Hulu, and Love & Death is being released weekly on Thursdays through May 25.
Christina Izzo is the Deputy Editor of My Imperfect Life.
More generally, she is a writer-editor covering food and drink, travel, lifestyle and culture in New York City. She was previously the Features Editor at Rachael Ray In Season and Reveal, as well as the Food & Drink Editor and chief restaurant critic at Time Out New York.
When she's not doing all that, she can probably be found eating cheese somewhere.