Clickbait ending explained: what happened at the end of season one?
Shocked by the finale of the Netflix hit? Here's the Clickbait ending explained, including that major twist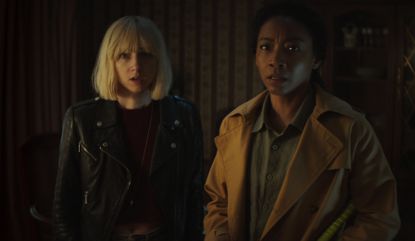 (Image credit: Netflix)
It's number one on Netflix's most-watched list and now everybody wants that Clickbait ending explained.
But let's backtrack: for those who haven't already binged all eight episodes of the limited series and don't know what is Clickbait on Netflix about, the psychological thriller stars Adrian Grenier as Nick Brewer, a husband and father of two who is "abducted in a crime with a sinister online twist." Those closest to him, including his sister Pia (played by Zoe Kazan) and wife Sophie (Betty Gabriel), "race to uncover who is behind it and why."
Of course, this is a Netflix thriller, so nothing is what it seems, and every episode of the fast-paced whodunit seems to uncover yet another suspect in Nick's kidnapping—and reveals yet another skeleton in Nick's own closet.
Each episode is told from the perspective of one of Nick's family members or the detectives, reporters, and other major players searching for him. Everything comes to a head in the final episodes of the series when all of the questions about what happened to Nick Brewer—and why—are finally answered.
*Warning: Spoilers ahead!*
---
---
Clickbait ending explained: What happened?
In the very first episode of the series, Nick Brewer is abducted and videotaped by his captors, forced to hold up signs that say "I ABUSE WOMEN," "I KILLED A WOMAN," and "AT 5 MILLION VIEWS I DIE." As the videos go viral and views quickly surpass the five-million mark, the abductors stay true to their word—in episode two of the show, Nick's body is found by Detective Roshan Amiri.
But who killed Nick and were those allegations against Nick true? Well, it seems that Nick Brewer was a serial cheater who set up numerous dating profiles under made-up names, starting relationships with various women and then deactivating his accounts when he's done with them.

One such woman was Sarah Burton (Taylor Ferguson), who committed suicide four months prior to Nick's murder because of their relationship. After discovering Nick's dating profile, it was Sarah's older brother Simon (Daniel Henshall) and his friend Daryl who kidnapped Nick and uploaded those viral videos as a revenge plot for the death of Simon's sister. But Nick convinces Simon that he doesn't even know Sarah Burton, nor is he the one behind all those dating profiles, and Simon actually lets him go.
But Nick Brewer still ends up dead. So if not Simon, then who murdered him?
Who killed Nick Brewer in Clickbait?
It turns out that Nick actually was telling the truth when he said he wasn't the one behind those phony dating profiles. It was actually a catfish situation, and the brain behind it all was Dawn Gleed (Becca Lish), the lonely, middle-aged administration manager at the Merritt Sports Performance Center where Nick worked as a physical therapist.

After Nick realizes that Dawn had access to photos and personal information on his phone and was impersonating him across numerous dating profiles, he goes to her house to confront her. During the angry confrontation, Dawn's husband Ed (Wally Dunn) strikes Nick on the head with a hammer, killing him.
What happens to Ed from Clickbait?
So Ed, a character we meet for the first time in the final episode of the season, turns out to have been Nick's killer all along. What happens to him?
The end begins with Nick and Sophie's young son Kai (Camaron Engels), who, after figuring out the address for Nick's catfish on his brother Ethan's computer, is confused to find himself at the home of his dad's coworker Dawn. Thinking it's a prank from Ethan, Kai allows Dawn and Ed to drive him home, but instead they take him to a nearby ranch and hold him in a trailer.

Kai attempts to escape but nearly gets shot by Ed, and when police arrive on the ranch, Ed holds Kai at gunpoint and uses him as a human shield. After a tense standoff, Ed is shot dead by law enforcement.
Does Kai die in Clickbait?
Thankfully, no. Dawn convinces Ed to let Kai go during the standoff and the young boy remains unharmed and is reunited with his mom Sophie.
The season-long mystery solved and Dawn arrested, the show ends at Nick Brewer's funeral, with Sophie and Pia consoling each other over his senseless loss.
Well, that was a rollercoaster ride, no? And if you're wondering if there will be more drama-filled episodes of Clickbait in the future, stay tuned!
Christina Izzo is the Deputy Editor of My Imperfect Life.
More generally, she is a writer-editor covering food and drink, travel, lifestyle and culture in New York City. She was previously the Features Editor at Rachael Ray In Season and Reveal, as well as the Food & Drink Editor and chief restaurant critic at Time Out New York.
When she's not doing all that, she can probably be found eating cheese somewhere.