Where do Damian and Francesca stand after 'Perfect Match'?
Damian and Francesca crossed paths on the Netflix reality TV circuit in the past, causing nothing but drama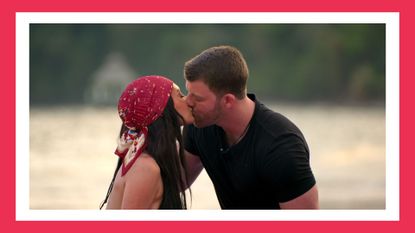 (Image credit: Netflix / © 2023 Netflix, Inc.)
Here we are again: Damian and Francesca.
These two have made their rounds on Netflix dating shows, but they haven't quite been able to get it right. Yet that hasn't stopped the hopeful romantics from trying...and stirring the pot.
You might recall that Francesca caused a bit of a rift, to say the least, between Damian and Gianinna, his Love Is Blind match. Despite all of the craziness that ensued from that whole ordeal, Francesca was quick to set herself up with Damian on Perfect Match when the option presented itself, causing heartbreak for Dom. (Dom and Georgia ultimately paired up and became the Perfect Match winners, so you know what they say about karma.)
Was their time in Panama City successful, or did the two walk away from the tropical getaway more broken than before?
What happened between Damian and Francesca before 'Perfect Match'?
Quick catch-up: Damian Powers met and proposed to Giannina Gibelli during Love Is Blind season 1. After the proposal, they finally met face-to-face and went through the steps to make it to the altar. However, Damian had a lot of doubt in his mind when it came to Giannina, so when she said "I do," he said "I don't. Despite their televised break-up, Damian and Giannina got back together a few hours after their wedding.
However, their relationship didn't seem to last, as rumors started swirling that Damian was dating Too Hot to Handle star Francesca Farago after they were seen leaving a Los Angeles restaurant hand-in-hand in August 2020.
Damian attempted to put the rumors to bed when he spoke to Entertainment Tonight, saying: "Francesca and I both share the same attorney. [My attorney] Alex [Ion] arranged for both Francesca and I to meet with him for dinner at the Eveleigh in West Hollywood along with some of our other friends."
Then, during the filming of the Love Is Blind: After the Altar reunion in July 2021, Damian met Francesca for lunch and invited her as his date to the reunion despite still being in a relationship with Giannina. As you can imagine, Giannina and Francesca's meeting was not smooth sailing.
He told Giannina that he wanted to prove to everyone that he was "strong enough as a man" to bring Francesca along as a friend. However, we saw on the reunion that, despite Damian saying their connection was merely platonic, when Francesca asked for clarification on whether she was attending as a friend or a date, he said they could "see where the night goes."
What happened between Damian and Francesca on 'Perfect Match'?
Francesca is coupled up with Dom in Perfect Match until episode four when they get control of the "board" that allows them to play Cupid.
When deciding which cast members should go on a date, Francesca decides to shock Dom, the house and the viewers at home by suggesting she go on a date with Damian. Why? Francesca explains she feels she missed the chance to pursue her romantic connection with Damian because of the whole Love is Blind drama. Similarly to Damian, Francesca insists that up until this point, she and Damian had "never kissed. It was just friendship."
But things take a turn once again when Abbey Humphreys enters the equation. Francesca and Abbey end up really hitting it off, leaving Damian in the dust. In the end, Francesca dumps Damian in favor of Abbey, making them the first same-sex couple in Perfect Match and changing the direction of the show, so the breakup was welcomed from the fans' point of view. At one point, Francesca even contemplated leaving the villa.
"I knew who was there, men-wise, and I was like, 'I don't know if I can waste anyone's time by continuing to match with these men that I know I'm not going to get along with,' she told Variety. "Then, I found out there was a possibility of me being matched with a female, and I was like, 'In that case, I will stay for that.'"
And, showing off her confidence, she added, "I'm glad that it happened, and I'm glad that that relationship happened as well. I kind of just switched up the game."
Where do Damian and Francesca stand now?
At this point in time, Damian and Francesca are not connected romantically, and neither have been forthcoming about their platonic relationship, or perhaps lack thereof.
As far as romance goes, Francesca is dating Jesse Sullivan, a trans man who rose to fame on TikTok for his alliance to the LGBTQ+ community. According to Farago, she's definitely pleased she left the house without a match of her own.
"I ended up getting home and messaging someone I had already known," she told Netflix Tudum. "We connected right away, and we've been really happy together ever since. I'm in a super solid place in my relationship right now."
All is quiet on the Western front with Damian...well, at least for now.
Perfect Match is now streaming on Netflix.
Liv is a freelance journalist currently studying English at university. She loves covering everything from entertainment and politics to lifestyle and travel. As well as writing for My Imperfect Life, Liv has bylines in The Times, HuffPost, Den of Geek, Bustle The Metro and The Bookseller.