Are Damian and Giannina still together? Everything we learned on Love Is Blind: After the Altar
Everyone's still confused about Damian and Giannina's relationship status, but she clears a few things up....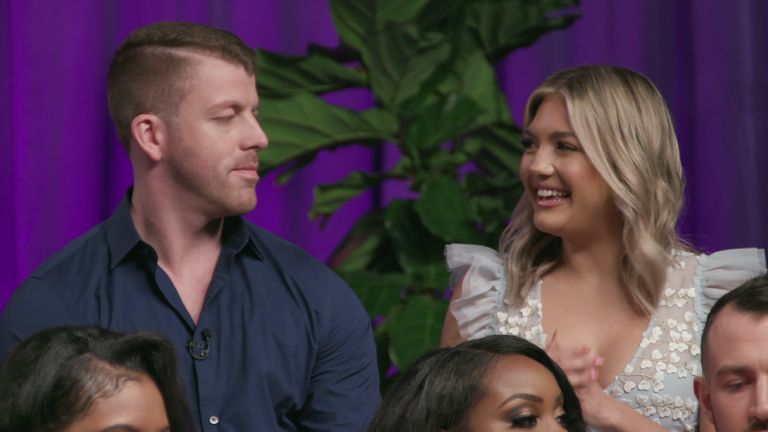 (Image credit: Netflix)
So, what exactly is happening between Damian and Giannina?
The tumultuous reality TV show duo has been on rocky footing since day one, and now fans are even more confused about their status following that whirlwind reunion. Well, not everyone from the cast of Love Is Blind can have marital bliss like Lauren and Cameron...
---
---
Are Damian and Giannina still together?
After plenty of ups and downs while participating on the dating show, during quarantine in 2020 and while filming Love Is Blind: After the Altar—which included some very jaw-dropping cameos, thanks to Damian's inappropriate invite—it appears the two have officially parted ways.
The reunion special didn't make things entirely clear about where they stand, but Giannina has since spilled the tea about her love life.
"Me and Damian haven't been dating for a couple of months now. I've moved on. I feel really, really good. I'm definitely at a really good place in my life," she told ET.
Given the circumstances, it seemed that a split was inevitable. Here's everything that went down with the show's most popular couple.
Damian and Giannina's relationship timeline
Damian Powers and Giannina Gibelli struggled a bit throughout their journey. Although they planned to get married on Love Is Blind in 2019, they ultimately ended up not saying "I do" on TV.
However, they managed to leave the show as a committed couple and intended to work on their relationship. They spent time together during quarantine in 2020 and focused on making their partnership stronger than before. Ultimately, a few things—namely a reality TV peer—got in the way.
Francesca Farago and Damian Powers drama
Our favorite reality TV dating shows became entangled, and things were not looking good for Damian in August 2020. He was spotted with Francesca Farago from Too Hot To Handle, holding hands after a romantic dinner at EP & LP restaurant in West Hollywood. Naturally, everyone had questions, considering he claimed to still be with Giannina.
Although the two walked arm-in-arm and Francesca donned a very sensual outfit—ripped jeans with only a bra—Damian insisted that the get-together was nothing more than platonic.
"Over the past week, I have been in L.A. with my attorney, Alex Ion, pursuing new projects and business ventures. Francesca and I both share the same attorney," he said, according to People.
Damian continued: "Alex arranged for both Francesca and I to meet with him for dinner at the Eveleigh in West Hollywood along with some of our other friends, including Mitchell Crawford and Raiane Macedo. We all planned to leave the Eveleigh together in the same car. Francesca, Alex, Mitchell, and Raiane all exited through a side entrance, while I exited through the main entrance of the Eveleigh."
For her part, Farago had her own roller-coaster relationship with cast mate Harry Jowsey and has since been linked to other celebs.
But the Francesca question didn't stop there...especially when Damian decided to bring her along as a guest to Love Is Blind After the Altar...while claiming to be an item with Giannina.
"I knew she was in town, but I didn't know that they were planning on going as a date," Giannina revealed to ET. "That, like, my blood boils just thinking about that."
WE DON'T BLAME YOU, GIRLFRIEND!
To add insult to injury, when asked about their relationship on the reunion special, Damian made it seem as though Giannina was the one who had reservations. (Given his behavior, this is understandable.)
"It was definitely a strong love from the beginning," Damian said at the reunion. "We pushed through a lot of challenges, as did everyone here. But I wanted it every day ever since I told her I loved her in The Pods. It turned into our love story, but she was in and out of it so much."
We're seeing a few red flags here, folks.
Love Is Blind recap: Will there be a season two?
Season one of the Netflix dating show attempted to set people up and send them down the altar without allowing them to see one another. The experimental tactic worked brilliantly for some...but not for everyone.
As for Love Is Blind season 2, it's unclear when fans will be introduced to new contestants, but we have a feeling the reunion, which premiered July 28, will tide them over until it arrives. If you can't get enough of the Netflix hit, be sure to purchase the Love Is Blind party game, which is bound to make any get-together interesting!
Here's hoping that no one encounters a Damian during the next go-around.
Danielle is a writer for My Imperfect Life, where she particularly enjoys covering lifestyle and entertainment news. She was previously the editor of Time Out New York Kids and a news editor at Elite Daily. When she's not working, you can find her reading a good book and enjoying a cup of coffee. Follow her @dvwrites.