Do JJ and Kiara get together in 'Outer Banks' season 3?
Fans have been rooting for 'Jiara' for three seasons, but do JJ and Kiara get together in the new episodes?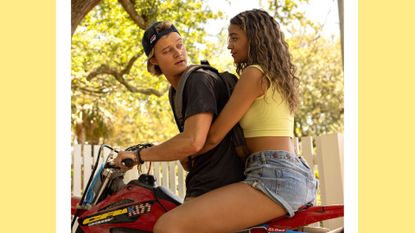 (Image credit: Jackson Lee Davis/Netflix)
It's been the question on every shippers' lips for three seasons: do JJ and Kiara get together in Outer Banks?
The close-knit Pogues pair—played by actors Rudy Pankow and Madison Bailey, respectively— have had chemistry from day one of the Netflix series, but have kept things infuriatingly platonic between them for the past two seasons.
Loyal OBX viewers are hoping that all changes with Outer Banks season 3, which premiered on the streamer on Thursday, February 23. Will the duo go the way of Madelyn Cline and Chase Stokes' Sarah and John B and finally get together? Here's what we know.
*Warning: spoilers ahead!*
Do JJ and Kiara get together in 'Outer Banks' season 3?
Drumroll, please: yes, after two seasons of will-they-won't-they, JJ Maybank and Kiara "Kie" Carrera do get together by the end of Outer Banks season 3.
It must be said, though, that it wasn't always clear if these two characters were definitely going to have a love connection, given that Kiara began the series crushing on John B and also had a romantic entanglement with Pope (Jonathan Daviss) in the second season. Despite all that, it was evident that JJ was crushing on Kie from way back in season 1, telling John B in the pilot: "Dude, of course, I'm hitting on her. She's a super hot, rich, hippie chick slumming with us!"
However, the third season lays the groundwork for JJ and Kiara to finally act on their growing feelings and by the finale, they not only kiss but declare their love for each other. Swoon!
What episode do JJ and Kiara kiss?
Outer Banks wouldn't just give fans a JJ-and-Kie kiss from the jump; naturally, they made us wait even longer to see the much-anticipated smooch.
It nearly happens in the third episode of season 3, while the friends are aboard Rafe's stolen boat, but Pope interrupts the charged moment. Instead, the Jiara kiss finally occurs in the penultimate episode of the season.
Fed up with the Pogues' dangerous antics—especially after JJ stole a money clip from Kie's dad—Kiara's parents send her away to Kitty Hawk, a youth camp for kids with behavioral issues. Instead of heading down to South America with the rest of the gang to rescue John B's dad, JJ decides to go to Kitty Hawk to find Kiara and break her out of the camp.
Stealing into the camp compound that night, JJ apologizes to Kiara, they admit that they love each other, and then kiss in front of an entire dormitory of cheering teens.
So does this mean that JJ and Kiara are officially an item? Well, after John B and Sarah track down the El Dorado treasure in the finale episode, the final moments of season 3 catch us up with the Pogues eighteen months later. We know that Kie is saving turtles and JJ bought a charter boat, and they certainly look happy to be near one another, but it seems like we won't get official confirmation of their current relationship status until Outer Banks season 4!
Fans react to JJ and Kiara getting together:
It goes without saying that OBX devotees were mighty pleased to see these two get romantic after all these years. Here's what fans are saying on social media:
jj dropping literally EVERYTHING to go and get kiara, face her parents, find out she's been sent to kitty hawk and then GET HER OUT OF KITTY HAWK pic.twitter.com/31hryertSXFebruary 23, 2023
See more
Watching those JJ and Kiara moments really has me like this #OBX3 #OuterBanks #jiara pic.twitter.com/kDAcyJGks5February 23, 2023
See more
Since season 1 we were waiting for JJ and Kiara to get together.. It has been 1045 days and now we got it. Kie and JJ are together. This is how winning feels like. #Jiara #OBX3 pic.twitter.com/F06LDUo9nXFebruary 23, 2023
See more
jj going insane when kiara was kidnapped and immediatly going to get her from kitty hawk pic.twitter.com/rtNvYhxdu2February 23, 2023
See more
JJ and Kiara invented the best friends to lovers trope. #Outerbanks | #OBX3pic.twitter.com/uvcPW0GEI0February 23, 2023
See more
All three seasons of Outer Banks are now available on Netflix
Christina Izzo is the Deputy Editor of My Imperfect Life.
More generally, she is a writer-editor covering food and drink, travel, lifestyle and culture in New York City. She was previously the Features Editor at Rachael Ray In Season and Reveal, as well as the Food & Drink Editor and chief restaurant critic at Time Out New York.
When she's not doing all that, she can probably be found eating cheese somewhere.