Outer Banks season 3 is finally confirmed—but do we have a release date?
We'll give you the scoop on season 3 of Outer Banks, everybody's favorite YA thriller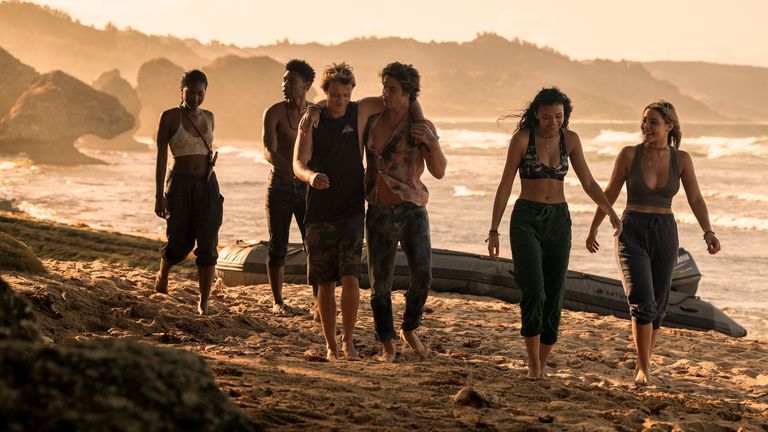 (Image credit: JACKSON LEE DAVIS/NETFLIX)
By Danielle Valente published
If you're like us, you probably binged watched all of Outer Banks season 2 the moment it landed on Netflix, and have been impatiently awaiting any news about season 3 ever since. Well, we have some good news for you—Outer Banks has officially been renewed for season 3!
We know it's hard to be patient, especially when it comes to your favorite TV shows, so we're here to fill you in on your go-to YA thriller and what to expect next.
*Fair warning: spoilers ahead!*
---
---
Outer Banks season 3 release date: what do we know?
Unfortunately, a release date for Outer Banks season 3 has not yet been revealed. What we do know? Now that Netflix officially renewed Outer Banks for a third season, the next installment should probably drop on the streaming service during summer 2022 (like previous seasons).
Netflix announced the joyous news on December 6th to Twitter with a video of the cast announcing the news and celebrating. In the caption, Netflix wrote: "This just in from Poguelandia... Outer Banks will be back for a third season!"
This just in from Poguelandia...Outer Banks will be back for a third season! pic.twitter.com/NV9Oy4Z8V1December 7, 2021
See more
Who will be in the Outer Banks cast for season 3?
From the looks of it, all of the main cast will be returning for season 3, with the likes of Madelyn Cline, Chase Stokes, Jonathan Daviss, and Carlacia Grant all appearing in the announcement video.
While things might get awkward since protagonists Madelyn Cline and Chase Stokes' relationship status has changed since season 2 was filmed, we can't wait to see the gang back together!
Cast members we know are returning:
Madison Bailey (Kiara)
Jonathan Daviss (Pope)
Rudy Pankow (JJ)
Pogues Carlacia Grant (Cleo)
Chase Stokes (John B)
Madelyn Cline (Sarah)
Drew Starkey (Rafe)
Charles Esten (Ward)
Austin North (Topper)
Catch up on Outer Banks season 2 cliffhangers
To backtrack a bit, the premise of the show focuses on a group of teens (Pogues) from a poor North Carolina neighborhood that searches for a $400 million treasure. There's adventure, romance, and of course, turbulence—especially when one of the character's father's (John B. Sr.) gets involved.
Fast-forward to season 2, when things take an interesting turn.
"New friends also bring new foes as they're back on the trail of the gold, while the stakes for Kiara, Pope, and JJ rapidly escalate at home," reads a Netflix press release. "The $400 million is still in the game, but will the uncovering of a new-found secret reunite the group for a fresh mission? The adventure of a lifetime awaits, but uncharted waters ahead mean our Pogues must do all they can to make it out alive."
Learn more about the questions we hope the third season will answer. (*Seriously, spoilers ahead!*)
1. Does John B die in Outer Banks season 2?
We've been led to believe that John B Routledge is deceased, but as it turns out, he's actually in hiding. Will he be able to contact his family, and if so, what will happen when he does?
2. Does Ward Cameron go to jail?
The selfish, malicious Ward Cameron seems willing to do anything to get his hands on what he thinks he deserves. Since he has taken responsibility for the murders, will Ward be able to get back to the police that he faked his own death? What will happen now that he's injured?
3. Will the Pogues be able to survive?
Searching for the treasure hasn't been an easy feat, but now the Pogues really have their work cut out for them on the abandoned island where they have next to nothing to help them. Will they be able to survive?
And—just as importantly—will new love interests surface during all of this? (C'mon, you know you're curious, too!)
Danielle is a writer for My Imperfect Life, where she particularly enjoys covering lifestyle and entertainment news. She was previously the editor of Time Out New York Kids and a news editor at Elite Daily. When she's not working, you can find her reading a good book and enjoying a cup of coffee. Follow her @dvwrites.