Do Sarah and John B break up in 'OBX' season 3?
They're an 'Outer Banks' OTP, but do Sarah and John B break up in OBX season 3?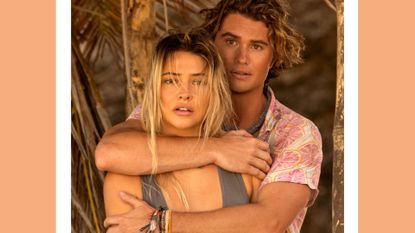 (Image credit: Jackson Lee Davis/Netflix)
We know the state of their offscreen romance, but do Sarah and John B break up in OBX season 3?
Outer Banks co-stars and now exes Madelyn Cline and Chase Stokes—who reportedly began dating in April 2020 after meeting on set and broke up more than a year later, in November 2021—are as famous for their IRL relationship as they are for their characters, Sarah Cameron and John B Routledge, in the beloved Netflix series, which dropped its third edition on the streamer on Thursday, February 23.
The star-crossed couple is basically the Romeo and Juliet of the North Carolina coast, she hailing from the moneyed Kooks' end and he being the leader of the scrappy Pogues crew. But while Sarah and John B start off Outer Banks season 3 very much together, do they stay that way? Here's what we know.
*Warning: spoilers ahead!*
Do Sarah and John B break up in 'OBX' season 3?
Brace yourselves, Jarah shippers: Sarah and John B do break up during Outer Banks season 3.
Things start out smooth-sailing enough for the couple who, yes, do begin the season stranded on a deserted island but make the best of things with their Pogue pals Kiara (Madison Bailey), Pope (Jonathan Daviss) and JJ (Rudy Pankow). It's when they eventually have to leave this idyllic island that tension begins worming its way into the pair's relationship.
As you undoubtedly remember from season 2's cliffhanger finale, John B's presumed-dead dad, Big John (Charles Halford), is actually alive and has been living in Barbados. Upon his father's return to the Outer Banks, John B begins spending more and more time with his long-lost parent—and less and less with Sarah.
Sarah finds comfort in an unexpected source: her ex-boyfriend Topper (Austin North), whom she left for John B back in the show's first season. After spending a day with Topper and her former Kooks friends at the beach, Sarah and Topper end up kissing that night.
Topper wants them to rekindle their former relationship but Sarah regrets the kiss and ends up confessing the infidelity to John B, who reacts exactly as you'd expect a Pogue to: by beating the pulp out of Topper. Topper decides to press charges against John B, who is subsequently put in jail, and asks Sarah to testify on his behalf.
Though she initially agrees, Sarah ultimately decides that she can't testify against John B and convinces Topper to drop the charges and have John B released. This kicks off the reconciliation of not only the characters' friendship but also their romance.
Yes, by the end of Outer Banks season 3, Sarah and John B are happily back together, with the former playing a vital part in helping John B and his father complete their three-season search for El Dorado down in South America, earning the respect and trust of Big John along the way.
What will happen between Sarah and John B in Outer Banks season 4, which was officially picked up by Netflix on February 18, 2023? That remains to be seen, but we know that at least they're going into it together.
All three seasons of Outer Banks are now available for streaming on Netflix
Christina Izzo is the Deputy Editor of My Imperfect Life.
More generally, she is a writer-editor covering food and drink, travel, lifestyle and culture in New York City. She was previously the Features Editor at Rachael Ray In Season and Reveal, as well as the Food & Drink Editor and chief restaurant critic at Time Out New York.
When she's not doing all that, she can probably be found eating cheese somewhere.