Does Kate Sharma die in 'Bridgerton'?
After suffering a horse-riding accident this season, does Kate Sharma die in 'Bridgerton'?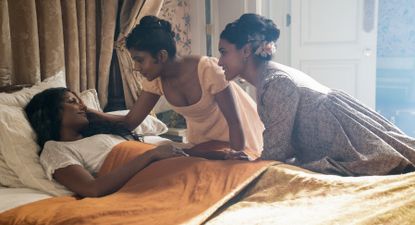 (Image credit: Liam Daniel/Netflix)
There is much drama to be found in the latest season of Bridgerton, including a life-threatening accident that has many fans worrying, "Does Kate Sharma die in Bridgerton?
Fans were forced to wait over a year for their favorite Regency drama to come back but that's okay because Bridgerton season 2 was well worth the wait.
The new episodes see the return of season's one diamond Daphne Bridgerton (Phoebe Dynevor) as well as the rest of the Bridgerton family. The focus, however, is on the firstborn son, Mr. Anthony Bridgerton (Jonathan Bailey), and his search for a wife, something viewers saw him declare at the end of season one.
That search introduces us to the Sharma family and an important dose of South Asian representation: we first see Anthony court Edwina Sharma, played by Charithra Chandran, while also having his eye on her older sister Kate, portrayed by Sex Education's Simone Ashley. This creates a complicated situation for Mr. Bridgerton, as he burns for Kate Sharma all while publicly courting her sister.
The season has many tension-filled moments, but some would argue none as potent as the moment we see Kate flung from her horse, knocking her unconscious, and Anthony rushing to get her medical attention. Fans who are taking their time with the series have been desperate to know whether or not Kate dies from the accident and we have the answer for you.
*Warning: spoilers obviously ahead!*
Does Kate Sharma die in 'Bridgerton'?
No, Kate Sharma does not die in Bridgerton season 2. Phew!
Edwina calls off her wedding to Anthony on their wedding day after she realizes that he and Kate are in love with each other. We actually don't know how she didn't pick up on that sexual tension before.
After the nuptials are called off, Anthony and Kate share a super hot moment. (There's a reason there are so many thirsty Bridgerton tweets this season!). But the morning after, Anthony goes to call on Kate but she's not there. Knowing she is a fan of horseback riding, he follows her into the woods, but Kate's horse throws her off. Luckily, Anthony is there to rescue Kate but she has a concussion and is put into a coma.
The show makes it seem like a very close call as a week goes by without Kate waking up and it's safe to say Anthony is in absolute turmoil, so much so that he refuses to visit Kate because he thinks it's all his fault and he doesn't want to see another person he loves die. However, Kate does finally wake up, which is a very emotional moment for dear Anthony.
Do Kate Sharma and Anthony Bridgerton end up together?
Yes, our enemies-to-lovers pair do end up married by the final episode, after Kate wakes up after accident.
Anthony feels obligated to propose to her; however, Kate declines, saying she's returning to India and will not marry someone who doesn't love her. We, the viewers, know that Anthony does in fact love Kate but isn't really known for wearing his heart on his sleeve. But this is a show that has romance at its center, so it can't end without some happiness, right?
So, yes, at the Featherington family ball, we finally see Anthony admit his true feelings to Kate. They marry (off-screen) and end up living happily ever after, as seen by their very PDA-heavy scenes as newlyweds during the Bridgerton season 2 ending.
All episodes of Bridgerton season 2, as well as the first season, are available to stream on Netflix.
Liv is a freelance journalist currently studying English at university. She loves covering everything from entertainment and politics to lifestyle and travel. As well as writing for My Imperfect Life, Liv has bylines in The Times, HuffPost, Den of Geek, Bustle The Metro and The Bookseller.