These thirsty 'Bridgerton' tweets keep the fun going long after you've finished season 2
These 'Bridgerton' tweets say everything we were thinking while watching season 2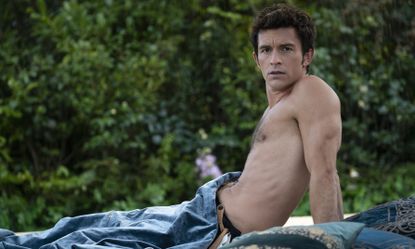 (Image credit: Liam Daniel/Netflix)
If you're like us, you've already devoured every episode of Bridgerton season 2 at least once. And while we wait with an absolute yearning for Bridgerton season 3 to come around, we've distracted ourselves with—what else?—social media.
Thankfully, along with a wealth of Bridgerton memes, Twitter users have been unleashing horny AF Bridgerton tweets on the interwebs ever since the sophomore season of the Netflix hit dropped on Friday, March 25.
The tweets are loaded with unadulterated Anthony Bridgerton thirst (we can't really blame people, we too saw Jonathan Bailey emerge from the water during that Bridgerton lake scene), outright swoons over season 2's leading lady Kate Sharma (I mean, Simone Ashley is drop-dead gorgeous, no?) and a desperate want to be vexed by someone.
There may be fewer sex scenes in season two ("The payoff is really earned," Bailey recently told People magazine, and after watching that sensual season finale, we can't help but agree!), but that doesn't mean there is any less steaminess if these parched-as-hell tweets are anything to go by. Here are some of our favorites.
The thirstiest 'Bridgerton' tweets on the internet:
1. You call that behavior "gentlemanly"?
Anthony Bridgerton may talk the gentlemanly talk, but his downright feral actions say otherwise.
one thing abt anthony bridgerton?? he's gonna say "i'm a gentleman" and then follow it up with the MOST CLASSLESS SLUTTY BEHAVIOUR YOU'VE EVERRRR SEEN😭March 27, 2022
See more
2. An "offensively" great glow-up
Jonathan Bailey was already glowing plenty in season 1, so the season 2 transformation is truly something to behold.
I would pay for for the director's cut of every Jonathan Bailey scene from Bridgeton s2. Also, I have NEVER seen an actor become this offensively gorgeous during a filming hiatus. His heartthrob evolution from s1 to s2 is criminal.March 30, 2022
See more
3. Sexy social distancing
Give us a super-hot six feet apart at all times, thanks!
very glad that bridgerton season 2 understands what is uniquely great about regency romances, which is when characters never touch and instead look at each other like they might wither and die if they have to look awayMarch 30, 2022
See more
4. All hail Queen Kate
This is absolutely the correct response to an encounter with the one, the only, Kate in Bridgerton, played by the luminous Simone Ashley.
im sorry, anthony bridgerton and i are not the same. if kate sharma told me off the way she told him off on that terrace, i would have moved heaven and earth to find out her name and show up the next day to beg her to marry me.March 30, 2022
See more
5. Uh, guys, we can see you
There are, in fact, other people at this dinner party. Behave accordingly.
are you two aware you're at a family dinner #Kanthony #Bridgerton pic.twitter.com/FW3Sq5EFwwMarch 29, 2022
See more
6. Tell me sweet little lies
This is the only kind of dishonesty we'll allow in a relationship.
anthony bridgerton said "i am not a man of poetry" and then turned around and delivered "you are the bane of my existence and the object of all my desires. night and day i dream of you" all men do is lieMarch 30, 2022
See more
7. Them thighs though
Will Mondrich is an absolute knock-out. And so are his gams.
I want a spin-off with Will, his boxing club and his thighs #bridgertonMarch 30, 2022
See more
8. A girl can dream, right?
Same, Cassie, same.
I WANT TO BE THE BANE OF SOMEONE'S EXISTENCE AND THE OBJECT OF THEIR DESIRES TOO 😭 #Bridgerton #bridgertonS2 pic.twitter.com/wDFBE84AtzMarch 27, 2022
See more
9. Feminism who? We don't know her
Us throwing our independence and morals straight out the window for a British man.
the feminism leaving my body after hearing anthony tell kate she is the bane of his existence and the object of all his desires #bridgerton pic.twitter.com/rGR2wb3lLZMarch 26, 2022
See more
10. We don't mind a mouthy man
This is the future we want, ladies and gentlefolk.
Anthony Bridgerton went down on her and expected nothing in return and it's what she DESERVED 🥰March 28, 2022
See more
11. BRB, trying to catch our breath
Can you pass us our inhaler, please?
That's it… that's the season #Bridgerton #bridgertonS2 #Kanthony pic.twitter.com/efRK2cKHHvMarch 28, 2022
See more
Gird your loins: Bridgerton seasons 1 and 2 are currently available to stream on Netflix.
Christina Izzo is the Deputy Editor of My Imperfect Life.
More generally, she is a writer-editor covering food and drink, travel, lifestyle and culture in New York City. She was previously the Features Editor at Rachael Ray In Season and Reveal, as well as the Food & Drink Editor and chief restaurant critic at Time Out New York.
When she's not doing all that, she can probably be found eating cheese somewhere.