'Bridgerton' season 2 ending explained: what happened to each character?
Did you binge-watch all of it already? If you need the 'Bridgerton' season 2 ending explained, we've got the recap for you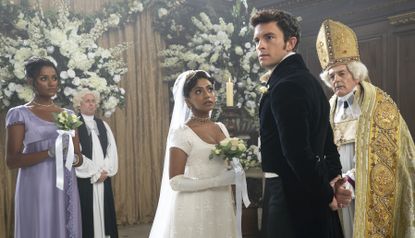 (Image credit: Liam Daniel/Netflix)
Netflix's regency period drama, Bridgerton has come back for round two. Season two of the series arrived on Netflix on Friday, March 25 and it's safe to say viewers are just as fixated with the second season as they were with the first.
Bridgerton season 2 is much more of a slow-burner (here's why those sex scenes are toned down this time around) and has a lot of changes from the book series (our "Bridgerton season 2 vs book" guide will help you navigate those differences), so we'd thought we'd be kind enough to break down how the sophomore season ends and where all of our favorite residents of the Ton end up.
Let's dive in!
*Warning: spoilers obviously abound!*
---
---
Everything about the 'Bridgerton' season 2 ending, explained
1. What happens with Anthony and Kate?
Like in the books, Anthony and Kate's relationship is not smooth-sailing but like most great love stories, they do end up together in the end.
After Edwina calls off her nuptials to Anthony (Jonathan Bailey) on their wedding day, creating a scandal for the Bridgertons and the Sharmas, the queen comes to save the day and open up space in society for Anthony and Kate to get together. While they don't pair up immediately—because they're both stubborn and can't admit their feelings to each other—they do have a rather steamy moment under a gazebo.
However, once again, things take a turn for the worst for the couple as Kate (Simone Ashley) tried to literally run away from her feelings and gallop off on her horse, only to be flung off and sent into a coma for a week. Anthony is the one to save her from the accident but blames himself because it was their shared inability to admit their feelings that had her running after all. But the accident does allow Edwina to forgive her older sister.
Once Kate wakes up, Anthony feels obligated to propose to Kate. However, she turns him down because she feels he does not really love her. Not really a guy known for expressing his feelings but finally finding the courage to admit what literally everyone knows at this point, he admits to Kate that he is in love with her. Kate then says yes to becoming Viscountess Bridgerton and they live happily ever after. They really weren't kidding when they said this season was a slow burn, huh?!
2. Do Edwina Sharma and Anthony Bridgerton end up together?
At the end of season two, Edwina Sharma (Charithra Chandran) calls off her wedding with Anthony and repairs her relationship with her sister. The marriage-mart season is almost over—however, the Queen won't let her diamond go dull, as she says she'd like to introduce Edwina to her nephew, who's a prince.
We believe this is a reference to season one's Prince Friedrich, who almost stole Daphne from the Duke of Hastings. The Queen can't possibly have more than one nephew that's a prince, can she?
This open ending for Edwina also suggests that this diamond will be back next season. Fingers crossed!
3. What happens with Benedict?
So if we're following the books, Benedict's Cinderella story, An Offer from a Gentleman, is up next. However, the second-in-line Bridgerton's story has changed a lot from the page.
In the TV series, as the spare, Benedict (Luke Thompson) has no idea what he wants to do with his life and so falls in love with the arts. He gets accepted into the Royal Academy and spends his days painting naked women and learning about art. Feeling like he has finally found his place in the world, Benedict is shattered when he finds out that he was only really accepted into the art school because Anthony made a sizeable donation to the school.
Not one to hide his true feelings and upset that he wasn't allowed to get into the school on his own merits, Benedict confronts Anthony at the Featherington Ball and announces that he's dropping out of the school completely as he doesn't feel he's worthy of his place there.
That's where we leave dear old Benedict Bridgerton, but we can expect the show to dig more into his character and his story when Bridgerton season 3 comes around.
4. What happens to Jack Featherington?
Season two sees the arrival of a new Featherington heir, Lord Jack Featherington, played by Rupert Young. He arrives to take over the household after Lord Featherington's death in season one.
Expecting the new Lord Featherington to come to town with bags of cash, Lady Featherington tricks him into proposing to her daughter—his cousin—Prudence. Jack later reveals to Portia that he's actually broke, as all that mining business he did in America actually produced nothing valuable at all, and so the family is still in debt.
Portia, being the schemer she is, conspires with Jack to con other members of the Ton out of their money by asking them to invest in the defunct mine in America. However, the Ton isn't as stupid as the Featheringtons believe they are, and well-traveled Colin Bridgerton figures out that the supposed jewels from the mine are fake when he smashes the necklace he gave to Cressida Cowper.
Jack is disgraced, his engagement with Prudence is broken off and Portia tells him to leave London.
5. What happens with Eloise?
Our independent and sarcastic queen, Eloise Bridgerton (Claudia Jessie) had a rough season, to say the least.
Never really being one to fit into society, Eloise finds it hard to make her society debut and instead tries to hide from the men meant to be vying for her attention. Instead, she finds herself with a little crush on Theo Sharpe, a guy who works at the printers. Theo encourages Eloise to get involved in politics despite the fact she's a woman. (This would have been frowned upon at the time when Bridgerton is set.)
However, the Queen's search for Lady Whistledown lands on Eloise as the prime suspect and Queen Charlotte tells Eloise to admit the truth that she's the scandalous author or risk her and her family's social standing.
Knowing that she's not Lady Whistledown, Eloise embarks harder than ever on her search for the real Lady Whistledown, who is actually Eloise's BFF Penelope Featherington. Eventually confiding in her best friend, Eloise finds herself labeled a "political radical" and feminist in the next issue of the gossip column. This label ruins Eloise's reputation and sees her cut off her friendship with Theo, with him accusing her of being "like the other upper classes".
Rightly upset over Lady Whistledown's tarnishing of her name, Eloise finally discovers Lady Whistledown's identity, which is none other than Penelope. This causes a massive row between the two and seems to be the end of their friendship, at least for this season.
6. What happens with Penelope?
Penelope (Nicola Coughlan) goes on a rollercoaster this season, both personally and as Lady Whistledown.
She becomes, one could say, empowered by her columns this season, as we see her making deals with the printers and even enlisting Madame Delacroix's help in getting her columns made so she can keep revealing all the gossip.
However, it's the final episode where things really go all the way down for dear old Pen, as at her family's ball she overhears Colin stating to his male friends that he would never be interested in her. This breaks her heart, especially as she thought they were getting closer throughout the season
On top of the romantic rejection from Colin, Penelope's friendship with Eloise also comes to an end when Eloise discovers that Penelope is Lady Whistledown and is the one responsible for tarnishing her name.
With no romantic connections and Eloise angry at her while also in possession of her identity as Lady Whistledown, next season is going to be pretty interesting for our dear author, but we have a feeling she'll come out fighting.
Liv is a freelance journalist currently studying English at university. She loves covering everything from entertainment and politics to lifestyle and travel. As well as writing for My Imperfect Life, Liv has bylines in The Times, HuffPost, Den of Geek, Bustle The Metro and The Bookseller.