Does Tully die in 'Firefly Lane' season 2?
A flash-forward to a car wreck has us worried, but does Tully die in 'Firefly Lane' season 2?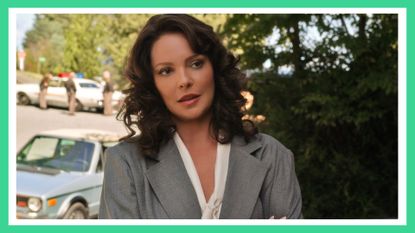 (Image credit: Netflix)
Season two is finally here and one of the biggest questions on our minds is does Tully die in Firefly Lane?
Starring Katherine Heigl and Sarah Chalke as longtime BFFs Tully Hart and Kate Mularkey, Firefly Lane season 2 is officially out on Netflix as of Friday, December 2, though only the first nine episodes are currently available (the seven-episode back-half will drop sometime in 2023). And even with only half a season out, there's plenty of drama to dive into, including worrying flashes to a horrific car accident.
But who is behind the wheel? Does Tully die in Firefly Lane season 2? This is what we know.
*Warning: spoilers ahead for season 2*
Does Tully die in 'Firefly Lane' season 2?
No, Tully does not die in Firefly Lane season 2, but that doesn't mean she doesn't suffer physical and emotional damage throughout the new episodes.
Ever since the season one Firefly Lane ending, we've been wondering what did Tully do to Kate to cause such a rift between their decades-long friendship that the latter won't even talk to her old friend at her father Bud's funeral.
In season two, we finally find out that the estrangement is due to the mysterious car crash that is teased throughout the second season. We don't find out who the driver of the mangled vehicle is until episode six—it turns out to be Tully—nor the circumstances of the crash until episode seven.
To give newly reunited Kate and Johnny some alone time, Marah stays over at Tully's apartment for the weekend. She gets a text from her crush Ashley asking her to go see The Notebook, and even though she's technically grounded, Tully lets her go, staying home and enjoying a couple of glasses of wine with her rival-turned-romantic interest Danny Diaz (Ignacio Serricchio) while Marah's out.
Marah and Ashley don't end up going to the movies, however, as Tully soon finds out when the former calls her from a frat party alone and scared after a bad encounter with a college guy. Despite the vino, Tully jumps in the car to go rescue Marah from the party, but after she picks her up, a speeding car T-bones them while they're stopped at a red light.
The next thing we see is a bruised and bloodied Tully waking up in a hospital bed and seeing Kate and Johnny through the window of her hospital room door, but they're both angry and talking to a cop.
In episode eight, we see Tully being arrested and processed for a DUI, which causes a media frenzy and Kate and Johnny refusing to talk to her for putting their daughter in danger, even though the accident itself was not Tully's fault and Marah would be okay save for some scratches and an injured shoulder.
Marah tries to reconcile the old friends by using Kate's cell phone to pretend to be her mother and invite Tully over to talk, but the conversation is a heated one
"I can't live without you, please," Tully tells Kate. "I am not me without you." However, despite Kate telling her that she also missed her during their estrangement, she simply can't forgive Tully for what she did.
Who died in 'Firefly Lane' season 1?
Similarly, the first season of Firefly Lane flashed to a concerning event, namely a funeral for an unidentified person two years in the future of the show's "present-day" timeline.
Viewers worried that the deceased could be Tully, seeing as how we see a sullen Kate smoking a cigarette outside the service, but it is revealed in the season one finale that Kate's dad Bud Mularkey (Paul McGillion) was the one who passed. We also see Tully attend the funeral, much to the chagrin of Kate, who is still very upset with her.
Will the former friends be able to patch things up come Firefly Lane season 2 part 2? We'll have to wait with bated breath to find out!
The first nine episodes of Firefly Lane season 2 are currently streaming on Netflix.
Christina Izzo is the Deputy Editor of My Imperfect Life.
More generally, she is a writer-editor covering food and drink, travel, lifestyle and culture in New York City. She was previously the Features Editor at Rachael Ray In Season and Reveal, as well as the Food & Drink Editor and chief restaurant critic at Time Out New York.
When she's not doing all that, she can probably be found eating cheese somewhere.