Emma from 'Selling Sunset' claims this A-list actor tried to pursue her
Wait, do we have Emma from 'Selling Sunset' to thank for reuniting Bennifer?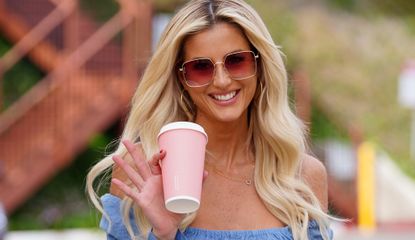 (Image credit: JOCE/Bauer-Griffin/Getty)
It seems like years since the last season of Selling Sunset but as season 5 drops on Netflix on Friday, April 22, we have a few questions.
The hit reality tv show is centered around the agents of a luxury California-based real estate brokerage called The Oppenheim Group, led by twin brothers Jason and Brett Oppenheim. The show not only shows us glimpses of glamorous houses we only wish we could afford but also all the drama that goes on between the fellow agents at the brokerage.
From Heather and Tarek's wedding to Chrishell Stause and Jason Oppenheim's short-lived relationship, there is a lot going on in Selling Sunset season 5. We thought that the arrival of new cast member Chelsea Lazkani to replace last season's newbies Emma Hernan and Vanessa Villela would be the biggest shock of the season but boy were we wrong. Hernan revealed that a well-known actor with close ties to Jenny from the Block, JLo herself, hit her up on celebrity dating app Raya.
Let's get into exactly who this well-known actor is and whether or not he actually ended up going on a date with Selling Sunset star Emma Hernan.
Did Ben Affleck date Emma from 'Selling Sunset'?
If you haven't guessed already, the A-list actor who attempted to make a move on Emma Hernan was none other than Ben Affleck. Yes, the same Ben Affleck who was once engaged to Jennifer Lopez and recently announced that he is re-engaged to her two decades later.
In season five episode five of the hit reality show, Hernan claims that Ben Affleck attempted to pursue her multiple times on the exclusive dating app Raya, with his opening pickup line being about their Boston connection.
The topic came up when talking to Chrishell Stause, who revealed she'd never been on Raya, but was reminiscing with Emma about when Ben Affleck went viral over messaging some girl on the app—author and actress Nivine Jay—to which Emma responded that "he may or may not have been texting me" and that he may or may not have asked to grab a coffee a few times, but that she didn't go.
Hernan also revealed it was right before he and Jennifer Lopez reconnected, so maybe we have Emma to thank for Bennifer reuniting, because who knows what could have happened between her and Ben if she went?
From the show, we know that Emma Hernan's love life often ends up being the topic of conversation, so it comes as no surprise that if anyone was going to be messaged a few times by Ben Affleck, it would be her.
When the vegan empanada business owner arrived on the scene last season, she immediately clashed with Christine Quinn, which if we're being honest isn't that hard to do. But the reason for all the drama was much deeper than any one of us could ever imagine, as Christine revealed that the two shared an ex, who was revealed to be Emma's former fiancé Peter Cornell.
Considering that both women were split from Peter at the time and he never actually appeared on the show, he caused so much drama it made even our heads spin. Christine was upset because she said that Peter had proposed to her but then cheated on her with Emma, but Emma was not having any of it, as she revealed that she knew for a fact she was the only girl her ex had proposed to at the time.
See all of the Selling Sunset season 5 drama, now streaming on Netflix.
Liv is a freelance journalist currently studying English at university. She loves covering everything from entertainment and politics to lifestyle and travel. As well as writing for My Imperfect Life, Liv has bylines in The Times, HuffPost, Den of Geek, Bustle The Metro and The Bookseller.