Father's Day gift guide: gift ideas guaranteed to put a smile on his face
Our Father's Day gift guide has the perfect gift for him this year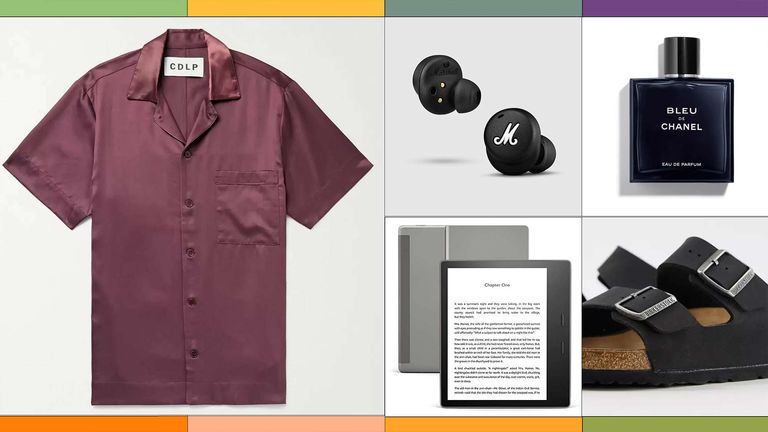 (Image credit: CDLP, Marshall, Chanel, Amazon, Birkenstock)
With the big day less than a week away, we've pulled together a rather handy—and last-minute—Father's Day Gift Guide for all of you that have been sleeping on it.
Father's Day is the perfect time to show just how much you care. Whilst we're pretty sure he'd be happy with some spaghetti artwork or just spending time with you, it's also an opportunity to spoil him with something that he might not usually purchase for himself. If you're anything like us, you haven't left it to the last minute—no shade or judgement here—but don't fret if not, there is still time!
From the fail-safe cologne to a seriously cool essentials brand and the must-have gadget to something for the green-fingered, we've created a small but mighty shopping list with the best items to show him just how much you care on Father's Day and most importantly, will arrive on time.
Father's day gift guide: the best gifts to shop now and get delivered in time
Grooming + Skincare
1. Bleu De Chanel eau de parfum
Bleu De Chanel, eau de parfum spray, 100ml for $128 / £102
Chanel has mastered the art of perfumery and Blue De Chanel is just one of the perfect scents that belong to this historic (and iconic) fashion house.
This cologne falls in the woody-aromatic family and fuses together notes like grapefruit, pink pepper, ginger, vetiver, and patchouli. The result is a clean, fresh and sophisticated scent—this is how men should smell.
2. Bulldog skincare set
Bulldog men's skincare set, $19.61 / £16.99
Give him the gift of good skin this father's day. Bulldog is a failsafe skincare go-to-brand in the grooming world with its simple but efficacious vegan skincare products.
It's also perfect for those just starting their grooming journey too. This handy skincare set contains a trio of products from the Original's range: a face wash, a scrub, and moisturizer.
3. Malin + Goetz candle
Malin + Goetz, Sage candle, $55 / £44
Yeah, you're not the only one who is obsessed with candles. Gift him his very own piece of joy with a guy-friendly one by way of Malin + Goetz. The sage candle is one of herbaceous joy and the earthy notes of lavender, eucalyptus, and sage are pretty hypnotic—plus, it'll look the business on his bathroom shelf.
Style
4. CDLP, Lyocell Pyjama Set
CDLP, Lyocell Pyjama Set, $335 / £295
CDLP was founded by two seriously cool guys (Andreas Palm and Christian Larson) who have made it their mission to completely revolutionize the men's basics industry with their elevated and timeless underwear and loungewear for the modern man.
The 'home suits'—that's pajama's to you and me—in burgundy are crafted from Lyocell, a fiber made from sustainably grown wood pulp, and are cut with a boxy shape, making them suitably stylish on everyone who wears them.
5. Polo Ralph Lauren shirt
6. Birkenstock sandals
Birkenstock Vegan Arizona sandals in black, $99.85 / £60
Upgrade his thong sandals for something a little more stylish. You can't go wrong with a pair of Birkenstock's. We're plumping for the Vegan Arizona's in black, a universal pair, which pretty much go with everything and give the much-needed change to his pair of go-to thong sandals.
Gadgets
7. Smeg Espresso Machine
Smeg, Traditional Pump Espresso Coffee Machine, $489 / £315
If he loves his coffee, treat him to a new working-from-home upgrade to his coffee breaks.
In typical Smeg fashion—and modern-retro aesthetic—it's a looker too, with its sleek and curved edges. It also comes in several colorways from black to red.
8. Aarke, The Carbonator
Aarke, The Carbonator $219 / £219
For the dad who has everything, why not add a new kitchen gadget into the mix. Aarke Is the home of design-led home-appliance essentials created to enhance and 'elevate everyday routines'.
The latest product is the Carbonator 3, which with its sleek lines and rough dusted finish will be THE talking point of his kitchen. This is the new and seriously stylish way to carbonate your drinks.
9. Kindle Oasis
Kindle Oasis, $269.99 / £229.99
It time to update his reading material and the perfect way to do that is the new Kindle Oasis. The Oasis features the best 7" display from all the Kindle devices and a new built-in adjustable warm light which is easy on the eyes, it's also waterproof too, great for those pool or beachside reading moments.
Load it up with his favorite books—and something new—for the perfect Father's Day gift.
Lifestyle + Wellness
10. Grow Fruit & Vegetables in Pots book, Phaidon
Grow Fruit & Vegetables in Pots: Planting Advice & Recipes from Great Dixter, $27.99 / £18.95
Great Dixter is a historic house in East Sussex, England with a rather grand and attractive garden where garden experts from all over the world venture.
This coffee table book not only pulls together a wealth of advice for garden enthusiasts like getting your garden layout cracked and where certain plants should be placed but also features a collection of recipes like a summer vegetable salad and the perfect pesto. The illustrations and visuals in this book are worth it alone. Perfect for dads that love to garden.
11. The Kamado Joe Grill
Kamado Joe, Classic II Ceramic Charcoal Grill, 18 inch in Blaze Red, $1274 / £1499
Few things manage to grasp his attention like a shiny new BBQ, so for the Dad that truly deserves it (and has it all), there's no better gift than the ultimate grilling machine.
Let him grill, smoke, or bake to his heart's content. The Kamado Joe means business and looks the part too. It also features some pretty clever tech that enables you to cook several things at different temperatures. Just imagine the smiles this summer when he is stood next to this shiny new BBQ in the aforementioned shirt and sandals.
12. Marshall II wireless headphones
Marshall II wireless headphones, $179.99 / £159.99
Yes, dad may love his music but sometimes we don't want to listen to it. So, give him the gift of sound—and you some peace and quiet—with new earphones.
The latest addition to the Marshall family is the Mode II wireless headphones. These in-earphones feature the same exceptional quality that Marshall products deliver and very impressive battery life (they deliver 5 hours of wireless playtime on a single charge).
Sunil Makan is the Deputy Editor of My Imperfect Life. With over 12 years of publishing experience, working on print publications and their digital counterparts, national newspapers, and digital pure plays he is an Editor, Strategist, Content Producer, and Creative Director. In his most recent role, Sunil was the Associate Editor of British Marie Claire and prior to that he worked at ELLE, InStyle, Shortlist Media and freelanced at titles such as Mr Porter, Saks Fifth Avenue, Floral Street fragrance, and The Times.
Sunil's specialisms include Fashion, Beauty and Grooming, Lifestyle, and Culture. He has reported and covered fashion trends at International fashion weeks in London, Milan, and Paris, smelled and tested countless fragrances, beauty treatments, slathered on more serums, moisturizers, and masks than he cares to mention plus reviewed some of the best hotels in the world—and the worst.
Sunil has appeared on and led workshops and panels like the All-Party Parliamentary Group (APPG) for Creative Diversity roundtable, the British Fashion Council's Diversity and Inclusion Board, and Fujifilm reader events. A lover of—in no particular order—fragrance, fine wine, champagne, Dior, food, and chicken wings.