8 of the most complimented fragrances for women and men to inspire your next buy
Looking for a new scent? Our selection of the most complimented fragrances ever will help you find your next perfume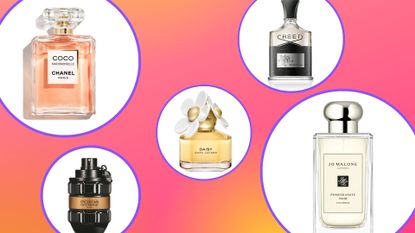 (Image credit: Future/brands pictured)
Whether it's a friend you meet for dinner or a complete stranger wafting past you in the street, when somebody smells good you always notice, right? Using the most complimented fragrances as a starting point is, therefore, a great way to help you nail your next perfume purchase.
Of course, conducting a large-scale scientific experiment to officially find *the* most complimented fragrance of all time would be extremely difficult (see also: very subjective, kinda impractical).
But the My Imperfect Life team has road tested many a popular scent over the years, from the best perfumes for women to the best long-lasting perfumes and of course the best Jo Malone perfumes, and so we know which scents are true crowd pleasers.
Whether you're after something fresh and floral or a strong and spicy number, we got our heads together to bring you a winning selection of scents below that'll get people saying "Ooooh, you smell good!". Let's get stuck into them.
Four of the most complimented fragrances for women
1. Marc Jacobs Daisy Eau De Toilette
Specifications
RRP: $120/£52 for 1.7fl oz/50ml
Top notes: Wild berries and white violet
Middle notes: Jasmine
Base notes : Sandalwood
Reasons to buy
+
Sweet floral fragrance
+
Nice and light
+
Great first signature scent for young or new fragrance fans
Reasons to avoid
-
Won't have enough depth for some
What does Marc Jacobs Daisy smell like?
Many women have always loved the best floral perfumes that also feature notes of vanilla and musk. Daisy promises to take this up a gear by also adding a light woody note along with violet leaf, strawberry, grapefruit, gardenia, and a little jasmine. It's no wonder it's so many young people's first signature perfume, and to that end it's super nostalgic for more than one of us at My Imperfect Life. It's perhaps not a scent that's to all tastes, particularly those who are looking for something more sophisticated or with a bit more depth. But it's delightfully playful and both fresh and feminine, sure to get people's attention when you breeze past them in the street. As a bonus, the bottle also looks awesome on a dresser or vanity.
2. Jo Malone London Pomegranate Noir Cologne
Specifications
RRP : $80/£55 for 1fl oz/30ml
Top notes: Pomegranate
Middle notes: Casablanca lily
Base notes: Guaiacwood
Reasons to buy
+
Sweet, spicy and a little woody
+
All-round delicious scent
+
Brand's best-selling cologne
Reasons to avoid
-
May lend itself better to the winter months
What does Jo Malone London Pomegranate Noir smell like?
A great fragrance for the fall/winter season, Jo Malone London's Pomegranate Noir cologne is instantly recognizable for its rich, fruity, sweet, and slightly spicy notes. It works for just about any occasion, with its warming notes also making it one of the best scented candles on the market. If you don't take our word that it's a super flattering scent that's loved by a great many people, know that it's also the brand's best-selling cologne—and it has a lot of excellent options on offer! Recommendations don't get much more stellar than this.
3. Miu Miu L'Eau Rosée Eau De Toilette
Specifications
RRP: $115/£88 for 3.4fl oz/100ml
Top notes: Cassis
Middle notes: Lily of the Valley
Base notes: Akigalawood (patchouli) and musk accord
Reasons to buy
+
Creamy musk and vanilla
+
Sweet
+
Classic feminine scent
Reasons to avoid
-
Could be too feminine for some
What does Miu Miu L'Eau Rosée smell like?
This popular fragrance has a base of sandalwood and vanilla, which is then combined with white musk, and has a "classic" feminine feel. As though that isn't appealing enough, there are also notes of blackcurrant, citrus, peach, pear, lily of the valley, rose, and peony, all of which combine for a scent that is fresh and sweet. In short, it's an unforgettable combination that'll get people's attention as you work a room or breeze past them in a restaurant.
4. Chanel Coco Mademoiselle Eau De PArfum
Specifications
RRP : $116/£91 for 1.7fl oz/50ml
Top notes : Orange and bergamot
Middle notes : Jasmine and rose
Base notes : Patchouli and vetiver
Reasons to buy
+
Classy and elegant
+
The right balance of sweet
+
One of the most recognizable scents around
+
Also available as an EDT
Top notes:
Heart notes:
Base notes:
What does Chanel Coco Mademoiselle smell like?
Chanel's Coco Mademoiselle has long been a favorite for women (over two decades, to be more precise), but it's also one that can draw attention from everyone nearby because it's so elegant and iconic. It's complex and slightly sweet with Tonka bean, white musk, patchouli, vanilla, and floral notes of ylang-ylang, orange, rose, jasmine, and mimosa. When you are going out with friends or on a first date, this perfume will ensure that you are remembered by all who have the pleasure of being near you.
Four of the most complimented perfumes for men
1. Creed Aventus Cologne Eau De Parfum
Specifications
RRP: $350/£210 for 1.7fl oz/50ml
Top notes : Bergamot, blackcurrant, apple
Middle notes: Patchouli, jasmine, birch
Base notes: Musk, vanilla, oakmoss
Reasons to buy
+
Very sophisticated scent
+
Luxurious
+
Iconic fragrance house
What does Creed Aventus smell like?
Creed Aventus is an appealing cologne that opens with a little pineapple, bergamot, blackcurrant, and apple. From there, it takes your senses on a journey through a forest of scents that include birch, rose, oakmoss, vanilla, ambergris, patchouli, and Moroccan jasmine. A fragrance house with a historic reputation, Aventus originally launched in honour of Creed's 250th birthday and is described by the brand as "the deal scent for a sophisticated modern man who savors a life well lived". It absolutely hits that brief and tantalizes the senses, so the scent combination will definitely get you positive attention.
2. Chanel Bleu de Chanel Eau De Toilette
Specifications
RRP : $90/£65for 1.7fl oz/50ml
Top notes : Mint, pink pepper, lemon
Middle notes: Jasmine and ginger
Base notes: Cedar and sandalwood
Reasons to buy
+
Fresh, citrusy and woody
+
Sexy and alluring
+
Reliable luxury fragrance brand
+
Also comes as EDP and Parfum
What does Chanel Bleu de Chanel smell like?

Some colognes were designed to survive the test of time—classics, if you will. It may only just be approaching its teenage years, but since its launch, Bleu De Chanel has cemented itself as a favorite for people everywhere. In a word, it smells... sexy on the skin and really is a fragrance that draws people in. Its refreshing initial hit has the top perfume notes of spicy mint with grapefruit, pink pepper, and lemon, wearing down to ginger, jasmine, nutmeg, incense, cedar, sandalwood, white musk, and more. Truly one of the most complimented masculine fragrances you can buy.
3. Viktor & Rolf Spicebomb Extreme Eau De Parfum
Specifications
RRP : $125/£86 for 3.04fl oz/90ml
Top notes: Grapefruit, black pepper, pimento berries
Middle notes: Cumin, cinnamon, saffron
Base notes: Tobacco, bourbon, vanilla, amber
Reasons to buy
+
More intense version of the well-loved Spicebomb scent
+
Nice and warming
Reasons to avoid
-
May be too spicy for some
What does Viktor & Rolf Spicebomb Extreme smell like?

You'd be forgiven for thinking that the best vanilla perfumes tend to be feminine, but this is an excellent note found in many masculine scents, too. If you like the rich and complex appeal of spicy fragrances, then Spicebomb Extreme could be the ideal cologne for you (it's literally in the name, after all). It has an appealing introduction of grape, black pepper, and pimento that is supported by cinnamon, cumin, saffron, tobacco, amber, and black vanilla. All this makes for a very masculine spicy scent that will make you a magnet for any potential suitors in your life.
4. Hermès Terre d'Hermès Eau De Toilette
4. Hermès Terre d'Hermès Eau De Toilette
Specifications
RRP: $128/£89 for 3.4fl oz/100ml
Top notes: Orange, grapefruit
Middle notes: Pelargonium, pepper
Base notes : Patchouli, vetiver, cedar
Reasons to buy
+
Fresh and uplifting
+
Citrus and woodsy notes
+
Also comes as EDP and Parfum
Reasons to avoid
-
Could be too citrusy for some
What does Terre d'Hermès smell like?

Citrus is the primary fragrance family that we first pick up on when smelling luxury buy Terre d'Hermès. It smells clean and refreshing, with orange and grapefruit, but avoids being reminiscent of that "hand wash" smell by tossing in a little pepper, pelargonium, vetiver, cedar, patchouli, and benzoin to round off this classic fragrance. It's ideal for work or play, date nights, or simply hanging out at home and smelling great.
Trust team My Imperfect Life that by wearing one of these most complimented fragrances for men and women, you'll get all the attention you want. Happy spritzing!
Deputy Editor at My Imperfect Life
Aleesha is deputy editor and beauty & fashion lead for My Imperfect Life, where she heads up the beauty, fashion and eCommerce pages. Previously she was shopping writer for woman&home and gained an AOP awards nomination after working on their news team. She earned an MA in Magazine Journalism from City, University of London in 2017 and has since worked with a number of brands including, Women's Health, Stylist and Goodto. When she's not testing new products, Aleesha spends her time soaking up the newest bestsellers and Netflix releases, learning about different wines, attempting new languages and travelling as much as she can.
With contributions from