Fancy a new scent? We've found the most complimented fragrances for women and men
Looking for a new scent? We've rounded up some of the most complimented fragrances ever to inspire you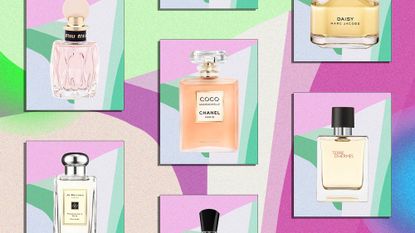 (Image credit: Miu Miu / Jo Malone London / Chanel / Creed / Marc Jacobs / Hermes)
We all like to be noticed and complimented on a great outfit or striking fragrance. and, if it's the latter you're after, then you can't go wrong with picking one of the most complimented fragrances for women and men.
Whether you're after something fresh and floral or a strong and spicy number, read on for our picks of the most complimented fragrances on the market right now. (And when you're done here, be sure to check out our list of the best perfumes for women for more inspiration.)
Four of the most complimented fragrances for women
Those who want to turn a few heads will be happy to have these perfumes in their fragrance arsenal—they are the perfect match for almost every mood and occasion.
1. Marc Jacobs Daisy
Top notes: Wild berries and white violet
Heart notes: Jasmine
Base notes: Sandalwood
What does Marc Jacobs Daisy smell like?
Many women have always loved a slightly musky scent that features notes of vanilla. Daisy promises to take it up a notch by also adding a light woodsy scent along with violet leaf, strawberry, grapefruit, gardenia, and a little jasmine. It's no wonder it's so many young women's signature perfume.
This is a delightfully playful scent that is both fresh and feminine, which is sure to get people's attention when you breeze past them in the street. And as a bonus, the bottle also looks awesome on a dresser or vanity.
2. Jo Malone London Pomegranate Noir
Top notes: Pomegranate
Heart notes: Casablanca lily
Base notes: Guaiacwood

What does Jo Malone London Pomegranate Noir smell like?
A great fragrance for the fall/winter season, Jo Malone's Pomegranate Noir cologne is instantly recognizable for its rich, fruity, sweet, and slightly spicy notes, and works for just about any occasion. And if you won't take our word that it's a super flattering scent for women everywhere, know that it's the brand's best-selling cologne.
3. Miu Miu L'Eau Rosée
Top notes: Cassis
Heart notes: Lily of the Valley
Base notes: Akigalawood (patchouli) and musk accord
What does Miu Miu L'Eau Rosée smell like?
This fragrance has a base of sandalwood and vanilla, which is then combined with white musk. It gives it a scent that is fresh and purely feminine; and as though that isn't appealing enough, there are also notes of blackcurrant, citrus, peach, pear, lily of the valley, rose, and peony. In short, it's an unforgettable combination that will leave people wanting to be closer to you.
4. Chanel Coco Mademoiselle
Top notes: Orange and bergamot
Heart notes: Jasmine and rose
Base notes: Patchouli and vetiver
What does Chanel Coco Mademoiselle smell like?
Chanel's Coco Mademoiselle has always been a favorite for women, and it's also one that can draw attention from everyone nearby because it's so elegant and iconic. It's complex and sweet with Tonka beans, white musk, patchouli, vanilla, and floral scents. The floral combination includes ylang-ylang, orange, rose, jasmine, and mimosa.
When you are going out with friends or on a first date, this perfume will ensure that you are remembered by all who have the pleasure of being near you.
---
---
Four of the most complimented perfumes for men
When it comes to masculine fragrances, these iconic colognes also lend themselves to just about any occasion as your signature scent.
1. Creed Aventus
Top notes: Bergamot, blackcurrant, apple
Heart notes: Patchouli, jasmine, birch
Base notes: Musk, vanilla, oakmoss
What does Creed Aventus smell like?
Creed Aventus is an appealing cologne that starts with a little pineapple, bergamot, blackcurrant, and apple. From there, it takes your senses on a journey through a forest of scents that include birch, rose, oakmoss, vanilla, ambergris, patchouli, and Moroccan jasmine.
It's designed to tantalize the senses, so the scent combination will definitely draw the attention that you want.
2. Chanel Bleu de Chanel
Top notes: Mint, pink pepper, lemon
Heart notes: Jasmine and ginger
Base notes: Cedar and sandalwood
What does Chanel Bleu de Chanel smell like?

Some colognes were designed to survive the test of time; classics, if you will. Bleu De Chanel is a long-standing favorite for people everywhere.
It has the top notes of spicy mint with grapefruit, pink pepper and lemon, moving on to ginger, jasmine, nutmeg, incense, cedar, sandalwood, white musk, and more.
3. Viktor & Rolf Spicebomb Extreme
Top notes: Grapefruit, black pepper, pimento berries
Heart notes: Cumin, cinnamon, saffron
Base notes: Tobacco, bourbon, vanilla, amber

What does Viktor & Rolf Spicebomb Extreme smell like?

If you like a little spice, then Spicebomb Extreme could be the ideal cologne for you. It has an appealing grape, black pepper, and pimento that is backed up by cinnamon, cumin, saffron, tobacco, amber, and black vanilla. This makes it a very masculine, fresh, spicy scent that will be like a magnet for any potential suitors in your life.
4. Hermès Terre d'Hermès
Top notes: Orange, grapefruit
Heart notes: Pelargonium, pepper
Base notes: Patchouli, vetiver, cedar

What does Terre d'Hermès smell like?

Citrus is the primary note that you pick up on with Terre d'Hermès. It smells clean, with orange and grapefruit, but avoids any "soapy" smell by tossing in a little pepper, pelargonium, vetiver, cedar, patchouli, and benzoin.Ideal for work or play, date nights, or hanging out at home.
Trust us that by wearing one of these most complimented fragrances for men and women, we promise that you'll get all the attention you want.
Happy spritzing!
The My Imperfect Life team is all about helping you navigate your world. We bring you the latest on fashion, beauty, travel and wellness so you can live life on your terms.