The Fix: here's what our editors are shopping this September
The only edit you'll ever need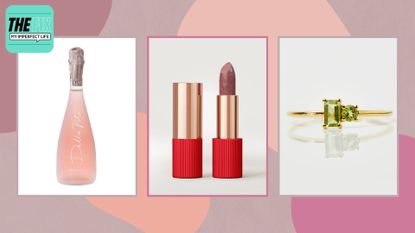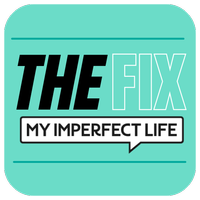 (Image credit: Future)
Welcome to The Fix—My Imperfect Life's edit of the newest or most trending products that our editors are obsessed with. From beauty products to book launches and everything in between, we've picked out the very best products to spend your money on this month.
Our editors and global network of contributors, get to test, read and taste a huge of range of the newest products to launch, so we thought it was only right that—after much rigorous testing—we shared our faves.
Our round-up for September has gone heavy on the makeup with TWO mega lipsticks and some bronzing bits to get you through the end of the summer sun, as well as some trending shoes that are perfect for fall and some delish food and drink buys that will make your busy season a bit more exciting.
What we're buying this month
Consider this your one-stop destination to find a global round-up of all the latest beauty, fashion and lifestyle buys, designer collaborations and the products we just can't get enough of.
Our beauty buys for September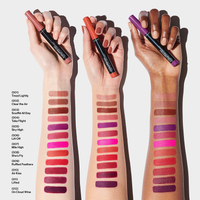 Revlon ColorStay Matte Lite Crayon
RRP: $12.39/£9.99 for 5ml
"Anyone who knows me (or follows me) knows that lipstick is my thing," says My Imperfect Life's Deputy Editor and in-house beauty expert Aleesha Badkar. "But with the many—and there have been many—lipsticks that I have tried in my time, I never thought I'd be saying that the new Revlon release has honestly knocked most of them out of the park for a long-lasting everyday wear."
"The easy-to-use twist crayon comes with a sharp tip for precision, but the matte formula is so powdery soft that you're not left with a harsh line. The velvety crayon glides on so smoothly and leaves a beautiful matte pigment in its wake. But my two favorites things about it? It is so long lasting (like goes to nearly the end of the water/coffee/lunch-ful work day without reapplication) without feeling dry, flaky or uncomfortable on the lips. A treat to wear that somehow balances a matte finish, with satiny comfort and a long-lasting wear—it could pass for something from a high-end, luxury makeup brand. Plus it comes in loads of flattering shades!"
---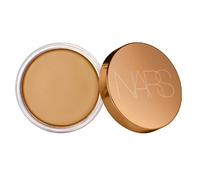 NARS Laguna Bronzing Cream
RRP: $38/£32.50 for 19g
Inspired by the brand's famous bronzing powder, this cream is ideal for adding a more subtle bronzed and glitterless sunkissed effect.
"After trying just once this has gone straight into my permanent daily makeup routine," says Aleesha. "The flattering, shadowy shades feature just enough pigment to add a subtle contour to the face for a really natural-looking bronzed effect—and unlike typical bronzers there's no glitter in sight. Plus it comes in five different shades to suit different skin colors. I use 03 for daily wear and 04 for when I want something a bit more sculpting and dramatic.
"One thing I really love about this (apart from the perfect pigment, lack of glitter and flattering shades) is the hydrating formula that feels super comfortable to wear. It doesn't dry out skin at all or lead to foundation pilling, which can often happen with bronzers and contour products."
---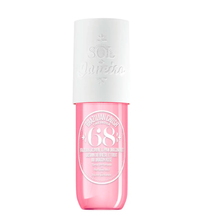 Sol de Janeiro Brazilian Crush Cheirosa 68 Perfume Mist
RRP: $26.22/£19 for 90ml
Any fragrance fan or beauty enthusiast will know that Maison Francis Kurkdjian's Baccarat Rouge 540 is one of the best perfumes for women ever—however, it does come with quite a hefty price tag that not everyone would be happy paying. Enter Sol de Janeiro's Cheirosa 68 Perfume Mist. With top notes of punchy pink dragonfruit and subtle lychee essence layered over a shining heart of Brazilian jasmine that blends with ocean air and hibiscus on top of a sheer vanilla and sun musk base, this replicates the signature scent with its own signature blend.
"I'm someone whose friends and colleagues know I've arrived just because they can smell me coming (in a good way), as—while I'll try other scents when the mood calls for it—Baccarat Rouge is my familiar fallback that I spritz at least 80% of the time," says Aleesha. "But since trying this mist, I've actually given my MFK bottle a rest for a few days a week in favor of this intoxicatingly similar successor that I can reapply to my heart's content without having to worry about the price tag. I definitely won't give up my Baccarat Rouge completely—but this is lovely for those days when you don't have much on but still want to attract some attention with one of the most complimented fragrances."
---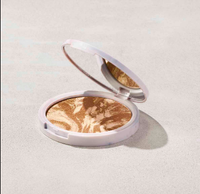 Fenty Beauty Toast'D Swirl Shimmer Bronzer
RRP: $42/£32 for 12g
"The Fenty Beauty Toast'D Swirl Shimmer Bronzer is a perfect all-rounder for your makeup bag," says Naomi Jamieson, Lifestyle Writer at My Imperfect Life. "Not only can you use it on your cheekbones and jawline but also on your body, for a shimmery, sunkissed glow.
"The golden shimmery swirls even work as a highlighter and eyeshadow, making it the ultimate travel companion—plus the amount of product you get for your money is very generous indeed
"The formula is buildable and blends like a dream! Personally, I like a diffused makeup look, so I just apply it on my cheekbones and forehead for a more natural, healthy look—but you can also use it to contour and shape. My only hang-up over this bronzer is that it's more on the glittery side which can wind up spreading all over your face…" However, that's an aspect of it that beauty editor Aleesha loves—adding that that "it gives you a flattering but not over-the-top glow that has definitely elevated my everyday makeup look."
---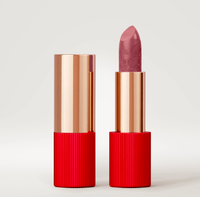 La Perla Matte Silk Red lipsticks
RRP: $56/£47
We all love to find a good all-rounder lipstick and this is one that is sure to tick many people's boxes. MIL beauty expert Aleesha—who has been dubbed the 'Lipstick Queen' among her friends—has tested many a formula in her time but this one has jumped straight into her everyday makeup bag.
"The formula is just SO comfortable," says Aleesha. "It kept my lips really nicely moisturized throughout the day but it still bestows an impactful amount on flattering pigment. It does require some reapplication now and then, as it's not fully matte but more of a satin texture thanks to the silk aspect (which I'm actually not usually a fan of)—but for the balanced formula that marries both comfort and appearance, it's worth it."
---
Our fashion buys for September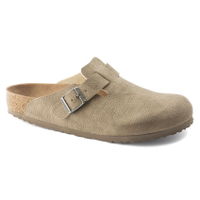 Birkenstock Bostons
RRP: From $120/£90
"The Birkenstock Bostons have taken TikTok by storm and have been dubbed the ultimate shoe for fall! While they might seem like summer shoes—users are making a serious case for wearing these casual clogs with all your cold-weather staples.
So why are they so great? For starters, they're comfy and look so cute when paired with thick socks (we know socks with sandals but it really is a trend right now) and they're surprisingly versatile. They look cool with jeans, loose pants and even skirts—and definitely bring the coastal-grandmother vibes.
---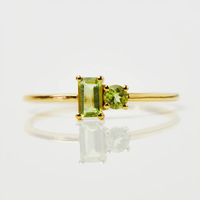 Carrie Elizabeth x Zoë Sugg jewelry collection
RRP: From $71/£60
One of our best affordable jewelry brands, Carrie Elizabeth is always reliable for giving us a stylish way to shop the most recent jewelry trends. And they've now teamed up with Youtube sensation Zoë Sugg to create a gorgeous capsule collection featuring moonstone and peridot—two of the gemstones of the moment.
The collection includes a number of unique rings, alongside a couple of necklace choices and some earrings too. We're totally taken by all of the ring designs—and while we think the You & Me Peridot Ring and Lunar Energy Moonstone Ring might be our favorites, they look like they would all work for stacked look too.
---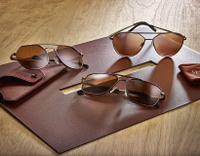 Serengeti sunglasses
RRP: From $160/140
We might be heading out of summer but sunglasses are a must all year round—especially for those who spend a lot of driving (or are looking forward to a winter holiday). Serengeti comes with 3-in-1 lenses to ensure the highest level of protection—while also offering a huge range of modern, on-trend styles.
We love their Geary and Boron styles, which remind us of Gemma's Love Island sunglasses, but there are also more classic shapes like aviator, circle or square. Plus most styles comes in a range of different colors so you can choose whichever one suits your capsule wardrobe best.
---
Our home & lifestyle buys for September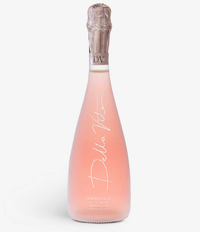 Della Vite Rosé Prosecco
RRP: $24/£22 for £750ml
The popular Prosecco brand that hails from the Delevingne sisters has branched out into rosé with this beautiful new offering. With an utterly gorgeous pale coral color, this will brighten up the upcoming autumn months—and will make a cool but elegant Champagne alternative for all of the seasonal celebrations that are coming up.
"I loved it for summer," says Aleesha, "but the zesty fizz with a slightly creamy finish on the palette feels really appropriate for glitzy festive evenings. Taste-wise, it has the usually berry aromas you'd expect with a pink fizz but the addition of sweet rhubarb brings something different—it adds a subtle sweetness that offsets the tartness of the fruit but in a slightly dry manner thanks to the earthiness of the rhubarb. That was definitely a plus for me, as I'm not a fan of sweet drinks!"
---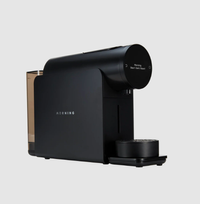 Morning Coffee Machine
RRP: £349 (UK only)
"I love my Nespresso, but I'm not sure I can go back after using this," says MIL Deputy Editor Aleesha. "There are so many things to love about this machine. First of all, is how it looks—it's super sleek and modern with a svelte narrow body so that it takes up less room on the kitchen counter and makes everything look neater around it. It also comes in two different colorways so that you can match it to your interiors.
"Then comes the super contemporary interface, that kind of makes me feel like I'm using something from the future. With a round touchscreen and a sleek dial it's really satisfying to use and encourages an uninterrupted flow from start to finish. The long menu of coffee types (I'll come back to that later) feels super luxurious and the technology allows you to check for hard water and set it up for cleaning and descaling without having to fight with trying to press stiff buttons simultaneously to get it into descaling mode like many other machines on the market.
"And when it comes to daily use and coffee brewing it's an actual joy. Coming back to the coffee menu, it has different types of (including one that replicates filter coffee, one that brews for iced coffee and one that gives you just hot water) to suit different types of coffee bean and drink. You can even create more types of brew and recipe using the app, which also allows you to alter any existing recipes—for example if you want to change the temperature or size of the drink. Each shot of coffee comes with a luxury crema and a really smooth taste. The screen even walks you through exactly what it's doing at each point with pretty animations—plus it shines an elegant glow onto your cup with a small light underneath. The machine even has a cup sensor so will stop brewing if your cup is removed—and it comes with a magnetic drip tray that is easily removable if you're using a bigger cup. My only drawback would be that it doesn't come with a milk frother—however, I've got a separate one that I can use alongside this so it didn't cause me too much bother."
---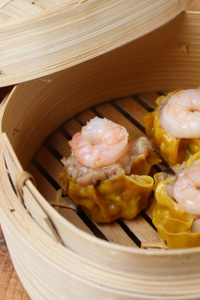 Journey To The West dumplings
RRP: From £5.95 (UK only)
Now that autumn is heading around and we're all about quick but delicious dinners (and if we can get some nutrition in there it's a plus). These dumplings, created by Masterchef finalist Sandy Tang are perfect for anyone has always wanted to recreate the show's impressive dishes but doesn't have the time or know-how.
"Super quick and easy to cook, these all come with their own instructions on how to get the perfect texture in just one pan and a few minutes," says Aleesha. "The actual dumpling outer is really impressive—sturdy enough to hold the filling but not too thick that it tastes gelatinous—and the base crisps up nicely without going too hard. There's a variety of fillings to choose from—I'd recommend the Lamb Masala Momos for any meat-eaters but the Vegetarian OmniPork Dumplings are absolutely delish too and you wouldn't know that they were fully veggie when eating them."
You can even purchase a range of different chilli oils to serve with these for a real Masterchef treat.
---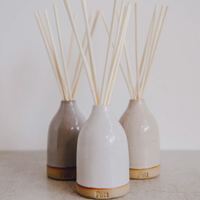 Pott diffuser (UK only)
RRP: £65
Pott candles became one of the best scented candles to buy after lockdown, thanks to their handcrafted candle holder pots that could be refilled with max moulds of the brand's scents. And now they've expanded into diffuser territory with their brand new offering.
Each diffuser is around 10.8cm high and 6.9cm wide (although they are handcrafted by different people so can vary slightly) and can fit around 150ml of essential oils. There are three different shades to choose from to match your interiors and—so far—four different essential oils blends. You can even fill it with other fragrance blends, like your favorite Yankee Candle scents or White Company essentials.
---
Deputy Editor at My Imperfect Life
Aleesha is deputy editor and beauty & fashion lead for My Imperfect Life, where she heads up the beauty, fashion and eCommerce pages. Previously she was shopping writer for woman&home and gained an AOP awards nomination after working on their news team. She earned an MA in Magazine Journalism from City, University of London in 2017 and has since worked with a number of brands including, Women's Health, Stylist and Goodto. When she's not testing new products, Aleesha spends her time soaking up the newest bestsellers and Netflix releases, learning about different wines, attempting new languages and travelling as much as she can.