How to recreate your favorite Glass Onion outfits from the latest Knives Out movie
Loved the Glass Onion outfits in the new Knives Out film? Here's where to shop similar pieces so you can recreate them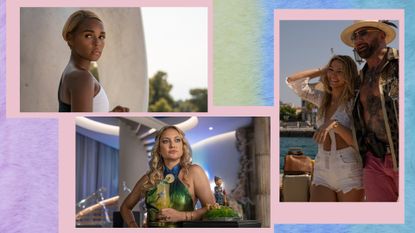 (Image credit: John Wilson/Netflix © 2022)
The end of 2022 saw Glass Onion: A Knives Out Mystery drop on Netflix—the latest addition to the franchise that gives viewers the chance to lap up an eventful murder mystery with a side order of glorious outfits. And with teasers suggesting big hair, glitzy fabrics, bold prints and tassels galore, we knew the Glass Onion outfits were going to be great from the get-go.
A completely separate story from the first movie, apart from our central character Detective Benoit Blanc, played by Daniel Craig, we are introduced to a completely fresh cast roster. "I felt like it could go to an absolutely new, exciting place where I didn't have to be married to anything except Benoit Blanc, and even he is completely different," costume designer Jenny Eagen explained to EW in a recent interview. "I just wanted to make as much as I could to make it really special and make a splash and make these characters so individual."
Despite taking place this decade in the middle of the Covid-19 pandemic, many of the Glass Onion wardrobe choices look rather seventies-inspired, with our leading ladies Janelle Monáe, Kate Hudson and Madelyn Cline all presenting us with serious outfit serves. So, as with our recently-binged White Lotus outfits, Emily in Paris season 3 clothes and Wednesday outfits, we've rounded up the pieces that'll let you recreate your favorite Glass Onion outfits below.
🚨Spoiler alert🚨 There is a mild spoiler ahead regarding some of the characters, so we'd avoid scrolling any further if you're yet to watch the film!
How to recreate the best Glass Onion outfits from Knives Out 2
1. Andi/Helen Brand—Janelle Monáe
Shop at ZARA for tailored pieces like Andi/Helen's that won't break the bank
A strong contender for our favorite wardrobe, Andi and Helen are played by Janelle Moná, who really stole the Glass Onion fashion show. Helen is the person who calls on Detective Blanc to investigate the murder [mystery] that makes for the entire film. Meanwhile Andi is her twin sister and—spoiler alert (but not really because it's the film's entire premise)—the person whose murder central to our mystery.
If you're a fan of Monáe then you'll already know that she's extremely stylish in her own right, and her character's wardrobe features a lot of "crisp, monochromatic suits, expertly tailored," per Eagen's description. And indeed, the film shows the star in some seriously chic outfits, like her chic tonal pantsuit complete with a high-neck silk blouse complete with a neck tie.
A strong contender for our favorite wardrobe, Andi and Helen are played by Janelle Monáe, who really stole the e wears by the pool during the day. However, it turns out this wasn't actually a dress, rather a monochromatic one-shoulder swimsuit, which she paired with a sleek navy satin maxi skirt. While we couldn't track down a similar swimsuit, we have scouted out a dress of the same style—or you could pair one of the best affordable swimwear pieces with a chic skirt for an elegant poolside look.e
---
---
---
2. Whiskey—Madelyn Cline
Head to ASOS for festival chic staples like Whiskey's
Social butterfly Whiskey's (Madelyn Cline) aesthetic screams fringed festival-goer—a deliberate choice. "It really started with Jenny in the costume fitting," Cline told EW of her character development. "I saw the fringe bag and the boots and I was like, 'Oh, this girl has not moved on from 2014 or '15. She stayed in her 2015 Coachella era and has never left.'"
Sure, it may feel a little too soon to be looking at 2010s fashion through rose-tinted nostalgia glasses, but Madelyn's character is a clear reminder that when it worked, it really worked—cut-out tops, crochet, fringing and all.
If you're as obsessed with the actress as we are, we've also rounded up everything you need to know about Madelyn Cline's makeup go-tos, too, because we're nice like that.
---
---
---
3. Birdie Jay—Kate Hudson
Head to Net-a-Porter for gorgeous printed 'fits like Birdie's, as well as all of the accessories
Noughties romcom queen Kate Hudson plays former model Birdie, whose iconic Glass Onion dress has a big role in the story of the film. Fun fact: it was actually her real-life mother, actress Goldie Hawn, who inspired the character's style.
"[Hudson] has the most confidence, physically, of anyone I've ever met; I wanted big, bold prints because she can carry it off," Eagen told EW. "We made some of the jewelry. Kate brought a lot of jewelry connections to the table [...] But we made jewelry and we were able to go wild with it. Kate was just into it. The bigger, the better. And when she gets a piece, she knows how to work it."
Indeed, Birdie's fashion choices are kind of out there—in a great way—and although all of her clothes and some of her jewelry were custom made for the film, we've still managed to find some similar pieces that you can shop now.
---
---
---
4. Peg—Jessica Henwick
Birdie's humble assistant, Peg's (Jessica Henwick) style is actually supposed to be the absolute antithesis of stylish, but to us the result is unintentionally chic. "Originally, I came in and she looked cool," Jessica Henwick, who plays Peg, told EW. "She was supposed to be wearing leather jackets and skinny jeans and combat boots. And I was just like, 'No, let's make it that it looks like she's two shades off of fashionable.'"
She continued: "The bucket hat is really in right now, but there's something about the way that she wears it that you go, 'Oh, no, that's just a bucket hat to her. She has no idea that's trendy right now.'"
There's a lot of grayscale here, from sweaters to classic Tevas and jean shorts, all making for a comfy off-duty aesthetic.
---
---
---
5. Claire Debella—Kathryn Hahn
Politician Claire Debella, played by Kathryn Hahn, easily has the...least colorful Glass Onion clothing out of the cast's ladies. If it's not beige, it's cream, and that's pretty much where it ends—to the point where lead actor Daniel Craig actually laughed when he saw Hahn's rack in the wardrobe department.
But that's not to say that Claire doesn't look extremely put together at all times and, if nothing else, she serves as great inspo for our work capsule wardrobe. Her closet might scream "sensible", but isn't that exactly what a politician would want to give off?
---
Lucy is a beauty journalist who has written for titles including Marie Claire, Cosmopolitan, OK!, woman&home and Women's Health, as well as regularly contributing to My Imperfect Life. Her work covers everything from skin and haircare tips to trying and testing the latest beauty launches, and interviewing celebrities and experts. A certified dog person, her other interests include mental wellbeing, books, piña coladas and not getting caught in the rain.