Is 'Knives Out 2' streaming? Where to watch 'Glass Onion'
Detective Benoit Blanc is back with an A-list cast—but is 'Knives Out 2' streaming yet?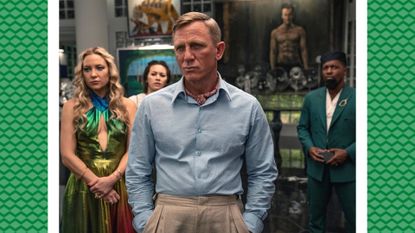 (Image credit: John Wilson/Netflix)
We've been waiting for the follow-up for years, but is Knives Out 2 streaming yet?
Officially titled Glass Onion: A Knives Out Mystery, the next entry in the Benoit Blanc adventures finds the detective (played by Daniel Craig) heading to a Greek private island "to peel back the layers of a mystery involving a new cast of colorful suspects," reads the film's official logline.
In keeping with the original 2019 Knives Out film, which featured an all-star cast including Chris Evans, Ana de Armas and Jamie Lee Curtis, those new suspects are played by a who's who of Hollywood—we're talking Kate Hudson, Kathryn Hahn, Janelle Monáe, Edward Norton, Madelyn Cline and more.
And though there's been much confusion about Glass Onion's theatrical release (more on that later), we also have questions about when and where we'll all be able to watch the sequel from home. Here's what we know so far.
Is 'Knives Out 2' streaming? Where to watch 'Glass Onion
Knives Out 2, a.k.a. Glass Onion, is not yet available for streaming. However, that will soon change, as the Rian Johnson-directed whodunit will soon be getting a worldwide streaming release, exclusively on Netflix.
Ironically, if you want to catch up on the O.G. Knives Out before the sequel comes out, you won't be able to watch it on the Netflix US platform. (It is still available on Netflix in other regions like Japan, Mexico, Turkey and Germany.)
That's because, unlike the franchise's second and third movies, Netflix doesn't have distribution rights to the original in the states—Lionsgate does—so you'll need to go the VOD route if you want to watch Knives Out at home. You can currently buy or rent the movie on Amazon, Apple TV, Google Play, Vudu and YouTube.
When is the 'Knives Out 2' Netflix release date?
Glass Onion: A Knives Out Mystery is coming to Netflix on Friday, December 23.
Is 'Glass Onion' still in theaters?
Glass Onion had a limited week-long release in cinemas from Wednesday, November 23 through Tuesday, November 29 in roughly 600 theaters across the United States, the widest theatrical release ever for a Netflix original film.
However, director Rian Johnson has discussed putting Glass Onion back in theaters ahead of its December 23 streaming date. "It's probably good for Netflix's stockholders that I don't run Netflix. The reality is, we're partners with them and they've been terrific to us, but very obviously, I wish we could have been in theaters longer. Hopefully, next time, we will be," the filmmaker told The New York Times in a December 2022 interview.
Johnson continued: "I believe in theatrical releases, and I hope everyone knows I'm working as hard as I can to push, push, push it. I also believe that a successful theatrical run will only make its presence more valuable when it hits the streamer. It absolutely makes noise, it makes a cultural moment, it spreads word of mouth. That's what we're setting out to prove here."
So will you be able to see Glass Onion on the big screen before it hits Netflix? Stay tuned!
Watch the 'Knives Out 2' trailer:
'Knives Out 2' plot: what is 'Glass Onion' about?
"This fresh adventure finds the intrepid detective at a lavish private estate on a Greek island, but how and why he comes to be there is only the first of many puzzles," reads the Netflix synopsis.
"Blanc soon meets a distinctly disparate group of friends gathering at the invitation of billionaire Miles Bron for their yearly reunion. Among those on the guest list are Miles' former business partner Andi Brand, current Connecticut governor Claire Debella, cutting-edge scientist Lionel Toussaint, fashion designer and former model Birdie Jay and her conscientious assistant Peg, and influencer Duke Cody and his sidekick girlfriend Whiskey," the synopsis continues. "As in all the best murder mysteries, each character harbors their own secrets, lies and motivations. When someone turns up dead, everyone is a suspect."
'Knives Out 2' cast: who's who?
The Glass Onion cast is already jam-packed, but there are many, many other celebrities who surprisingly pop up throughout the flick, so keep your eyes peeled!
Daniel Craig as Benoit Blanc
Edward Norton as Miles Bron
Janelle Monáe as Cassandra "Andi" Brand and Helen Brand
Kathryn Hahn as Claire Debella
Leslie Odom Jr. as Lionel Toussaint
Kate Hudson as Birdie Jay
Dave Bautista as Duke Cody
Jessica Henwick as Peg
Madelyn Cline as Whiskey
Noah Segan as Derol
Jackie Hoffman as Ma Cody
Dallas Roberts as Devon Debella
Want more movies to stream at home? Here's streaming info for fellow recent releases including Spoiler Alert, The Menu, Bones and All and Triangle of Sadness.
Christina Izzo is the Deputy Editor of My Imperfect Life.
More generally, she is a writer-editor covering food and drink, travel, lifestyle and culture in New York City. She was previously the Features Editor at Rachael Ray In Season and Reveal, as well as the Food & Drink Editor and chief restaurant critic at Time Out New York.
When she's not doing all that, she can probably be found eating cheese somewhere.