Good Trouble's Mariana and Evan: A look at their relationship and what's next for them
Good Trouble's Mariana and Evan were an unexpected pairing. Here's everything you need to know about their relationship...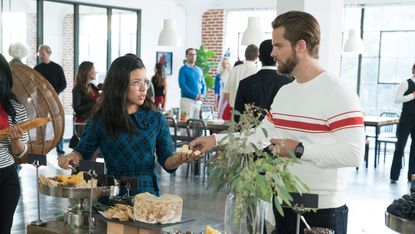 (Image credit: ABC Disney)
Fans (including us) were surprised when Good Trouble's Mariana and Evan became a thing. Ever since the first season of the popular spinoff from The Fosters, she and sister Callie have had to navigate adulthood and professionalism in their new Los Angeles lives, with Mariana fighting the patriarchy every day at her male-dominated tech job (Maia Mitchell and Cierra Ramirez's friendship is also pretty cute IRL).
That's why her relationship with Evan, the CEO of Spekulate, the company she works at, came a little left field for some of us. And like Good Trouble's Callie and Jamie, it has had quite the ups and downs. Here's a look at Mariana and Evan's love story...
Good Trouble's Mariana and Evan's relationship
Mariana has been at Spekulate for a little while when she joins a group of other female engineers and coders who are trying to get respect and equity, including equal pay, at the company. Their CEO, Evan, is on board with their mission explains to Mariana that he is socially awkward and finds it hard to read social cues sometimes as he is on the Autism spectrum.
The two grow closer and move from their boss/employee relationship to a genuine friendship. Then Evan asks Mariana out for a drink, which at first she is a little wary of but ends up going. It turns out all Evan wants is a friend and someone to help him set up a profile on a dating app so he can find love (adorable, we know). However, their innocent friend date is twisted and used against Mariana when a photo of the two having a drink circulates around Spekulate and Mariana is accused of sleeping her way to the top. Mariana, who was actually dating her colleague Raj at the time, quickly sets the record straight, telling everyone that she was just having a drink with her boss—like all the other men in the company do—but the damage has already been done.
Despite this, the two end up growing feelings for one another and when Mariana and Raj decide to end their relationship—due to her feelings for Evan and his feelings for Isabella—she and Evan take the next step. She ends up sleeping with him at the end of season 2, a decision she feels torn about at first. But after the two come face to face at work in the first episode of season three (following an awkward meeting where Mariana ultimate walks out due to her conflicting feelings for Raj and Evan) the two talk it out. Mariana explains that dating her boss is a bad idea but Evan insists that the worst ideas can lead to the best ones. After acknowledging that their feelings for one another won't go away, they decide to date in secret.
Do Mariana and Evan break up?
Mariana has launched an activism app at work, with Evan behind her all the way. However, when the app is hijacked by white supremacists, Mariana is forced to ask Evan to shut it down—but he refuses.
Looking at it from a business point of view, he believes the engagement is good and since the company doesn't interfere with politics, he doesn't want to choose a political stance by shutting down the white supremacists. Mariana understands the business side of things but is disappointed in Evan and explains that she refuses to work for a company that tolerates bigotry on their platforms and ends up quitting her job. When Evan asks what her leaving means for their personal relationship, Mariana admits that she is unsure.
However, the two later rekindle their relationship when Evan explains that he understands why Mariana quit and wants to better his company.
At the end of Good Trouble season 3, Mariana finally comes clean to the girls in The Fight Club about her relationship with Evan, which is bound to cause a rift—especially as they weren't big fans of their boss. When Mariana hears how the women feel about Evan, she sides with her friends and breaks up with Evan as their ethical differences simply become too much.
The two end on good terms and Evan even refers Mariana for a job at BB, another tech start-up app funded by Jackie Morton at the Hallis Group. However, things may get a little tense between them once again when he realizes that Mariana plans on taking Jackie's app down from the inside with the Fight Club Girls.
What could be next for them, especially if we get Good Trouble season 5? Let's hope we get to see it...
Sagal is a journalist, specialising in lifestyle, pop culture, fashion and beauty. She has written for a number of publications including Vogue, Glamour, Stylist, Evening Standard, Bustle, You Magazine, Dazed and Wonderland to name a few.