He's All That: Star Addison Rae shares reveal on Instagram and fans are losing it
Put He's All That on your to-watch list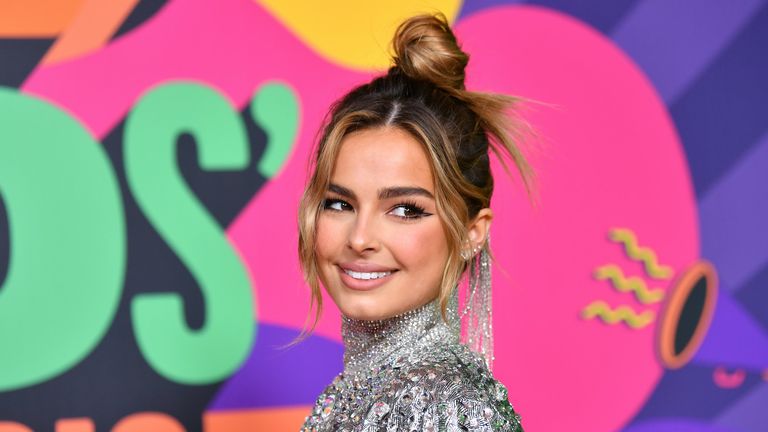 (Image credit: Amy Sussman/KCA2021/Getty Images for Nickelodeon)
Oh, you aren't going to cry, are you? He's All That star Addison Rae just shared some news about the movie, and it's possible fans are wiping away a few tears of joy. 
The TikTok star and her cast members went on social media to provide an update on He's All That, a retelling of the 1990s rom-com She's All That, which is set to drop on Netflix this summer.

In a cute reveal, they took turns spelling out "He's All That on Netflix" on a piece of paper, which concluded with the reveal of the movie's premiere date: August 27! Time to start planning your summer movies queue!
What is He's All That about?
In a gender-swapped version of the 1999 film starring Freddie Prinze Jr. and Rachael Leigh Cook, He's All That focuses on high schooler Padgett, who takes on a cruel dare—a "dork outreach program," if you will—to turn a geeky classmate into the prom king.
Who's starring in He's All That?
Addison Rae will star as Padgett Sawyer, Cobra Kai's Tanner Buchanan will play the school dork, and the original movie's star, Rachael Leigh Cook, is set to make an appearance.
Who is Addison Rae's character inspired by in He's All That?
Rae's Padgett is inspired by Freddie Prinze Jr.'s role as Zach Siler in the '90s cult classic She's All That. 
He's All That release date: When and where can I watch?
Mark your calendars: the film will hit Netflix on Friday, August 27—the perfect flick for the end of summer, if you ask us.
Where can I stream She's All That?
Want to catch up with the original before the summer premiere of He's All That? We can't blame you: you can currently catch She's All That streaming on HBO Max or Amazon Prime Video. 
Fans can't wait for He's All That
It seems that all-things '90s are having a moment. Take, for example, Jessica Biel's new teen thriller Cruel Summer, which takes place from 1994 to 1996. While you're waiting for Addison Rae and co. to hit screens, watch the who-dun-it and try to figure out who is really responsible for one of the character's disappearance.