How to watch Cruel Summer from anywhere in the world
Produced by Jessica Biel, Cruel Summer takes you back to the chilling, thrilling 1990s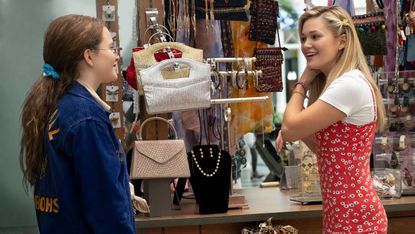 (Image credit: Freeform)
Freeform's Cruel Summer is the dark teen drama that's become a new cult favorite.
The show tells the haunting story of a murder mystery in the 90s and is produced by Jessica Biel, who also works on Netflix's similarly sinister psychological thriller, The Sinner. The actress, who started her career on the wholesome family show 7th Heaven, expressed her excitement for her new project, written by Bert V. Royal and directed by Max Winkler, during Deadline's TCA presentation back in February.
"This is a project that I would have wanted to do if I was their age," said the 39-year-old star. "I would have loved to play one of these characters. To be able to create something for young women is really exciting."
Biel continued: "To sit in a space with the younger generation and really give them this platform to really talk about some intense, hard things that these young people are going through is really exciting for me. And it's something we want to do for all people, but especially for women and for girls."
Similarly, Stuart Baxter, president of international distribution at eOne, said: "Cruel Summer is incredibly timely in today's age of strong female voices, and unique in telling the story from dual perspectives, unraveling a dark mystery piece by piece.
"We believe this edge-of-your-seat, layered drama with international themes will appeal to audiences all around the world."
So, what exactly can we expect from Cruel Summer? Here's everything you need to know about the new show including the twisted plot, the cast, and its release date.
This town isn't big enough for all of them. #CruelSummer pic.twitter.com/Xk1Kkg48a7April 14, 2021
See more
Cruel Summer plot: what is the show about?
Taking us back to the 1990s, the ten-part drama follows the long trail of a mystery kidnapping by depicting the events of a single day over the course of three years: the summer of 1993, 1994 and 1995.

At the center of it all are two young girls, Kate Wallis, the popular girl at school who has the seemingly perfect life until she goes missing one day, and Jeanette Turner (played by Chiara Aurelia), the sweet, nerd introvert who is accused of having some involvement in Kate's disappearance. All signs point to Jeanette initially but as the story unfolds, things take many twisted turns that leave us questioning both of the girls and who they really are.
Told through shifting points of view, we're shown how one girl can go from the all-American sweetheart loved by all to the most despised person in the country. The series challenges the idea of perception by confronting a crime and raising questions about the motive and culpability of those connected.
Not only does the plot sounds gripping but the team behind it are experts in creating timelessly gripping dramas. As well as Biel and Winkler, showrunner Tia Napolitano has worked on Shondaland shows including Scandal and Grey's Anatomy, both of which you'll agree are TV gold.
And in case you're wondering 'Is Cruel Summer based on a true story?' rest easy—it's fictional.
Make sure to get your good side. #CruelSummer pic.twitter.com/qpkWzWTAvcApril 7, 2021
See more
Cruel Summer cast: who's who?
The show brings a host of young talent to the forefront with Chiara Aurelia taking the lead as Jeanette while Disney star Olivia Holt plays Kate.
The rest of the cast is made up of Harley Quinn Smith, Nathaniel Ashton, Allius Barnes, Michael Landes, Blake Lee and Brooklyn Sudano. Meanwhile Grey's Anatomy alum Sarah Drew will also appear in a recurring capacity.
How to watch Cruel Summer outside the US
If you're in the US and have cable, you can watch Cruel Summer on Freeform or stream it on Hulu. Those who have it can also watch a live stream of the channel on the Freeform website for free, so if you prefer to watch on your computer or laptop, you can do so.
Good news for those in the UK—Cruel Summer is now available on Amazon Prime.
If you're currently outside of the US and don't have Amazon Prime, then you can still stream the channel with the help of a VPN.
A VPN is a handy piece of software that allows you to browse anonymously, and to change your IP address so your mobile, computer, or laptop thinks it's in another location. Meaning, you can watch your favorite show, film, or event—no matter where you are in the world.
Our favorite VPN service is ExpressVPN—rated the best VPN in the world right now, by our colleagues at TechRadar.
Will there be a Cruel summer season 2
Fans are in luck! Cruel Summer season 2 will continue its psychological goodness in 2022, but plot details are still under wraps.
"We know we're going to deliver a super-twisty mystery, we know we're going to live with some interesting characters and their psychology and talk about some important stuff like we did with grooming in season 1," showrunner Tia Napolitano told Entertainment Weekly. "Other than that, it's completely open-ended at this point."
One thing's for sure, we have plenty of Cruel Summer theories...
Sagal is a journalist, specialising in lifestyle, pop culture, fashion and beauty. She has written for a number of publications including Vogue, Glamour, Stylist, Evening Standard, Bustle, You Magazine, Dazed and Wonderland to name a few.