Are 'Too Hot to Handle' stars Holly and Nathan still together? We talked directly to Holly Scarfone to find out
THTH fans are wondering "are Holly and Nathan still together?" So we went straight to the source to find out about Holly Scarfone's experience on the Netflix dating show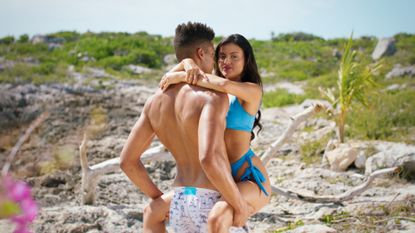 (Image credit: Netflix)
Currently in Netflix's top 10 most-watched shows this week, the latest season of Too Hot To Handle has left millions of fans with many questions, one of the top being: are contestants Holly and Nathan still together?
So we sat down with the hottest rule-breaker from the cast of Too Hot to Handle season 3, Holly Scarfone, to discuss her time on the show, the sexually named makeup product she's currently obsessed with, and whether she found long-lasting love in paradise.
---
---
A CHAT WITH HOLLY SCARFONE FROM 'TOO HOT TO HANDLE' SEASON 3:
Congratulations on the show. It was number two in the UK last I checked!
Thank you so much. I binged it all in like seven hours. I literally did it in one sitting. This season was crazy.
It was so different from previous seasons. You guys were so much wilder. It seemed like you just didn't care at all.
Oh, my gosh, we just went for it. We had such a great time, honestly.
Does it kind of feel like a whirlwind?
At first, it was a little nerve-wracking, right? But then as time goes on, you kind of forget that the cameras are there. And everyone just kind of goes for it. I feel like I definitely did a lot of growing. I mean, that's the whole point, right, we were thrown into a retreat, and as much as like people see the drama and the love and this, that and whatever, at the end of the day, we were doing so many workshops, and learning to love ourselves and connect with others around us in a, you know, light manner.
What do you think was the biggest lesson that you learned about yourself?
I don't even know where to begin, I learned so much. I feel like the first thing that I learned was probably self-respect. It took me a long time. Not that I didn't have it before, but I needed to realize the relationship that I had with myself and how that relationship also affects everyone around me. So that was definitely a huge lesson that I learned. And I approach everything differently now, like, honestly, I can't even exaggerate that. I don't view relationships the same way that I did before. It has changed my whole perspective on everything.
One of my favorite moments of the season was you waiting in the bedroom to confront Brianna. Everyone could feel the tension.
Oh my gosh, and there was so much tension, honestly. But here's the thing: Briana and I are actually on great terms. She's an amazing woman and not for a second did I ever doubt that, I was just so invested in Nathan. And I think at that point, he had asked me to be his girlfriend. But they didn't show that. It was spicy, for sure. There's no hate and that's the best part about the show. We were all really close, and it is genuinely all positive vibes.
For that scene, I felt like you were just defending yourself. You're like, 'Hold on a second. This just isn't going to run. This is my man.'
Exactly. Like that was the second date that he went on. I feel like Nathan was really protective over me. But, I was just like, okay, go on these dates. It's fine. That's the point of dating, right? If you go on other dates, and if your head turns, then you should go with them. But, you know, it gets to a certain point where it's like, 'Okay, when are you going to realize that you like me?' It wasn't something that I was used to, especially in the real world. I've never had to experience my man going on dates with other women. So, of course, I was a little bit out of my comfort zone. But I think that's also the beauty of the show, right? You are just thrown completely out of your comfort zone. And that's the true essence of growing.
At least you know you had good taste because everyone wanted your man.
Exactly right. I got great taste!
How was the transition from the show into real life?
It was wild because Nathan and I weren't allowed to really post with each other or do anything. We had such an amazing experience and we had to keep it on the DL. That was really hard because the first thing I wanted to do is tell everyone, "Oh, you guys, I have a boyfriend, I'm so happy and I just went through this life-changing experience." But I knew I had to wait. So that was definitely really interesting. Also, we were on the retreat without our phones. And so that was really refreshing, actually, we really just dived into the experience. So, it was a little bit overwhelming being reintroduced back into the world.
What did your friends think of you going into a show that was supposed to be a yacht party for singletons and with you being this girl that didn't want any man, to you coming out with a solid boyfriend?
It was absolutely crazy. I went on that show because I was told we were going to party and we were gonna be in bikinis and everyone's single. That changed. But you know what, it was interesting, Nathan walked in, and it was just like magnets, if that makes sense? I was just instantly attracted to him and he ticked a lot of boxes for me. I hadn't met someone like him ever and it just intrigued me. If I want something, I go for it. That's just how I am. So yeah, that was interesting. But it's even crazier to watch it back.
How is your and Nathan's relationship now? Are you still in a good place?
Yeah, we're in a good place. I don't know if I can necessarily talk about it just yet. But, you know, a year has passed. So, so many things have gone down. I can't wait to share everything with everyone because I feel like I'm on this journey with everyone now because everyone has seen it. But, you know, you'll have to stay tuned!
What's next for you?
I have a couple of projects in the works, so stay tuned. I just really want to spend the time and connect with my fans. It's crazy, I feel like I have a little family. Everyone is so sweet. A lot of positive things are coming.
We love a bit of positivity. I have some quickfire questions for you now. What's your most annoying habit?
Oh, I need to clean up my makeup. I am so bad with my makeup. Honestly, I need to take better care of my makeup because when I'm getting ready, it is like an actual tornado. I'm putting it on and like throwing it around, that is my most annoying habit.
What's your favorite makeup product?
The NARS liquid blush in the shade "Orgasm." It is so good, honestly. And everyone's asking me and I was actually sharing it with the girls on the show. It is incredible. And I think it works really well with a bunch of different complexions.
Would you ever do reality TV again?
It would have to be the right show. I think TV was a little bit out of my comfort zone but I really had an incredible experience. So, we'll see.
Who is your celebrity lookalike?
Everyone's been coming out of the woodwork being like, 'Oh you look like this and that,' and so I get Kylie Jenner a lot. A lot a lot. I've gotten Selena Gomez a couple of times, too.
If you were to go out with a contestant from another season, who would it be?
Another season? That's gonna get me in trouble. Oh, you know what? I think Marvin is attractive. He is actually cute. But you know what? I don't think I would date in the Too Hot To Handle family. I love everyone.
Georgia also said Marvin, so maybe it's the French accent.
Marvin, if you're reading this, Je parlais vous de français d'accord. I know a little bit.
Who are your best friends from the series?
Obviously, Nathan and I spent every moment together. He really was like my best friend in the retreat. But I would say other than that, Georgia and Olga. That trio, fire. I love those girls to death. Jaz and I were really close before she went home. We still are but I wish I got some more time with her. And then I would also say out of the guys, Stev. Stev all the way.
What are your favorite fashion brands at the moment?
I mean, I don't mean to be that girl, but I am living for Prada's new collection it's like incredible. Also because I'm Canadian, I love Aritzia, which is good for basics and it's a little bit more affordable. I feel like they've got great clothing, great quality for the price.
Has Too Hot to Handle helped you with more meaningful connections? Would you choose a meaningful connection over meaningless sex?
Yeah, to be honest, this is a little bit personal, but I haven't had any meaningless sex since the show, like at all, not once. It has changed everything for me in the best way possible. In fact, I was so much more of a wild child a year ago. So, watching it back I'm like, 'Whoa.' But you know, it really was an incredible experience. And it has changed my whole perspective on everything.
My final question: do you miss Lana?
I know she doesn't miss me! Honestly, I do miss Lana, because I just loved my time there. But listen, I don't like following the rules a little bit, I like to live my free, best life. I think Lana has given me the tools to be equipped for real life. So, I don't necessarily need her anymore. But I think we can be friends now. Honestly, Lana and I could be besties.
You've taken the training wheels off. You're like 'Listen, mom and dad, I know what I'm doing now.'
Exactly. And you know what? I've graduated from Lana University. I am an equipped human for the real world.
Liv is a freelance journalist currently studying English at university. She loves covering everything from entertainment and politics to lifestyle and travel. As well as writing for My Imperfect Life, Liv has bylines in The Times, HuffPost, Den of Geek, Bustle The Metro and The Bookseller.