Hot brushes vs hairdryer brushes: which is right for you?
In the hot brushes vs hairdryer brushes debate, which option is best for any given hair type—and which one will offer you more volume?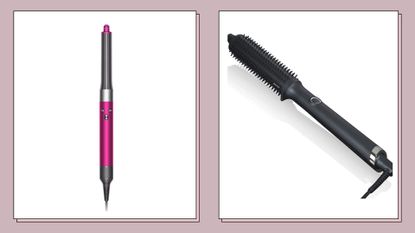 (Image credit: Future/ghd/Dyson)
Which is best, in the hot brushes vs hairdryer brushes debate? When it comes to creating the best blow-dry, the two tools are loved by hairstylists and enthusiasts alike. But there's actually a huge difference in the way each of these tools work, the hair types they work for and the looks they create.
You'll likely have spotted plenty of hairdryer brushes and hot brushes if you're a fan of switching up the way you style your hair. In fact, many of the best hairstyles require a hot brush or a hairdryer brush. To the untrained eye though, they can feel like interchangeable products, with no real differences. But that's where you're wrong. Beauty expert Keeks Reid explains that the two can be used for very different purposes.
Here's your definitive guide to hot brushes vs hairdryer brushes, with all you need to know about the two styling products.
What is a hot brush?
A hot brush often looks like a traditional paddle brush, but rather than regular synthetic bristles, the bristles are heated to help smooth through your locks. Most hot brushes will work similarly to straighteners, in that you can adjust the heat setting to suit your hair condition and texture.
They are brilliant for smoothing over a halo of frizz on already straightened hair. And if you often need to give day two or three straightened hair a little refresh, then they may be perfect for you.
Our favorite hot brushes: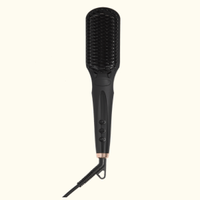 Amika Polished Perfection Hot Brush
RRP: $98/£90
This brush is for anyone that's looking for smoothed out, sleek hair with a few strokes of a brush. Ensure your hair is thoroughly detangled before going in, section by section.
You can adjust the temperature setting from 182C to 230C degrees so it works for all hair textures too. If you have coily hair, like most hot brushes, this will only smooth pre-stretched textures.
---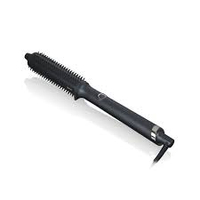 ghd Rise Volumising Hot Brush
RRP: $189/£169
Although most hot brushes are designed to smooth out hair, the object of this option from ghd is to add volume and bounce.
If you have fine hair, you can use it to give to illusion of fuller hair, and a lift at the root. The 185C steady heat makes it suitable for all hair textures, but if you are looking for a hot brush to straighten, this isn't the one to pick.
---
What is a hairdryer brush?
A hairdryer brush, on the other hand, combines the two elements of a blow dry; the round (or paddle) brush to smooth, and the air flow to dry. However, it's important to note that you shouldn't use a hairdryer brush on wet hair, as this can cause damage. Either air dry to damp or rough blow dry until about 70% dry. Then, when it's only slightly damp to touch, go in with your hairdryer brush. This means that a hairdryer brush isn't a good choice if you want something to actually dry your hair from wet—you should instead look at the best hairdryers for that.
You can also use a hairdryer brush to inject volume back into hair that has fallen flat, by using the brush on your roots for an instant lift.
Our favorite hairdryer brushes:
---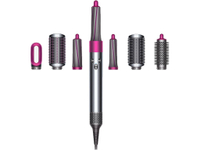 Dyson Airwrap Styler Complete
RRP: $549.99/£449.99
The air flow from this popular tool allows you to style across hair textures without excess heat. You can pick from a round brush for a professional bouncy blow-dry finish, or afro hair textures will benefit from the paddle brush attachments to easily smooth out curls and coils.
But fair warning, this styler is regularly sold out, so if you spot one that's available to buy, we'd advise snapping it up ASAP!
---
Hot brushes vs hairdryer brushes: which should you buy?
Still wondering which is the right option for you in the hot brushes vs hairdryer brushes debate? Don't worry—it can be a tricky decision.
Luckily, an expert has weighed in to help you make up your mind. "The main difference for me between a hot brush and an air styler (hairdryer brush) is the finish you get from using them," says BaByliss Ambassador Ky Wilson.
"Air stylers are designed to be used on damp hair (usually blasted with a dryer until about 80% dry)—the less intense heat will give you a really beautiful ethereal texture to your hair. On the other hand, a hot brush is designed for dry hair, and will give you volume, but with a much smoother finish."
So it depends largely on when you want to use yours. Are you after a tool that you can use on damp hair, or not? Perhaps you want to use either a hot brush or a hairdryer brush after showering in the mornings when you're short on time—in which case, a hairdryer brush may well be for you.
But which one will give you your preferred finish?
Is a hot brush or hairdryer brush better for volume?
A hairdryer brush is much better for volume than a hot brush, thanks to the air flow that they produce.
The air flow can help to create a lift from the root and a bounciness through the lengths, no matter the length. To help boost the chances of the volume sticking around, apply hairspray to ensure bouncy texture that holds. It's worth noting that the Dyson Supersonic hair dryer has a brush attachment, which can give you that hairdryer brush-created look.
A hot brush, on the other hand, is better at providing a sleek and frizz-free style. So if that's what you're after rather than volume, a hot brush may be the one for you.
Can you use a hairdryer brush on curly and afro-textured hair?
Yes, you can use both a hot brush or a hairdryer on Afro-textured hair—in fact, it's a great tool if you follow the curly girl method. Afro hair generally needs a little extra care due to its fragility (for example, using one of the best hair wraps while you sleep is helpful), so make sure you detangle thoroughly before using either tool, and don't use the hot brush to work through knots and snags.
Despite thicker hair needing a high temperature, when using a hot brush, it's better to keep the setting to under 200 degrees. Brushes catch individual hair, so repeatedly going over it with a brush at a sky high temp will weaken the hair and could lead to split ends and breakage.
Can you straighten hair with a hot brush?
You can absolutely straighten all hair types with a hot brush—in fact, this is what they are best at! If your hair is super curly to Afro-textured, you might find the finish is less smooth than when you use a straightener, though. This is because to get the smoothest finish on these textures, the clamping of the straightener plates presses down the bonds of the hair, creating tension to straighten. Hot brushes don't work this way though.
With hot brushes, there is no tension to hold the hair straight. So, while the heat generated breaks down the hydrogen bonds in the hair to loosen the texture, it can't give the sleek finish that a straightener can.
So which will you go for when it comes to the all-important hot brush vs a hairdryer brush question?
Keeks is an award-winning digital & social content specialist a hair & beauty writer and a brand consultant. You can find her work in Cosmopolitan (in print and online), Refinery29, Harper's Bazaar, Woman and Home, Women's Health, My Imperfect Life, OK! Online and Hairdressers Journal