The best hairstyles for each hair type to suit all lengths and lifestyles
We asked industry experts to break down the best hairstyles for each hair type, whether you want to try a jazzy new up-do, or need a reliable go-to for everyday wear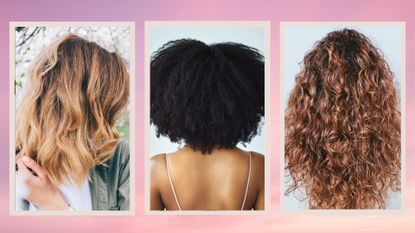 (Image credit: Getty Images)
Finding the best hairstyles for your hair type can feel like a life-long search, as there are so many factors that determine what style will suit you—including face shape, hair texture, your preferred length, and your general lifestyle.
The aim when figuring out the best hairstyles for you, is generally to find the most flattering style that suits your day-to-day life. For example, if you have a long or oval face, a full fringe can look great, but if you can't get into the salon every few months for a trim it might not work for you. Or, if you're following the curly girl method, you'll probably want a style that works to accentuate your natural curls.
To bring you an in-depth guide to the best hairstyles and cuts for every hair length and texture, we spoke to several experts to tap into their expertise. Why not take this guide along to your next trip to the salon?
Best hairstyles for short hair lengths
1. For straight, thick hair: the pixie cut
"Pixie cuts with disconnected lengths create movement, which allows for versatile options when playing with style and texture," says Robert Kirby, founder of London-based Robert Kirby Salon.
"Thicker hair is more resilient to pre-lightening techniques and therefore more suitable to be lifted in color. This also makes thick, coarser hair softer in appearance."
2. For straight fine hair: the short bob
"Short bobs with well-cut layers, like the bixie, will help to create movement and texture for fine hair that's shorter," says Kirby. "Color is important too for fine hair; adding deposits of tone through the hair will create thickness and body.
"Something to note: root lifters and powders are essential products for fine hair as it will add body and structure."
3. For curly or Afro-textured hair: natural
"Afros worn in their truest shape have made a huge comeback, seen up and down on the catwalks and in editorial shoots, so grab that afro pick and pat that afro into shape," says Michelle Sultan, hairstylist and creative director and ambassador for Imbue Curls.
Best hairstyles for mid-length hair
1. For thick hair: the textured shag
"A textured shag is one of the best hairstyles for this type of hair; simply apply a texture spray and scrunch the hair," says Karen Perry of Room 97 Creative. "This will encourage texture and bend and the shaggy look that is so popular right now.
"If your hair is thick, a mid-length style is perfect. The extra length will weigh down the hair and it is still long enough to wave and tong."
2. For straight, fine hair: the side part
"If you have fine hair, a side parting is essential and one of the best haircuts for fine hair," says Perry. "Wearing hair in a middle parting can result in a floppy, lifeless look, so think about parting it at the side. Hair naturally falls to the left so if you part your hair the other way, you will get natural lift through the front hairline.
"Fine hair often doesn't 'hold' a style, though, so invest in the best blow-dry lotions and powders that will give your hair some grip and texture."
Best hairstyles for long hair lengths
1. For straight, thick hair: almost anything!
"The world is your oyster when it comes to the best hairstyles for thick straight hair, because you can wear it up, wear it half up or down, or style it straight or wavy—there's plenty of options for this type of hair," says Sharon Malcolm of Sharon Malcolm Hairdressing, Northern Ireland.
"I would suggest taking out the weight underneath through the back with layers though, so it doesn't get too voluminous. Miracle 15 from Schwarzkopf Professional is a great blow-drying cream which will control thick hair."
Our in-house beauty expert and Deputy Editor Aleesha Badkar also recommends the Dyson Supersonic hair dryer as a great option for thick long hair, as it will give you a bouncy blow-dry that lasts.
2. For curly, thick hair: the mullet
"Mullets work on long, short, straight or curly [hair] and can be adapted to your hair type and texture," says Sultan. "I've seen a lot of celebrities and models rocking their mullet cut, with the cool girls wearing a sexy nod to the classic 70s shag hairstyle.
"The shag is low maintenance and requires texture to look its best… gone are the days of overly straightening your hair, it's all about the texture!"
3. For curly, fine hair: a blunt cut
"If your hair tends to be quite fine, the best hairstyles tend to be more blunt cuts or solid cuts, or layers that encourage lift through the hair and volume," Sultan explains. "This sounds like a contradiction, but it depends on the hair."
For curly fine hair, you might also consider trying one of the best shampoo bars for an environmentally-friendly addition to your routine.
4. For afro-textured & curly/thick hair: an oversized look
"This cut is designed to look like a lion's mane," says Sultan. "Curls are layered equally all over the head leaving a shorter fringe when the curls are styled; they should be pulled out to maximum capacity.
"This style can look really sexy, but you must be careful to tease the hair out as much as possible. People worldwide with type 3/4 hair are opting for this style as it's so very versatile, and looks incredible when worn up with a fringe/bangs out."
We recommend getting bangs cut in by a hairdresser, but if you are feeling brave, we have a guide on how to cut bangs yourself at home.
Keeks is an award-winning digital & social content specialist a hair & beauty writer and a brand consultant. You can find her work in Cosmopolitan (in print and online), Refinery29, Harper's Bazaar, Woman and Home, Women's Health, My Imperfect Life, OK! Online and Hairdressers Journal