The best hair wraps for sleeping to protect your hair at nighttime
Wearing one of the best hair wraps for sleeping is an essential step if you're looking to protect curls from breakage and damage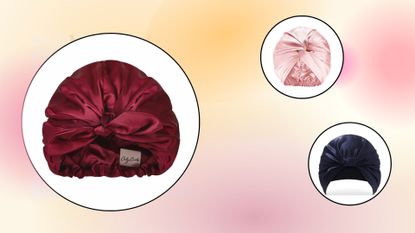 (Image credit: Future/brands pictured)
Wearing one of the best hair wraps for sleeping at night is one of the most effective steps you can take to protect your hair against damage and breakage—especially if you are following the curly girl method and want to keep your locks in tip-top condition.
Sleeping on a silk or satin pillowcase helps reduce friction on our skin and, to some degree, out hair. But by covering your hair with a hair wrap or bonnet, you can really minimize damage to curls or hair that's prone to splitting. The less movement and mechanical wear your hair has to endure, the less damage and breakage will result. By wrapping it up, you're shielding it from a lot of friction—which is doubly helpful if you've got your hair in a protective style, like braids. Although hair wraps were originally intended for the curly and afro hair communities, all hair types and textures can benefit.
The good news is that there are so many great options on the market, both from bigger brands and smaller independent crafters—so My Imperfect Life's beauty contributor Ava Welsing-Kitcher has tested and compiled the the best hair wraps for sleeping to cater to all needs. Below you'll find choices for both longer and shorter hair, across a range of budgets to ensure there's something for everyone.
The best hair wraps for sleeping, tested by a beauty editor
1. Slip Pure Silk Turban
The best hair wrap for sleeping overall
Specifications
RRP: $85/£70
Material: 100% pure mulberry silk—patented technology
Reasons to buy
+
Double lined
+
Multiple colorways
+
Fits most hair lengths and textures
+
Lasts a long time
Reasons to avoid
-
High price
-
Hand wash only
Most silk or satin hair wraps only have the slippery side facing outwards, and while the inner fabric is still softer than regular cotton, there can sometimes still be a little friction. But this isn't the case with Slip's hair wrap. Their pieces are crafted with their patented Slipsilk technology that's developed over a decade to reach optimum shine, softness and durability, made with 100% mulberry silk. In fact, using an entirely silk hair wrap is one of our biggest curly hair tips, so this is a great choice.
Choose between a few different colorways—there's black, pale pink, and gray leopard with matching silk face masks to match. With a chic knotted front, you'll be tempted to wear it out of the house with a pair of sunnies for some 50s glamour, too! This hair wrap is on the higher end of the price spectrum though, so if you're not fussed about having silk or are vegan, then maybe go for a more affordable satin version instead.
2. Silke London Silk Hair Wrap
The best luxury hair wrap for sleeping
Specifications
RRP: $70/£50
Material: 100% pure mulberry 22 momme grade silk
Reasons to buy
+
Vibrant colors that don't fade
+
One size fits all
Reasons to avoid
-
Unlined
-
High price point
-
Hand wash only
Silke was one of the first brands to offer a silk wrap in the mainstream market. Known for their bold, poppy colorways (we love the vibrant option above!) and more recent pastel offerings, the knotted front is iconic in its own right—and we're finding it hard not to buy four or five in one go.
With silk hair bands in matching colors to keep your ponytails snag-free (just make sure you use one of the best brushes for curly hair, too), it's quite the colorful collection. Their hair wraps are fairly pricey, though, so it may be one to avoid if you've got a smaller budget.
3. Lilysilk Classic Pleated Silk Sleep Cap
Best hair wrap for a pretty design
Specifications
RRP: $39.99/£29.99
Material: 100% 19 Momme mulberry silk, pleated
Reasons to buy
+
Reasonable price
+
Plenty of design and color options
Reasons to avoid
-
Not adjustable
-
Hand wash only
-
Unlined
The first thing that grabbed us about this hair wrap was how beautiful the color options are. From the calm and serene light blue to the gently marbled lilac watercolor, the palette is so calming and there are several color options we have our eyes on.
And shoppers are truly spoiled for choice: Lilysilk has countless hair wrap styles, with adjustable tie fronts or in a Korean ruched tie back style, but the classic pleated one is a great place to start. Made from 100% 19 Momme mulberry silk, it's impossibly soft and gentle, meaning your hair will be as protected as possible while you sleep.
4. The Big Silk Silk Turban
Best adjustable hair wrap for sleeping
Specifications
RRP: $70 (approx.)/£59
Material: 100% 22-momme mulberry silk (hypoallergenic)
Reasons to buy
+
Adjustable toggle
+
Ruched front and back
+
Multiple color options
Reasons to avoid
-
High price point
-
Hand wash only
Gorgeous color options aside, the Big Silk's pastel and neutral offerings bring something that's not often seen in other hair wraps: an adjustable drawstring toggle. Anyone with a smaller- or larger-than-average head knows the pain of having your hair wrap slip off in the night, or to stretch uncomfortably over your forehead. So this is, therfore, a great option if you struggle with finding hair wrap sizes that actually fit you properly.
Also counting celebrities like Jess Plummer and Love Island's Megan Barton Hanson as fans, it's a must have whatever your curly hairstyle; whether you're protecting curls and coils or a big bouncy blow dry overnight. It does retail at a higher price point and can only be hand-washed, so it requires having a little more more money and maintenance than other styles out there—but if you can spare it, it's a brilliant choice.
5. Only Curls Satin Sleep Turban
Best affordable hair wrap for sleeping
Specifications
RRP: £16 (UK only)
Material: Satin (vegan-friendly)
Reasons to buy
+
Adjustable size
+
Tie front
+
Multiple colorways
+
Affordable
Reasons to avoid
-
Slightly too large for fine or short hair
-
Unlined
At a mere £16, this is one of the best affordable options if you're on the hunt for hair wraps for sleeping that don't cost the earth. With so many different colors to choose from, including cute pastels, neutral tones, and dotted patterns, if you're in the mood for a shopping spree there's no excuse not to treat yourself to a complete hair wrap wardrobe.
As for the specs, the front tie is adjustable, so if your hair is super thick, long, or in braids, it can expand to accommodate it all. For medium amounts of hair, it can also be tied and halved in size with still quite a lot of room—so it's probably one to avoid if your hair is very short as there'll be too much empty space.
Only Curls is a great hair care brand as it is, with affordable silk pillowcases and some of the best styling products for curls and coils, so why not do a bigger haul while you're there?
Ava Welsing-Kitcher is a freelance beauty journalist who's earned her stripes at InStyle, Stylist, and The Sunday Times STYLE. Though she can write about anything beauty and wellness, her main passion is hair - especially curly and afro textures. You can find her trawling through ingredients lists and product samples to really get to the bottom of what makes an excellent beauty buy.