How many episodes is 'Stranger Things' season 4 volume 2?
The new season is arriving in batches—how many episodes is 'Stranger Things' season 4 volume 2?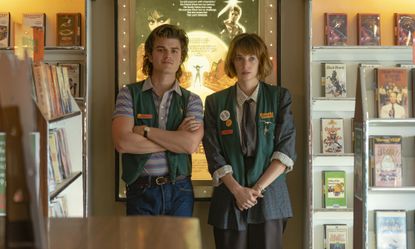 (Image credit: Tina Rowden/Netflix)
After a long three-year wait, it's time to go back into the underground: part one of Stranger Things season 4 finally arrived on Netflix on Friday, May 27, with our favorite Hawkins residents accounted for (yes, even that one), and a couple of newcomers to boot. (Hello, Vecna!)
And the only thing better than brand-new Stranger Things episodes is extra-big Stranger Things episodes, with each running longer than sixty minutes. And it's not just the episodes themselves that are bulked-up, but the season as a whole, which is an episode longer than its predecessor.
Part two is ready to drop on Friday, July 1, to wrap up all of the drama and answer all of your questions—namely, who dies in Stranger Things season 4?—but how many episodes of Stranger Things season 4 volume 2 can fans expect? Here's what to know.
How many episodes is 'Stranger Things' season 4 volume 2?
Season four of Stranger Things is dropping in two batches à la Breaking Bad and Better Call Saul: the first is comprised of seven episodes and was released on Friday, May 27, and the second will feature two episodes, hitting the streaming platform on Friday, July 1.
Here is the episode breakdown of Stranger Things season 4, including the running times of its edition.
Stranger Things season 4 volume 1
Episode 1: "Chapter One: The Hellfire Club"
Run time: 1 hour 16 minutes
Episode 2: "Chapter Two: Vecna's Curse"
Run time: 1 hour 15 minutes
Episode 3: "Chapter Three: The Monster and the Superhero
Run time: 1 hour 3 minutes
Episode 4: "Chapter Four: Dear Billy"
Run time: 1 hour 17 minutes
Episode 5: "Chapter Five: The Nina Project"
Run time: 1 hour 14 minutes
Episode 6: "Chapter Six: The Dive"
Run time: 1 hour 13 minutes
Episode 7: "Chapter Seven: The Massacre at Hawkins Lab"
Run time: 1 hour 38 minutes
Stranger Things season 4 volume 2
Episode 8: "Chapter Eight: Papa"
Run time: 1 hour 25 minutes
Episode 9: "Chapter Nine: The Piggyback"
Run time: 2 hours 30 minutes
Why is 'Stranger Things' season 4 split in two?
In an open letter to fans in February 2022, Matt and Ross Duffer—the brothers and executive producers behind Stranger Things—disclosed that the much-anticipated new season included "nine scripts, over eight-hundred pages, almost two years of filming, thousands of visual effects shot, and a runtime nearly twice the length of any previous season."
"Given the unprecedented length, and to get it to you as soon as possible, Season 4 will be released in two volumes," they announced.
Joe Keery—the follically blessed actor who plays Steve Harrington on the show—told RadioTimes.com that there's "definitely more than an hour for each episode."
"Personally, I feel like it's one story," he told the outlet. "That's how we all read it, I think. But I think just because the scope of the show is so large, it makes sense that this season is split into two different parts."
According to the creators and the cast, season four will be the series' deepest, darkest edition yet, which means that the extended running times will give the show's many characters, storylines and, yes, thrills their due diligence.
"We thought that this was a good year to put [the characters] in a full-fledged Nightmare on Elm Street-esque horror film." Ross Duffer told Entertainment Weekly
The stars concur, with Finn Wolfhard (who portrays Mike Wheeler) telling the publication: "Inherently it becomes darker every season. It gets funnier, it gets scarier, it gets more dramatic."
"I think that just comes with all of us growing up and getting older. We're not all going to be in mop-top wigs when we're 40 years old, screaming about Demogorgons and stuff," Wolfhard added.
Regarding her character, actress Millie Bobby Brown says: "You get to see Eleven in the darkest state she's ever been" in season four. "This has definitely been the hardest season I've ever filmed. There have been some of the scariest, scariest things that I've ever seen as a human, which you guys will get to see, for sure."
We can't wait!
Christina Izzo is the Deputy Editor of My Imperfect Life.
More generally, she is a writer-editor covering food and drink, travel, lifestyle and culture in New York City. She was previously the Features Editor at Rachael Ray In Season and Reveal, as well as the Food & Drink Editor and chief restaurant critic at Time Out New York.
When she's not doing all that, she can probably be found eating cheese somewhere.