Who died in 'Stranger Things' season 4? Updates on Max, Nancy, Eddie and more
That finale was a big (and bloody) one—here's who died in 'Stranger Things' season 4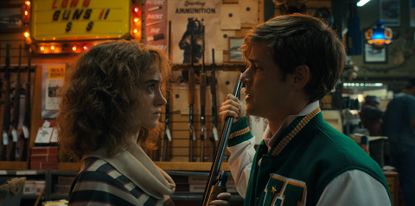 (Image credit: Netflix)
Stranger Things season 4—the final part of which dropped on Friday, July 1—might just be the scariest edition of the Netflix series yet.

We've got a terrifying new villain in the Freddy Krueger-esque Vecna, who feeds on psychological trauma, not to mention some gory, gruesome flashbacks to Eleven's time at the Hawkins National Laboratory. Add a whole new creature to worry about—hello, Demo Bats—and there's plenty to keep you up at night this time around.

All of those shocks and scares unsurprisingly include some deaths, but which characters face a tragic fate this season? Now, mind you, we still have two more episodes in Stranger Things season 4 to wait for, dropping on Netflix on Friday, July 1, but the first seven episodes alone have had more than a few run-ins with death.
In fact, it's become something of a joke for the Stranger Things cast, which has expanded greatly over the years. "Last night we couldn't even take one group picture because there were like 50 of us. I was like, you need to start killing people off," star Millie Bobby Brown joked in a May 022 interview with The Wrap. "We need to have the mindset of Game of Thrones. They tried killing David [Harbour] off and they brought him back!"
Were other characters so lucky? Here's who we had to say a tragic farewell to in Stranger Things season 4 and who we might be seeing again when Stranger Things season 5 rolls around.
*Warning: major spoilers ahead!*
Who died in 'Stranger Things' season 4?
Does Max die in 'Stranger Things' 4?
Max Mayfield, played by Sadie Sink, did not have an easy time of it as of late on Stranger Things. Last season, her older stepbrother Billy Hargrove (Dacre Montgomery) became possessed by the monstrous Mind Flayer and, after Eleven reminded him of his humanity, sacrificed himself to the creature in order to prevent it from killing El, Max and the Hawkins crew.
Max spends much of season four mourning the loss of Billy, and it's that very grief and trauma that makes her susceptible to this season's villain, Vecna. After some digging, the group discovers that the nightmares, nosebleeds and headaches that Max has been experiencing are actually symptoms of Vecna's curse. Once the symptoms begin, victims only have a manner of hours before they die.
Max prepares herself for the eventuality, writing goodbye letters to her Hawkins friends and even to her departed brother. However, she soon becomes possessed by Vecna and pulled into the Upside Down but thanks to a clue Nancy and Robin sourced from Victor Creel, the crew play her favorite song—Kate Bush's "Running Up That Hill," off the Stranger Things soundtrack—which frees her from Vecna's clutches.
For the rest of season 4 part 1, Max keeps her cassette player handy and is seen constantly listening to the Kate Bush track to keep Vecna at bay. However, in the final episode of the season, Max offers herself up as bait to distract Vecna while the rest of the Hawkins gang works through their plan to destroy him. In the process, however, Vecna possesses her, snapping her limps and taking her sight.
The odds look bleak for our resident Kate Bush fan ("I'm so scared. I'm so scared, I don't want to die. I'm not ready," she cries in Lucas' arms) but Eleven uses her powers and revisits their shared memories to bring Max back. "She died," Lucas reveals in the final episode, with Max comatose in the hospital. "I mean, clinically. But then she came back. Doctors don't know how. They say it's a miracle."
So yes, technically, by the season's end, Max is alive but not necessarily well. Will she awaken from her coma in time for Stranger Things season 5?
Does Steve die in 'Stranger Things' 4?
Max might be Vecna's main target in the fourth season of Stranger Things but she's far from the only character to find herself in harm's way. Hair god and everyone's favorite babysitter Steve Harrington (Joe Keery) comes perilously close to dying in episodes six and seven.

When Steve, Nancy, Robin and newcomer Eddie try to track down "Watergate," an underwater portal to the Upside Down, Steve volunteers to take a dive in Lover's Lake to scope things out. Of course, Vecna takes this opportunity to yank Steve all the way into the Upside Down, where the Demo Bats relentlessly attack him. Steve gets seriously injured but luckily, Nancy, Eddie and Robin follow him through the gate and beat off the bats.
Thanks to the help of Dustin, Lucas, Erica and a handy Lite Brite, the group is guided back to the real world, but right before Nancy and Steve escape the Upside Down, she becomes possessed by Vecna, so we end season 4 part 1 with the pair still stuck in the alternate dimension.
However, thankfully for all of you Harrington lovers, Steve does survive his journey in the Upside Down, including the harrowing part of the plan when he, Nancy and Robin make their way to the Creel House attic to severely wound and weaken Vecna with some fiery Molotov cocktails.
Does Nancy die in 'Stranger Things' 4?
For the bulk of season 4, Nancy Wheeler (Natalie Dyers) plays amateur detective, investigating Chrissy Cunningham's death with fellow student reporter Fred Benson and tracking down Victor Creel by posing as a college psych student with Robin Buckley (Maya Hawke).
It is during another bout of investigations that Nancy finds herself in danger: after following Steve into the Upside Down, Nancy gets possessed by Vecna and is unable to join the rest of the group to safety. She is then forced to confront her own traumas, including the season one death of her best friend Barb Holland, and also gains insight into Vecna's own memories, which reveal that the creature is actually Henry Creel, Victor's son, who killed the rest of the Creel family back in the 1950s.
We leave Nancy trapped under Vecna's power in the Upside Down, so her fate is up in the air going into the final episodes of season four. However, like Steve, she manages to survive her encounter with Vecna at the Creel House and makes it back to Hawkins in one piece.
Does Hopper die in 'Stranger Things' 4?
The finale of Stranger Things season 3 saw Jim Hopper (David Harbour) seemingly sacrifice himself in the lab explosion to destroy the Mind Flayer's gate. However, fans find out in episode two of season four that Hopper actually survives the blast, only to be taken prisoner by Russian guards, placed in a labor camp and tortured for information about the portal.
At the camp, Hopper bribes and befriends a guard named Dmitri (Tom Wlaschiha) to help him escape in exchange for money. He makes contact with Joyce and Murray and Hopper manages to briefly escape, but both men are captured.

A group of prisoners, including Hopper, are forced to fight Gladiator-style against a Demogorgon that the Russians have in their possession, but thankfully this isn't Hopper's first time fighting the monster and he takes down the Demogorgon, leading him and Dmitri to safety. The first part of season 4 ends with Hopper alive and reunited with Joyce (Winona Ryder), who traveled all the way to Russia with Murray to rescue him.
Of course, Stranger Things never makes anything easy, so Hopper has to go into a sword battle with a Demogorgon and break back into the prison to destroy particles from the Upside Down before he can fly home with Joyce and Murray and be reunited with the Hawkins youngins.
Does Eddie die in 'Stranger Things' 4?
This season's newest addition to the Hawkins crew is Dungeons & Dragons master Eddie Munson, played by Joseph Quinn. Eddie is thrown into the monster mess early on in season four, having to witness firsthand Chrissy Cunningham's death at the hands of Vecna. With everyone in town pinning the blame on him, Eddie is forced to go into hiding for much of the season, with Chrissy's boyfriend Jason and his basketball-team cronies personally hunting him down.
Eddie joins forces with Steve, Nancy and Robin in their search for Vecna, even diving down into Lover's Lake and entering the Upside Side to save Steve from the Demo Bats. The journey is a dangerous one, but thanks to some quick thinking from Dustin & Co., Eddie as well as Robin are able to escape the alternate dimension relatively unscathed.
However, our favorite metalhead, unfortunately, does perish in the big Vecna battle, offering himself up as a sacrifice to a bevy of Demo Bats to buy his friends more time in their quest to take down Vecna and later dying in Dustin's arms.
Does Vecna die in 'Stranger Things' 4?
Despite all of the gang's efforts, Vecna isn't entirely vanquished by the end of season four, though he is gravely wounded thanks to Steve, Nancy and Robin's Molotov cocktail party. When a well-aimed blast from Nancy's shotgun sends him flying out of the Creel resident, the teens go check to see if he's officially dead, but his body has disappeared.
Later, when everyone is reunited in the finale, Will (Noah Schnapp) reveals that he can still feel Vecna's presence. And it looks like he's right, as the final shot of the season shows sinister evidence of the Upside Down making its way into Hawkins.
What about everyone else in 'Stranger Things'?
Thankfully, the members of the Party and the rest of our beloved Hawkins residents are still alive at the end of season four. However, there are several casualties throughout.
First is Chrissy Cunningham (Grace Van Dien), the super-popular Hawkins head cheerleader who perishes in episode one after being pulled under Vecna's curse.
Next is Fred Benson (Logan Riley Bruner), Nancy's friend and colleague from Hawkins High School's The Weekly Streak newspaper, who is also killed by Vecna while he and Nancy investigated the Forest Hills Trailer Park, where Chrissy had been murdered.
Another Hawkins student, Patrick McKinney (Myles Truitt) also falls victim to Vecna in episode 5. And in the finale, Lucas' teammate and Chrissy's boyfriend Jason Carver (Mason Dye)—who has been hunting down Eddie all season, thinking that he's the culprit behind Chrissy's murder—dies after a stand-off with Lucas when a portal to the Upside Down opens right beneath him.
In flashback, we also see the murders of Henry Creel's family members Virginia (Tyner Rushing) and Alice (Livi Burch) at the Creel House in the 1950s, before Henry was banished to the Upside Down and transformed into Vecna as we know him.
However, the biggest character casualty of the season four finale is Dr. Martin Brenner (Matthew Modine). During a raid led by Lt. Col. Jack Sullivan (Sherman Augustus), Brenner tries to escape through the desert carrying Eleven when he is shot by a helicopter sniper. Eleven uses her powers to bring down the helicopter, but Brenner ultimately succumbs to his injuries.
And if you're thinking it's a fake-out, the Duffer Brothers have news for you: "For real this time. He's toast," the creators joked about Brenner's long-coming demise on Josh Horowitz's Happy Sad Confused podcast.
All nine episodes of Stranger Things season 4 are now streaming on Netflix.
Christina Izzo is the Deputy Editor of My Imperfect Life.
More generally, she is a writer-editor covering food and drink, travel, lifestyle and culture in New York City. She was previously the Features Editor at Rachael Ray In Season and Reveal, as well as the Food & Drink Editor and chief restaurant critic at Time Out New York.
When she's not doing all that, she can probably be found eating cheese somewhere.