How many episodes of 'Pam & Tommy' are there?
The scandalous story has come to an end, but how many episodes of 'Pam & Tommy' did fans get overall?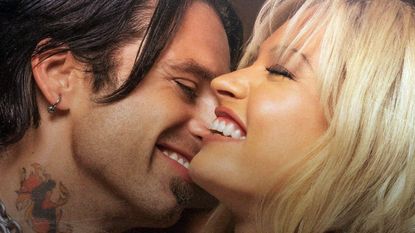 (Image credit: Hulu/Annapurna Pictures )
The story of Pam Anderson and Tommy Lee was a pop-culture phenomenon, and Pam & Tommy—the new Hulu series centered on the '90s power couple—is looking to be more of the news-grabbing same.
Iconic Pam Anderson outfits have taken over TikTok, everyone has been positively gagging over Lily James' Pam Anderson transformation, and we're all curiously Googling "Where is Pam Anderson now?"
The limited series aired its finale on Wednesday, March 9, 2022, but how many episodes of Pam & Tommy were there in total? Here's what we know.
---
---
How many episodes of 'Pam & Tommy' are there?
The miniseries—which chronicles the marriage and sex-tape scandal of actress-model Pamela Anderson and Mötley Crüe drummer Tommy Lee (played by Lily James and Sebastian Stan, respectively)—is comprised of eight hour-long episodes total.
How to watch 'Pam & Tommy' episodes:
All eight episodes of Pam & Tommy are available to stream on Hulu in the US and Disney Plus in the UK.

The first three episodes dropped on Hulu on Wednesday, February 2, with the rest debuting one per week thereafter. The final episode aired on Wednesday, March 9.
Is 'Pam & Tommy' a true story?
The Hulu series is based on a 2014 Rolling Stone article titled "Pam and Tommy: The Untold Story of the World's Most Infamous Sex Tape," written by Amanda Chicago Lewis. "We didn't make up a whole lot," showrunner Rob Siegel told Entertainment Weekly. "Most of what you see in those eight episodes is in that article. The basic plot beats are all straight from the article."
The creators did reach out to both Pamela Anderson and Tommy Lee for their involvement and support in the show, but while Lee has given the series and its casting of Stan his blessing ("It's a cool story and people need to know. It's cool. I'm stoked," he told Entertainment Tonight), Anderson has emphatically chosen not to engage with the show. "I do know she'll never, never watch this," a source told Entertainment Weekly. "Not even years from now. Not even the trailer."
Anderson's lack of involvement was reportedly not surprising to the Pam & Tommy team. "We particularly wanted to let Pamela Anderson know that this portrayal was very much a positive thing and that we cared a great deal about her and wanted her to know that the show loves her," showrunner D.V. DeVincentis said to EW. "We didn't get a response, but considering what she's been through and the time that we were reaching out, that was understandable."
Episode five of the show, "Uncle Jim and Aunt Susie in Duluth," which aired on February 16, drew criticism from a real-life member of Pam and Tommy's world: former Mötley Crüe frontman John Corabi. The singer took issue with the accuracy of the series as a whole, but particularly a dramatized scene featuring fellow Elektra labelmates Third Eye Blind getting a better recording studio than the Crüe.
Corabi posted on Facebook: "OK….just my opinion here on something that's been bugging me. The Tommy and Pam miniseries on Hulu, is so full of bullshit, it's ridiculous!!!! I can honestly say about 98% of this 'FICTIONAL' take on T&P's life is CRIMINAL. I shared 5 years of my life with Tommy and although it was at times INSANITY it's sooooo overblown in this SHIT they call TV entertainment! Tommy never walked around in a Speedo, didn't act at all they way they portray him, and now I see that Third Eye Blind 'bumps' us from a studio, because they're more relevant???? DID NOT HAPPEN...!!!"
The post continued: "Apparently, HULU, and all involved in this crock of shit don't care about how Pam may feel to have to relive this. Or how Tommy's new wife may feel. Or how about Tommy's boys seeing this completely overblown story about their parents!!! Shame on EVERYONE involved…"
What about the Pam & Tommy documentary?
Pam & Tommy isn't the end of the couple's cultural resurgence. TNT's seven-part "Rich & Shameless" film series debuted its first installment, "The Crime Against Pam & Tommy," on Saturday, February 19.
Per TNT, the doc features "never-before-told stories of the theft, release and exploitation of the most famous sex tape in history—revealed for the first time by the people involved."
And there is also another documentary in the works, this time a Pamela Anderson Netflix title with input from the Baywatch bombshell herself. On Wednesday, March 2, the star announced the project on her Instagram, writing: "My life/ A thousand imperfections/ A million misperceptions/ Wicked, wild and lost/ Nothing to live up to /I can only surprise you /Not a victim, but a survivor /And alive to tell the real story."
The still-untitled flick is directed by Ryan White (The Keepers, Ask Dr. Ruth) and will reportedly include exclusive access to Anderson, including her personal journals. A release date has not yet been announced.
Christina Izzo is the Deputy Editor of My Imperfect Life.
More generally, she is a writer-editor covering food and drink, travel, lifestyle and culture in New York City. She was previously the Features Editor at Rachael Ray In Season and Reveal, as well as the Food & Drink Editor and chief restaurant critic at Time Out New York.
When she's not doing all that, she can probably be found eating cheese somewhere.