How to travel alone successfully from a seasoned solo traveler
Does the idea of solo travel scare you? Learn how to travel alone like a pro with these easy-to-follow tips and tricks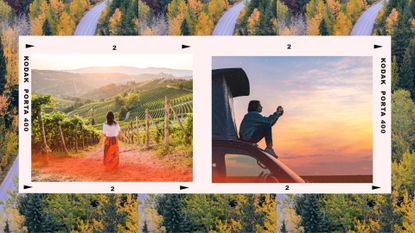 (Image credit: Getty Images)
Welcome to My Imperfect Life's Solo Travel Week, where we're celebrating the joys of Solo Travel.
Does the thought of solo travel excite you—and maybe also terrify you, just a little? Then it's probably high time you dust off your luggage and take that solo trip you've dreamed about.
You'll be in great company since other millennials are now more willing to fly solo on vacation. (And with destinations for solo travel like these, we can't blame them). In fact, according to the 2022 Portrait of American Travelers "Spring Edition" survey, one in four Americans will travel solo in the next few months.
But before you pack up and take off to one of the most extraordinary places in the world to visit in 2022, brush up on a few key tips to ensure that your solo excursion is the best it could be.
Meet the expert: Brittany VanDerBill
Brittany is a seasoned travel writer and solo traveler herself, with work published in Travel + Leisure, People and HerMoney.
How to travel alone: tips and tricks
1. Choose your destination wisely
Obviously, you're going to put some thought into where you go. But be sure to look beyond the typical stuff, like warm weather or poolside bars, to consider things like how you're going to get around once you're there.
If you're comfortable renting a car or taking Uber, then you have a bit more freedom in terms of location. For my first solo trip, I knew I didn't want the hassle of renting a car or taking lots of request-a-rides to see the sites, which heavily influenced my choice of destination.
After plenty of research, I found a hidden gem in Grapevine, Texas—a suburb of Dallas. No, it's not a traditional relaxing-by-the-beach getaway, but Grapevine hotels offer free airport transportation and my hotel even shuttled me around within a 5-mile radius—meaning I could check out local wineries, have a glass (or three!) of vino, and not worry about driving back.
2. Share your location
Safety is a priority anytime you travel, but especially when flying solo. For your own peace of mind—and for that of loved ones back home—you might want to think about letting one or two people keep tabs on exactly where you are.
Snapchat is pretty handy here, thanks to their Snap Map feature that lets you customize who can see your location and for how long. It was perfect for me because I already use Snapchat, so I allowed one friend to track my exact location during my getaway.
If you're Ubering, you can take advantage of their multiple safety features, like sending your route info to up to three contacts. Lyft provides a few safety tools as well, including the option to share your location or connect you with security for emergency help.
Take some time before you jet to think about if you want to share your location with a friend, and if so, what will be the most convenient way for you to do that.
3. Sit at the bar
One major concern for my own solo trip was going out to eat. What would happen if I needed to use the restroom mid-meal? After all, we've been told all our lives not to leave drinks unattended. Luckily, there's an easy solution: make friends with the bartender!
Not only does it give you someone to talk to, but bartenders are usually pretty understanding about things like this. I chatted with a couple of servers who totally understood when I told them I was heading to the bathroom and wondered if I could have a fresh glass of water when I got back. You could also ask them to stash your drink behind the bar for safe keeping until you return.
4. Be prepared but don't commit
If you haven't traveled alone before, it's hard to know if you'll end up staying in or going out. That's why it's smart to prep for both scenarios.
For instance, research a couple of fun experiences in the area before you go, but don't make reservations. That way, you're not committed to something if you aren't feeling it once you arrive. I researched horseback riding options before I went but didn't book anything because I wanted to keep my options open. I ended up snagging a same-day reservation—which ultimately led to some great stories, like making a new semi-famous friend.
Similarly, bring stuff to do at the hotel in case you want to just chill. It's funny now, but I brought three books and my Kindle on my Grapevine excursion. I didn't read more than a chapter in the three days I was there! Had the weather been bad or had I just wanted to relax by the pool, however, I would have definitely appreciated all that reading material.
5. Have fun!
After all the planning and safety precautions, don't forget to actually enjoy your trip. Talk to locals, chat with the servers at a restaurant, take some time to chill out by the pool, or challenge yourself to venture out and do some sightseeing. No matter what, do what you'd like to do on your trip—that's the whole beauty of traveling solo. (And if you need a little bit of inspiration, the best travel experiences to have in 2022 should do the trick!)
Brittany VanDerBill is a freelance writer specializing in travel, pet and lifestyle content. Her work has been published in Travel + Leisure, Better Homes & Gardens, People, HerMoney and more. When she's not writing, you'll find her at home with her husband and spoiled cat or out exploring new destinations (and writing about them, of course).