How to watch 'Married at First Sight' season 16
'Married at First Sight' season 16 brings all of its reality romance drama to Nashville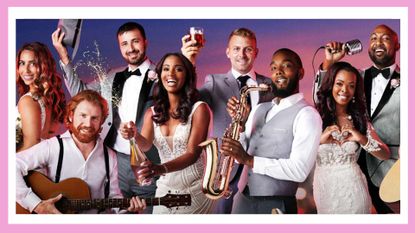 (Image credit: Lifetime)
The year 2023 is already an embarrassment of riches when it comes to reality dating shows: we've got Married at First Sight season 16, a new winter edition of Love Island UK, and the upcoming Perfect Match, which will bring together single alums of shows like Love is Blind, Too Hot to Handle and Sexy Beasts.
Where Married at First Sight season 15 took place in sunny San Diego, California, the sixteenth season brings the matchmaking series to country-fried Nashville, Tennessee, where 10 local singles will meet, marry and move in together, hopefully forever.
But where can you watch Married at First Sight season 16? Here's everything you need to know.
How to watch 'Married at First Sight' season 16:
The sixteenth season of Married at First Sight airs on Lifetime at 8 p.m. Eastern/Pacific Time on Wednesday nights. Next-day streaming is available on mylifetime.com.
Even if you don't have the Lifetime channel as part of your cable or satellite package, you don't have to miss out on any MAFS messiness: you can stream Married at First Sight on Sling Blue or Sling Orange.
Lifetime is one of the channel options for Sling TV—the first app-based TV service that allows you to stream live TV and on-demand programs. There are three subscription services available: Sling Blue, Sling Orange, or a combo package of the two.
Both a Sling Blue subscription and a Sling Orange subscription are normally priced at $40 each per month, however, you can currently score your first month on each plan for 50% off, only $20 per month.
When does 'Married at First Sight' season 16 start?
Married at First Sight season 16 premiered on Wednesday, January 4, 2023, with new episodes airing weekly.
How many episodes are in 'Married at First Sight' season 16?
Season 16 of Married at First Sight will feature 23 episodes, each of which has been amped up to 90 minutes.
Per people, three of those episodes will document the aftermath of Decision Day, where the newly-formed reality TV couples have to make the life-altering choice to either stay together or get a divorce.
Meet the 'Married at First Sight' season 16 couples:
1. Airris (39) and Jasmine (32)
Airris undeniably knows he wants to have a strong, independent woman by his side. Earlier this year, Airris decided to change careers completely; he moved back to Tennessee, completed a software development boot camp, and now works as a software engineer instructor. He has taken the last few years to really focus on himself and wants to plant roots, start a family and looks forward to finding his wife.
Jasmine is more than ready to settle down and start a family. With a strong desire to find a partner she can cater to and grow old with, Jasmine admits her "picker" is off, and she easily falls in love with "potential." Jasmine is in a space where she truly feels the only missing piece to her puzzle is her forever person and she hopes that this is her chance to finally find true, long-lasting love.
2. Christopher (36) and Nicole (32)
Christopher relocated from Chicago to Nashville three years ago for work and with the challenges of COVID, hasn't had the easiest of times meeting people. Christopher is ready for marriage, excited about the next chapter and hopes the experts can help him find his one true love.
Nicole was a 30-year lifelong resident of New York City and had enough of the toxic energy and even more toxic dating scene, so she picked up and moved to Nashville for a change of pace and perspective. She moved there 4 weeks before a devastating tornado and 6 weeks before the world shut down for a pandemic, so she never really had a chance to enjoy Nashville and the people in her new city. Now she's ready to focus on dating again and find true love.
3. Clint (40) and Gina (35)
Clint is an adventurer at heart and is driven by his many passions and is looking for someone to share these adventures with and co-author their story together. A lifelong learner, Clint believes that to have anything done right, you must learn and listen to experts. He is ready to apply that same thought process to find a wife and put his fate in the matchmakers' hands. Clint hopes that by blindly trusting them, he'll meet the one.
After graduating, Gina decided to go back to school for her cosmetology license. She has since been working as a hairstylist for the past nine years and is in the process of expanding her salon business. Gina is well-known throughout the Nashville area and hopes to continue to grow in the beauty industry. After a brutal breakup four years ago, Gina decided to put a pause on dating in order to advance her career and refocus her priorities. Now that she has built a successful business, she is ready to put herself back in the relationship game. She has full faith that the experts can find her a man with whom she can dream, travel, and potentially build a family with.
4. Mack (34) and Domynique (25)
Mack recently moved to Nashville to pursue new career opportunities and found himself with the best opportunity of all, finding a wife. He is ready to settle down and looking to start a family. He has always put his career first, but he is now looking to build a life with his forever partner.
Domynique's education has afforded her the opportunity to excel in her career choice. Although Domynique hasn't had many long-term relationships, she is confident she is ready for marriage. When she does date, it is with the intention of settling down and finding something meaningful. Unfortunately, the bar scene and dating apps are not working out for her as she doubts that is where she'll meet her perfect match so she is excited to find out if her soulmate is out there.
Shaquille (31) and Kirsten (32)
Shaquille feels as though he is ready for marriage because he is in a great spot in his career as well as his personal life. He is open-minded, ready for love, and willing to put his fate in the hands of the experts. Also, family, faith, support, and education is essential to Shaquille. He is ready to give marriage a fair shot.
Kirsten is the total package and is having a difficult time coming in contact with a man that meets her standards. She is not willing to settle for anything less than what she deserves and isn't afraid to let them know it. Kirsten hopes the experts can find her a godly man who will not be scared of her success and is willing to grow with her. Kirsten hopes this experiment is the first step in making that dream a reality.
Christina Izzo is the Deputy Editor of My Imperfect Life.
More generally, she is a writer-editor covering food and drink, travel, lifestyle and culture in New York City. She was previously the Features Editor at Rachael Ray In Season and Reveal, as well as the Food & Drink Editor and chief restaurant critic at Time Out New York.
When she's not doing all that, she can probably be found eating cheese somewhere.