Is Topper in season 3 of 'OBX'? An update on the 'Outer Banks' character
Sarah Cameron famously left him for John B, but is Topper in season 3 of 'OBX' on Netflix?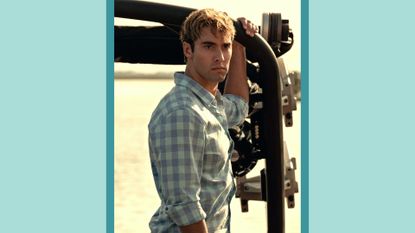 (Image credit: JACKSON LEE DAVIS/NETFLIX)
There are some Outer Banks characters that fans can't wait to reunite with, but Topper, Sarah Cameron's punch-ready ex, isn't usually one of them.
That's because for two seasons of the Netflix hit, "King of the Kooks" Topper Thornton has mostly functioned as an antagonist for "Prince of the Pogues" John B (played by Chase Stokes) and as a foil for keeping him and Sarah (Madelyn Cline) apart.
By the end of season two, Sarah and John B are officially together, but is that the end of Topper on OBX? Here's what we know about the character's involvement in Outer Banks season 3, which premiered on the streamer on Thursday, February 23.
*Warning: spoilers ahead!*
Is Topper in season 3 of 'OBX'?
Yes, not only does Topper appear in six episodes of the 10-ep third season, but he's also the reason behind the question "do Sarah and John B break up in OBX season 3?"
Yes, though Sarah and John B start off the season strong together while living on the deserted island of "Poguelandia" with the rest of the Pogues gang, cracks begin to form in their relationship upon not only their homecoming to Kildare but also the return of John B's long-presumed-dead dad, Big John (Charles Halford).
John B spending more and more time with his father leaves Sarah feeling more and more alone, and an old flame shows up to fill that void: Topper.
When Topper first shows up in the fifth episode of the third season, the Pogues are in need of a large truck so Sarah ropes him into their plan to grab the golden cross of Santo Domingo from a cargo train. That reopens the friendship between Sarah and Topper, which progresses quickly in the next episode. After the duo spends the day at a beach party with some of Sarah's former Kooks friends, they end up making out and sleeping (but only sleeping!) together that night.
Though the kiss gives Topper hope for their romantic relationship, Sarah regrets the kiss and confesses it to John B, who breaks up with her and takes his anger out on Topper's face. Sarah eventually convinces Topper to drop the assault charges against John B and the Pogues pair rekindles their romance, but when Topper sees them together, he burns John B's house down in a fit of rage. The gang luckily escapes unharmed.
Who plays Topper in 'Outer Banks'?
The character of Topper Thornton is portrayed by 26-year-old American actor Austin North, who TV fans might recognize from the original Disney Channel sitcom I Didn't Do It or the Hulu series All Night.
Despite playing the King of the Kooks on Outer Banks, North told ET Canada that in real life, he's "a little bit of both" a Kook and a Pogue: "I grew up outdoors in Ohio riding four-wheelers and never wanting to go inside," the actor said. "And then I was like, 'Man, I love cars and I want my dream car at some point, so what am I gonna do to get there?' And that's the Kooks side of me, I guess."
Catch Austin North as Topper in Outer Banks, streaming now on Netflix
Christina Izzo is the Deputy Editor of My Imperfect Life.
More generally, she is a writer-editor covering food and drink, travel, lifestyle and culture in New York City. She was previously the Features Editor at Rachael Ray In Season and Reveal, as well as the Food & Drink Editor and chief restaurant critic at Time Out New York.
When she's not doing all that, she can probably be found eating cheese somewhere.