Jazmine Sullivan: everything you need to know about the R&B Queen
Jazmine Sullivan is back and better than ever. So here's everything you need to know about R&B's brightest star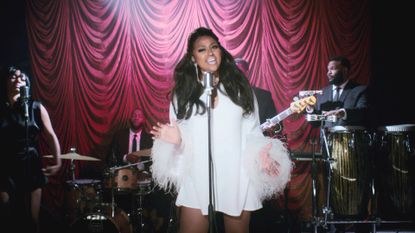 (Image credit: BET)
Jazmine Sullivan has well and truly claimed 2021 as her year, and we're in the audience cheering her on. After a six-year break from the limelight, the 33-year-old R&B singer/songwriter returned with her sensational EP, Heaux Tales, and is performing at this year's Super Bowl halftime show—immediately reclaiming her status as a force to be reckoned with in the music industry.
Sullivan, who dropped the new project on 8 January, has a strong and loyal following who have waited for her return to the scene for over half a decade: day one fans who were here for her breakthrough hits like Need U Bad in 2008 and the iconic Bust Your Windows.
With Jazmine Sullivan's HBO Max HERstory special performance and Heaux Tales, however, her following has grown and thus, we left it was our civic duty to reintroduce the legend herself whilst giving her all the flowers she deserves. So without further ado, here's everything you need to know about Jazmine Sullivan.
Who is Jazmine Sullivan?
Sullivan first appeared on the music scene back in the mid 00s after signing to Jive Records in 2003. There, she began lending her vocals to other artists before eventually working on her debut studio album, Fearless, released in 2008.
Her first single Need U Bad became a huge hit, reaching number one on the Hot R&B/Hip-Hop Songs chart as well as the top 40 on the Billboard Hot 100. The album came out when she was just 22-years-old was the first to earn her a Grammy nomination.
At the time, she told Blues & Soul magazine: "I named the album Fearless because I'm just not afraid of anything right now. I'm young, I'm 22 years old... And I just feel that, if you embrace your uniqueness by not being afraid to take chances and being different, then everybody else will!"
Her following singles, Bust Your Windows and Lions, Tigers and Bears are also huge fan favorites from the Fearless album and earned Sullivan a title as the new generation's soulful storyteller, most notably due to her jaw-dropping vocals and relatable songwriting.
Two years later in 2010, she released her second project, Love Me Back, and at this point, Sullivan had already been compared to the likes of other powerful vocalists including Lauryn Hill, Amy Winehouse, Mary J. Blige, and Alicia Keys. Then came the well-received Reality Show in 2015. All three of her projects have earned her a total of seven Grammy nominations - yep, SEVEN!
In 2017, she dropped her soundtrack for Issa Rae's HBO show Insecure, which is also aptly titled Insecure. And now, she has graced us with Heaux Tales.
Speaking to LA Times, Sullivan explained that the album is "about understanding that we all have a story, and that story is important, and it's OK for you to tell it exactly the way it is."
Where is Jazmine Sullivan from?
Sullivan is African American and was born and raised in Philadelphia, Pennsylvania.
Who is Jazmine Sullivan dating?
Jazmine Sullivan is currently dating Dave Watson, a musician and producer. According to the LA Times, the two have been together for several years and the two recorded Lost One together, a song about a woman taking the blame for blowing up a relationship.
In Heaux Tales, Sullivan details some of the relationships and romantic endeavors that shaped her into the confident, sexually liberated and self-loving Black woman she is today. She tells stories about complicated characters who don't always follow the rules, hurt others and get themselves hurt too through a collection of spoken-word testimonials—but it seems that all is well for Jazmine in the love department.
Sagal is a journalist, specialising in lifestyle, pop culture, fashion and beauty. She has written for a number of publications including Vogue, Glamour, Stylist, Evening Standard, Bustle, You Magazine, Dazed and Wonderland to name a few.