July 2021 horoscope: what's in store for your zodiac sign?
Your July 2021 horoscope is here—and it's all about l-o-v-e this month...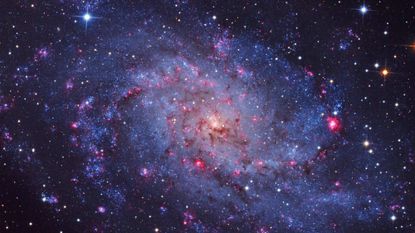 (Image credit: Getty Images / Knut Schaeffner / EyeEm)
Wondering what your July 2021 horoscope has in store for you? We have turned the page! With Summer now in full swing and communication at full speed, July is a month that will light our inner fire, while also permitting us to rest and go within. We begin the second part of 2021 under the Sun in Cancer, the zodiac sign that is most connected to family, our roots, and our home. Around the July 9th New Moon, many of us will feel the need to invest in home remodeling and DYI projects as a way of creating a safe haven and sanctuary.
A lot of our focus will also center around relationships—most likely romantic. With both cosmic lovers—Venus and Mars—traveling in the skies of Leo for most of July, there will be a deep need to show off and feel seen. Whether single or already taken, July 13th is a date to watch as these planets join forces to set off some real fireworks! And still, healing within relationships will be taking place as Chiron prepares to go retrograde in Aries around this time. This will feel like an intense and powerful energy that shifts our focus towards healing emotional wounds and self-love.
The energy shifts in the last week of the month as the bright Sun begins its yearly tour in fire sign Leo. By this time, we will be ready to trade emotional intensity for a more playful and fun energy. However, situations do come to a climax when this month's Full Moon rises in the sky on July 23rd. Since communication will be tricky around this lunation, it will be best to avoid intense exchanges and instead, embody the Aquarian trait of individuality by focusing on ourselves. A big awakening is set to happen during this time, personally and collectively!
July 2021 horoscope
Aries
For you Aries, the most important astrological event of the month is Chiron's midmonth retrograde turn in your very own sign. From now until the remainder of the year (December 19th), its influence will be about reviewing the progress you have been making in your own healing. In no way is this a superficial transit, as it is meant to expose some of the deepest revelations around the ways you see and assert yourself. Have you given yourself the opportunity to heal, Aries? It's never too late to focus on giving enough space and time to heal old wounds.
Taurus
With your ruler, Venus, spending most of the month in Leo, your mood will be bright, bold, and even a little dramatic. Whether single or taken, romance will be calling your attention as Venus meets Mars on July 13th. If you've been flirting with someone and have been wondering if things will solidify with them, things could be clear by then. Lastly, as witchy Black Moon Lilith ends its transit in your sign around July 18th, you could very well benefit from her psychic energy by consulting the Tarot or any other type of divination leading up to this date.
Gemini
What a trip it's been, Gemini! June was a month that brought so much change your way, and the beginning of July is no exception. Keep your wits about you around July 6th as Mercury in your sign clashes with confusing Neptune, bringing the end of an important story. The rest of July will be about communication for you—just how you like it. You are about to discover a new way of sharing your ideas with the world. Lastly, this month's Full Moon in air sign pal Aquarius brings the end of an important project, and perhaps the desire to learn a new subject.
Cancer
Happy birthday, Cancer! With the bright Sun in your sign for most of the month, your energy is getting revitalized as you begin another cycle. The New Moon in your sign on July 9th is an excellent time to set goals for the year ahead. Don't hold back when thinking big and going after what you deserve—especially in the money department. Communication guru Mercury enters your sign on July 11th, gifting you the ability of mind and the gift of gab for the next two weeks. Use them to your advantage by asking for a raise, promotion, or landing a big project.
Leo
For you, Leo, Cancer season is usually a time of rest and relaxation in which the cosmos asks you to go within to prepare for your next solar return. However, with Venus and Mars flying in your fiery sign most of the month, you will also be in the mood to socialize and date. The trick lays in finding a healthy balance between being social and giving yourself some "me" time. Once the Sun enters your sign on July 22nd, the energy builds up to a powerful ending within a relationship brought by the powerful Full Moon in Aquarius.
Virgo
With your ruler, Mercury, spending most of the month in watery, emotional Cancer, this is the perfect time to enjoy some time off and even go on vacation. If you're not able to get away, this energy can instead be focused on networking with people with whom you can partner to reach your professional goals. This is especially true during this month's New Moon, which will light your house of friendships and community. However, the introspective cosmic vibe deepens even further once Leo season arrives on July 22nd, hinting at the need to trade "productivity" for rest and relaxation.
Libra
The month ahead is ideal for focusing your energy on your career and professional ambitions as you feel the wind at your back, Libra. The July 9th New Moon in Cancer is perfect for pitching a new project, implementing new processes, and even asking for the raise you deserve. Chiron's retrograde turn in your sector of partnerships around midmonth hints at the need to speak your mind around a sensitive subject that's been holding you back for quite some time. Allow yourself to go there, Libra—rocking the boat never sounds fun, but this time, it might be necessary.
Scorpio
You are very in tune with the vibes of Cancer season, dear Scorpio. July is the perfect month to take a trip to a destination you've always wanted to visit—or alternatively, sign up for a class or workshop. Venus and Mars in Leo hint at a new beginning in your career sector happening around midmonth. If you've been considering making changes to your job or business, this could be the month in which you finally begin implementing them. Lastly, this month's Full Moon happens in your sector of home and family life, most likely bringing a certain situation to a climax and even an end.
Sagittarius
June was intense and busy, Sag, so you will be glad to know that in July, you will get the opportunity to rest and breathe. Jupiter, your planetary ruler, is now retrograde in Pisces, asking you to slow down and reflect on all the change and growth you've been experiencing. Even if it hasn't been reflected externally, you're growing internally, so allow yourself to savor this special moment in time. Once the Sun enters fire pal Leo, your energy will be back, and you will be ready to rock and explore new ideas and places.
Capricorn
For you Cap, Cancer season is a time to focus on your one-on-one relationships, romantic as well business. This month is a little bit less about you and more about striking the perfect balance in this part of your life. Around midmonth, Chiron's retrograde turn in your home sector could bring your attention to an unresolved family or childhood issue. As uncomfortable as it can be, dealing with it can bring a sense of security and healing your way, so don't shy away from facing it. Lastly, the Aquarius Full Moon will bring a money situation to a climax at the month's end.
Aquarius
With cosmic lovers Venus and Mars stirring up the energy in your romance sector, you'll be a hot commodity on the dating scene, Aquarius. Regardless of single or taken, you're changing the way you approach relationships, and July brings a new beginning—or perhaps a new lover—your way. The July 23rd Full Moon is happening in your sign, bringing a personal issue to a climax. On July 28th, lucky Jupiter retrogrades back into your sign, bringing you a rare opportunity for a do-over. The next few months are key when it comes to growing and expanding yourself—so make the best of them.
Pisces
With both of your planetary rulers, Jupiter and Neptune, recently going retrograde in your sign, you're receiving signals from the universe to go within and get in touch with your spirituality. And guess what? Asteroid Pallas is also going retrograde in your sensitive sign on July 14th. For the past four months, this badass asteroid has been teaching you the power and wisdom of strategy. For the next four months, these new learnings will be put to test. Don't let insecurity get the best of you, Pisces. This is just the beginning of a major transformation for you!
Athena Antares is a traveling writer, astrologer, and mystic who believes in adding a touch of magic to everyday life. She has written horoscopes for numerous lifestyle publications and has dived deeply into astrological magic and manifestation spell work. In her spare time, Athena enjoys exploring new places, spending time in nature, and reading charts for her worldly clientele.