Who is Kacia from Love Is Blind? All about Marshall's alleged *other* girlfriend from the pods
Wait, exactly who is Kacia, 'Love Is Blind' season 4 dater? During the reunion, Jackie dropped a bombshell about another girl Marshall was reportedly seeing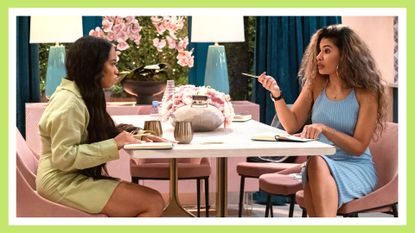 (Image credit: Monty Brinton/Netflix)
We still have many questions from that reunion, one of which is: who is Kacia? Love Is Blind season 4 had so many daters—and successful marriages, surprisingly—that even we'll admit that our memory of the cast member is foggy at best, so when her name was dropped by Jackie during the Love Is Blind live reunion, we did some digging.
*Warning: reunion spoilers ahead!*
Marshall and Jackie might have been one of the official Love Is Blind season 4 couples coming out of the pods, but they were quickly replaced by Josh and Jackie by the season's end. The twosome attended the reunion in a pre-filmed interview with cohost Vanessa Lachey, during which Jackie alleged that she didn't return the engagement ring that Marshall gave to her because, as she alleged, the only reason he wanted it back was "to propose to another castmate."
That castmate was reportedly Kacia. But what do we know about the reality show dater and what did Marshall have to say about her? Here's what we know.
Who is Kacia, 'Love Is Blind' season 4 dater?
Kacia Clark is a 31-year-old family support specialist. Joining the Love Is Blind season 4 cast, Kacie was described as being "ready to commit to a 'tall, dark and handsome' man who knows what he wants," her official cast bio from Netflix Tudum read.
"After spending too much time with guys who are 'afraid of commitment,' she's ready to find a partner who can give her a sense of 'security' when things get tough. Kacia loves spending time with friends at happy hour and brunch and looks forward to her spouse being a part of 'every family party and holiday,'" the description continued.
Alas, Kacia didn't make a match while in the pods, so she wasn't given as much screen time as other daters like Micah and Irina, who had matched with Paul and Zack, respectively. (We all know how their relationships turned out.)
What did Marshall say about Kacia during the reunion?
Responding to Jackie's interview with Vanessa, Marshall first explained: "The reason why I asked for the ring back was because it was a symbol of my love, like, we picked out those rings and that was for her. I feel like she didn't deserve to have that symbol of my love."
He added: "I ultimately did not want to propose to anybody else, that was not the case. That's really wild that she would think that. She was the only person I was worried about in the pods."
However, he did acknowledge that he and Kacia "went on one singular date" and "were talking back and forth."
"Kacia sent me a very beautiful voice message the day that me and Jackie broke up." Marshall explained. When questioned by Vanessa how she would know about the break-up, she realized: "Jackie posted something, I'm putting it together now."
"It was pretty much known around the cast that we had broken up," Marshall replied.
However, Marshall previously revealed to E! News early in April 2023 that he had broken things off with Kacia due to his not fully being over Jackie and the whole Love Is Blind drama. "I wanted to just distance myself from all of that, from that experience," he told the outlet. "It was going to be difficult to try to make a relationship with Kacia."
He added: "Still to this day, I'm apologetic about starting something and getting her hopes up with me going back in my shell, like, 'This isn't really the time or the place.'"
However, it seemed like Marshall is ready to move on, as he ended his reunion appearance with a speech directed at Jackie: "I feel like we both deserve to move on from this and the whole you versus me thing needs to die immediately. And not just because there seems to be a need to clear yourself or defend yourself, but you have a whole dude, you've been together for a year, and you're still trying to make something out of nothing and it needs to stop because it's causing more damage than good."
"Let's forget it, Jackie and Josh are happy!" he concluded. "Let it die."
Love Is Blind season 4 is streaming in its entirety on Netflix.
Christina Izzo is the Deputy Editor of My Imperfect Life.
More generally, she is a writer-editor covering food and drink, travel, lifestyle and culture in New York City. She was previously the Features Editor at Rachael Ray In Season and Reveal, as well as the Food & Drink Editor and chief restaurant critic at Time Out New York.
When she's not doing all that, she can probably be found eating cheese somewhere.