Who is Leo Woodall? Get to know 'The White Lotus' star
He's the sexy Brit whose mysterious character has intrigued 'White Lotus' fans—but who is Leo Woodall? Let's get to know the actor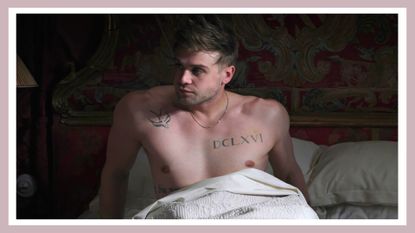 (Image credit: Fabio Lovino/HBO)
Leo Woodall made a splash onto our screens as cheeky chappy Jack on The White Lotus season 2, and entertained (and alarmed) viewers throughout with his relationship with Haley Lu Richardson's Portia, the young assistant who joined her boss Tanya (Jennifer Coolidge) on a trip to Sicily.
*Warning: The White Lotus season 2 spoilers below!*
At the (you guessed it) White Lotus hotel, the two women encounter British ex-pat Quentin (Tom Hollander) and his hunky twenty-something nephew Jack. Charmed by Jack, there soon arises a bit of a love triangle between himself, Portia and her other vacation suitor, sweet Stanford grad Albie de Grasso (Adam DiMarco). But with his Essex accent, flirty attitude and mysterious past, who actually is Jack? Is he who he says he is? Where did he come from? And more concerningly, is he the one who dies in White Lotus season 2?
The final episode of The White Lotus season 2 aired on December 11, 2022, where all was revealed about Jack, Quentin, and the rest of the gang. So if you're all caught up, or just want to know more about the White Lotus cast, let's get to know the actor who plays Jack, Leo Woodall.
Who is Leo Woodall, 'White Lotus' actor?
In February 2022, it was announced that actor Leo Woodall would be rounding out the cast of The White Lotus season 2 alongside actors Theo James, Meghann Fahy and Will Sharpe, per Variety. The London-born actor has a recurring guest role on the show playing "magnetic" hotel guest Jack, who has been staying in Palermo with his uncle Quentin for the past few months.
Leo Woodall's introduction on the show is a scene where Jack encounters Portia by the pool, during his (shirtless) evening swim. "It was really exciting, really fun," Woodall told E! News of the scene. "The scene in which it happens is a fun way to do it. Just to walk out to the pool, get your kit off, covered in tattoos and start talking about your sensitive nipples."
Talking about his audition for the show, he explained, "I knew that Jack was a fun-loving, dangerous, naughty Essex boy. So before I shot my audition tape for it, I watched some Joey Essex videos, put some sunglasses on my head, made a fake cocktail in a fancy glass, and went to town with it," Woodall said to Men's Health.
"I had a second round of Zoom with [creator Mike White], and I found out about a week later. Then I had a Zoom with Mike after getting the role to talk about Jack's tattoos. During that call, Mike said to me, 'You know, this role is gonna be a lot of fun.' And I just thought, 'What does that mean?'"
Well, if you watched the end of episode five, you know exactly what he's talking about. "I remember reading it and immediately thinking about the scene in season one with Murray [Bartlett] and Lukas [Gage]. I'm actually really proud that I got to be part of the 'volume two' of that scene," he told the outlet.
Discussing *that* ending to the series as well, Leo explained that he still doesn't believe his character Jack to be a good guy, despite his choice not to murder Portia, as the audience are led to believe was the plan.
He told Forbes, "He did the right thing, but he's not that nice of a guy. He doesn't take her all the way because it's very dangerous for him to let her go. So, he's doing it in a quiet place where it can't be seen that he's done that, as opposed to taking her to the airport where he could be found out."
"I think he has a soft spot for her, but I don't think he let her go because he cares about her so much. I think it's that he's not a murderer."
Leo Woodall tattoos: is he inked?
It looks like the tattoos that Woodall sports as Jack on The White Lotus are all simply for the character. "Mike had some ideas of what he wanted—like, he knew he wanted something that creeped onto the neck. So I found 'cowabunga,' which is his neck tattoo and that was Mike's favorite one," Woodall said in his Men's Health interview. "A mate of mine suggested 'live fast die young,' which is on my rib. My favorite, which I don't know if people will spot, is 'Wendy' on my bum."
"He just wouldn't have thought much about the meaning behind these tattoos—and he would have probably been hammered getting all of them," the actor said of his character's ink inspiration. "The only one that he probably would have put some thought into is the tattoo of hammers on his arm, because that's [the logo for] his football team [West Ham United Football Club]."
Leo Woodall age: how old is he?
Born in London in 1996, Woodall is 26 years old. (Alas, the specific date of his birth isn't public knowledge, so we don't know his zodiac sign.)
Leo Woodall Instagram: what is his handle?
You can find Leo Woodall on Instagram at the handle @leowoodall, where he has more than 39,000 followers.
The actor Leo Woodall shares plenty of behind-the-scenes snaps on his Insta, including editorial shots of himself, pictures of him travelling, news story snippets of his work, and of course, there are a few The White Lotus pictures splashed in there too.
Leo Woodall movies and TV shows
A Hollywood newcomer, it looks like Leo Woodall has only been acting professionally since 2019—but he's already appeared in TV series' like Vampire Academy, and the 2021 Tom Holland flick Cherry on Apple TV+.
He will next be seen as one of the leads in the Netflix romantic drama One Day, an adaptation of David Nicholls' bestselling novel, opposite Ambika Mod, and will also feature in the upcoming Amazon spy drama Citadel, per Deadline. Looks like he's on the up-and-up in Tinseltown!
Leo Woodall accent: does the actor sound like his 'White Lotus' character Jack?
The White Lotus fans will know that Essex lad Jack's cockney accent is one of his defining qualities, and one of the things that (initially) endears both Portia and the viewer to him and his charming personality.
So does Leo Woodall have the same accent in real life? Not to the same extent, it turns out! Leo himself is originally from Hammersmith in London, so will he does have a Southern (UK), London-style twang to his voice, it isn't anywhere near as exaggerated as his characters.
See Leo Woodall in The White Lotus season 2, by catching up on HBO and HBO Max in the US, and on Sky in the UK.
Christina Izzo is the Deputy Editor of My Imperfect Life.
More generally, she is a writer-editor covering food and drink, travel, lifestyle and culture in New York City. She was previously the Features Editor at Rachael Ray In Season and Reveal, as well as the Food & Drink Editor and chief restaurant critic at Time Out New York.
When she's not doing all that, she can probably be found eating cheese somewhere.