Who dies in 'White Lotus' season 2? We finally have the answer
The HBO hit is a steamy mystery but exactly who dies in 'White Lotus'? The mystery is finally solved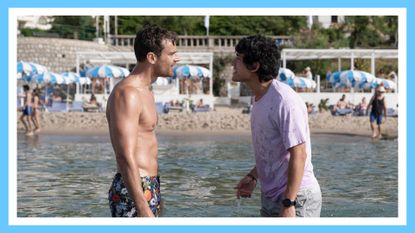 (Image credit: Fabio Lovino/HBO)
We weren't just excited to get to know the cast of The White Lotus season 2—we were amped to see which one of them dies.
Like The White Lotus' first season, The White Lotus season 2 is a social satire wrapped in a murder mystery, a 2022 Agatha Christie-style whodunit where the tycoons are of the tech-bro sort and look like Theo James, the rich heiresses are played by Jennifer Coolidge (as they always should be), and the dead bodies are far from hidden.
"You know, it's such a trope at this point. All of these limited series where there's a dead body at the beginning," show creator Mike White told The New Yorker. "I was like, 'You want your dead body? Here's your dead body.'" And we can expect more of the same in the second season, with White revealing to TV Insider: "There will be blood on the floor...we tease that out at the beginning."
There are a lot of theories floating around social media about which character could possibly be the casualty (or casualties) of season 2. Is it our sweet Sicilian sex workers, Mia (Beatrice Grannò) and Lucia (Simona Tabasco)? Is it any of the members of our awkward love triangle, Albie (Adam DiMarco), Porta (Haley Lu Richardson) or Jack (Leo Woodall)? Or, god forbid, are those White Lotus cowboy theories true and we'll be saying goodbye to Queen Coolidge herself?
So who dies in The White Lotus season 2? Here's everything we know.
*Warning: spoilers obviously ahead*
Who dies in 'White Lotus' season 2?
Alas, Tanya McQuiod is no longer.
Yes, the iconic Jennifer Coolidge character was one of the visitors who perished in the grand finale of The White Lotus season 2, which aired on Sunday, December 11. But she's not the only one. Her gaggle of new gay friends died, too (save for Matteo, who stayed behind in Palermo).
After getting a concerned call from Portia, who has been for all intents and purposes taken hostage by Jack (Leo Woodall) in Palermo, Tanya pieces together that Quentin (Tom Hollander) and her husband Greg (Jon Gries) are trying to trick her out of her millions. When she hears that her gun-toting paramour Niccolò (Stefano Gianino) will be escorting her from Quentin's yacht back to Taormina solo, Tanya panics and keeps trying to extend the evening and prolong her "departure." Finally, she excuses herself to the powder room but instead locks herself in one of the guest cabins with Niccolò's bag, which she discovers has a rope, duct tape and, yes, a handgun inside.
With Niccolò and Quentin aggressively banging on the door, she tearfully shoots and ends up killing them both, as well as Didier. (Hugo jumps ship, as does the captain of the yacht.) However, when Tanya tries to follow suit and jump off the boat into a dingy to get away, she hits her head and drowns in the water below.
The next day, Portia, who has made it to the airport after being abandoned in Catania by Jack, runs into Albie, who tells her: "Did you hear one of the guests drowned at the hotel?" When she fearfully asks who, he replies that he's not sure but adds: "They found a bunch of dead bodies on a yacht, too."
So how did this whole whodunit begin? In the first episode of The White Lotus season 2, hotel guest Daphne Sullivan (Meghann Fahy) goes for a swim on the last day of her stay at the luxury Sicilian resort. It looks very much like a swimsuit commercial until she horrifically comes upon a dead body floating in the water.
"One of the guests has drowned," one of the Italian staffers alerts hotel manager Valentina (Sabrina Impacciatore), who flippantly replies: "It's fine, the ocean is not hotel property."
"Salvatore says other bodies have been found...Other guests have been killed," she is informed, to which she incredulously asks: "Rocco, how many dead bodies are there?!"
We then see law enforcement carrying the corpse off the beach in a body bag, before we flash back to the beginning of the trip one week earlier. You didn't think they would reveal the identity in the first episode, did you?
So, yes, it looks like R.I.P. for our beloved socialite Tanya McQuoid.
Who dies in 'White Lotus' season 1?
A mysterious death also put a damper on the Hawaiian vacation of the guests in The White Lotus season 1. (They really need to do an investigation into this hotel chain, no?)
Through all six episodes of the first season, tensions were high between hotel manager Armond (Murray Bartlett) and endlessly high-maintenance guest Shane (Jake Lacy), culminating in episode six where Shane gets Armond fired. In a bitter, not-sober act of revenge, a pissed-off Armond breaks into the Pineapple Suite where Shane and his wife Rachel (Alexandra Daddario) are staying and defecates straight into Shane's suitcase.
When Shane later returns to his room and hears someone trespassing, he grabs a pineapple knife, thinking that it's an attempted robbery like what happened earlier to the Mossbacher family. Trying to catch the intruder off-guard, Shane accidentally stabs Armond in the chest, killing him.
Since the act was out of self-defense, Shane isn't arrested and is able to leave the island with Rachel. We see him at the airport post-vacation, telling fellow passengers that a dead body is also being transported on their return flight back to the mainland—that body being Armond's.
The White Lotus season 2 is available for streaming on HBO and HBO Max.
Christina Izzo is the Deputy Editor of My Imperfect Life.
More generally, she is a writer-editor covering food and drink, travel, lifestyle and culture in New York City. She was previously the Features Editor at Rachael Ray In Season and Reveal, as well as the Food & Drink Editor and chief restaurant critic at Time Out New York.
When she's not doing all that, she can probably be found eating cheese somewhere.